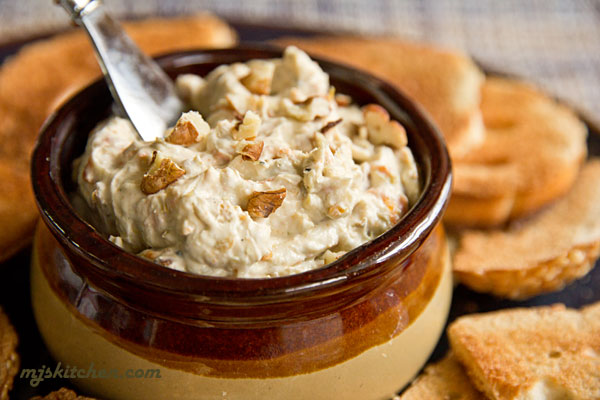 If you enjoyed the Roasted Bell Pepper Cheese Spread from a few days ago but wanted something with more of a kick, you're going to love this Green Chile Cheese Pecan Spread.  It is as easy to make, if not easier, and it's just as delicious. So for all of you lovers of spicy foods, this one is for you! No fancy ingredients except for maybe the green chile which may not be available to some of you, but never fear – in the Kitchen Notes I provide some suggestions for alternative chiles.  The cheese is cream cheese so nothing fancy there.
Just like the bell pepper cheese spread this green chile pecan cheese spread can be served with bagel chips, pita chips, or any chips for that matter.  You could also spread it on a flour tortilla, roll the tortilla, and cut into little bite size snacks. Just be sure to refrigerate for an hour before cutting.  It will make the cutting process much easier.  This morning I just spread it on half a bagel and had it for breakfast with a cup of tea.  No matter how you dish it up, you're going to love it!
Green Chile Pecan Cheese Spread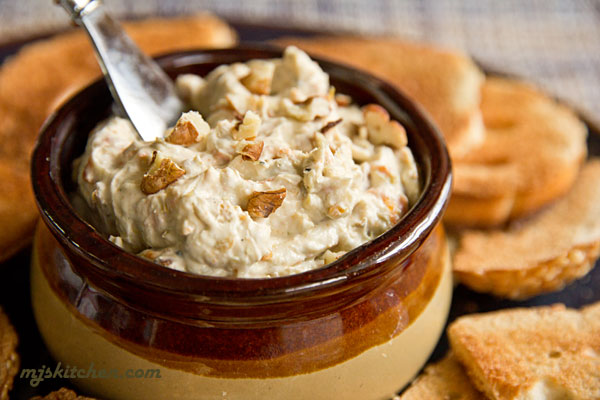 Green Chile Pecan Cheese Spread Recipe
A very easy spread to make with lots of spice from the chile, crunch from the pecans, and creaminess from the cream cheese.

*See Kitchen Notes for substitutions and further information.
Course:
Appetizer, Green chile
Ingredients
4

ounces

cream cheese spread or softened cream cheese

¼

cup

roasted green chile,

drained and minced

¼

lime

1 ½ - 2

heaping Tbsp. toasted pecans,

finely chopped

A dash of salt

1/8

tsp.

oregano

(Mexican oregano if you have it)

1 - 2

pieces

crispy, cooked bacon,

crumbled into tiny pieces (optional)
Serve with Pita chips, bagel chips, crackers, flatbread, or apple slices. Roll it up into a flour tortilla and cut into bite size snacks or spread it on a bagel for a breakfast or lunch.
Instructions
To toast the pecans
Put about 3 Tbsp. coarsely chopped pecans in a hot skillet over medium heat. Shake and toss the pecans for about 2 to 3 minutes until lightly toasted. Transfer to a cutting board and chop fine.
Assemble spread
Squeeze as much liquid as possible from the green chile. Transfer the cream cheese and green chile to a wide bowl. Using a fork or spatula, integrate the chile into the cream cheese.

Squeeze the lime into the bowl and continue to combine the ingredients until smooth.

Add the dash of salt, the oregano, and the pecans. Stir to combine.

Transfer to serving bowl. Top with more pecans if you'd like.
Toasting the Bagel chips
Cut two bagels from top to bottom, diagonally into 1/4 inch slices.

Place the bagel slices on a cookie sheet or pizza pan and placed under the broiler until lightly toasted. Keep any eye on the toasts because they brown quickly.

Turn the pieces over and toast the other side.
Kitchen Notes
Green Chile – Of course I use New Mexico green chile, roasted, peeled and chopped.  I buy it in bulk and freeze it, but most of you will probably be able to find canned green chile (e.g., Hatch or Bueno green chile) in the ethnic aisle at your local grocer or at a Mexican market. If you can't find New Mexico green chile, then you can substitute with just about any green capsicum pepper that can be roasted, peeled and chopped.  Be sure to remove the seeds before chopping.  Suggestions include poblano and jalapeno.  No matter which chile you use, be sure to taste first so you can control the amount of heat you end up with in this spread.  If too spicy, remove the veins that run the length of the chile. This is where most of the heat is.
Cream cheese – Cream cheese spread is soft and easy to work with.  If you can't find the spread, then use the block type and let it come to room temperature before mixing with the chile.  It will be easier to mix once softened.
Pecans – Walnuts, pinon (pine nuts) or almonds and be substituted, but each will introduce it's only flavor to the spread.
Lime – Lemon can be substituted, but the lime definitely works best.
Bacon – Omit for a vegetarian version.
Make ahead – This spread can easily be made the day before and refrigerated. However, be sure to remove it from the refrigerator at least 30 minutes before serving so it can soften.
I hope you enjoy this spicy Green Chile Pecan Cheese Spread!
Click on the link for more recipes with green chile.