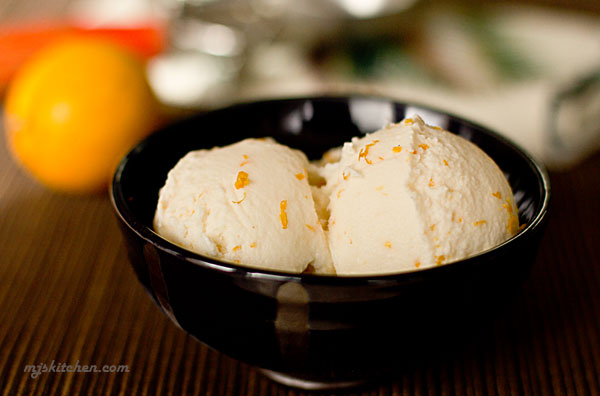 The co-op had some beautiful Meyer lemons the other day and I couldn't resist buying a few, especially since I had never bought them before. I never knew what to do with them thus I never bought them. Now I know!  I used one of the lemons in place of preserved lemons in my Capellini with lemon, garlic and egg pasta dish. It was very good, better than regular lemons but not as good as using preserved lemons.  So what do I do with the other lemons?  The weather helped me answer that question.  We have finally warmed up to near record highs and the spring winds have started to blow; therefore, something cool and refreshing sounded good, thus – a Meyer Lemon Sherbet.
I've made lemon sherbet before, but this one, I have to say was quite different.  To make sure that I wasn't just imagining such a significant difference, I made another sherbet using the same recipe but with regular lemons. Nope – it was not my imagination. The lemon sherbet was VERY tart and lemony, and definitely needed more sugar or a sweet topping to help relax the mouth from the pucker spasm it went into with every bite.  However, the Meyer lemon sherbet had the right balance of sweetness and tartness, and the flavor – more fruity and tropical than citrusy and tart.  It was SOOOO good!
The huge difference in flavor between Meyer lemon and regular lemon really got me curious so I did a little research and what I found out was that the Meyer is more than a lemon. The Meyer lemon is thought to be a hybrid that was developed in China and is a cross between a lemon and a mandarin or some other type of orange.  I can believe that. It definitely has the sweetness of an orange mixed in with the tanginess of a lemon. I will definitely be buying more!
If you are as curious as I was to know what else you can do with Meyer lemons, then you need to check out the list of Meyer lemon recipes at the end of this post. I went on a quest and found some great recipes I want to try. Once you see them, I'm sure you'll want to try them as well.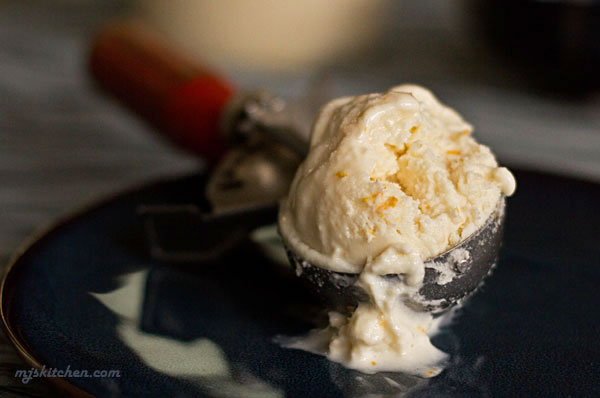 [print_this]
Meyer Lemon Sherbet Recipe
Recipe Author:  MJ of MJ's Kitchen
Makes about 3 cups
Prep and cook time: less than 30 minutes
Overnight in the fridge then freeze in ice cream maker
Ingredients
2 cup milk (I used 2% milk)
1/3 cup sugar
1 tsp. vanilla extract
Lemon zest from 2 Meyer lemons
¼ tsp. agar (optional)
½ cup Meyer lemon juice (juice from 2 to 3 lemons depending on the size)
Instructions
Heat the milk and sugar in a pot over a medium heat, stirring occasionally.
When the milk gets hot and starts to foam on top, add the vanilla extract and agar. Stir to incorporate. Continue stirring for 1 minute (reduce heat if the milk starts to boil), and then remove from the heat.
Add the lemon zest.
Let cool. Refrigerate overnight.
The next day, right before pouring into the ice cream maker, add the lemon juice and stir.
Transfer to the ice cream maker and freeze according to instructions.
[/print_this]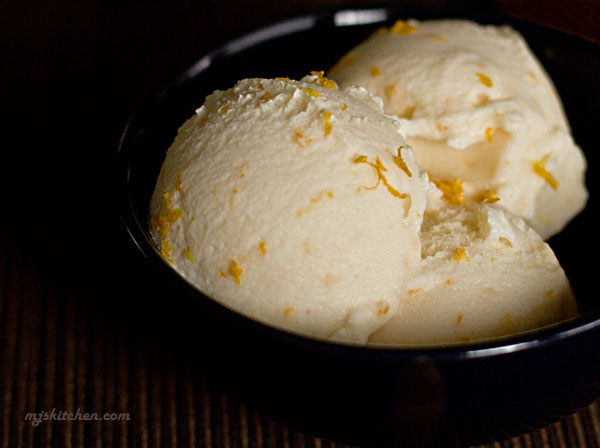 Kitchen Notes
Sorbet vs. sherbet vs. ice cream – Normally, I make sorbet because it's lower in calories and has no dairy, not that I can't eat dairy, I just try to minimize it. Sorbets are primary fruit juice/puree' and a sweetener. Sherbets are fruit juice/puree' and some milk. Typically, sherbets have a lower percent of butterfat than ice cream – less than 3% vs. up to 15%, respectively.
Milk and Meyer lemon juice – I used a ratio of 4 to 1, 2% milk to lemon juice. This ratio was just right for 1/3 cup sugar; however, if you decide to change the ratio to say – 3 to 2, then I would suggest increasing the sugar to at least 1/2 cup.
Meyer Lemon juice vs. regular lemon juice – You can use regular lemons in this recipe; however, you should definitely increase the sugar to at least 1/2 cup unless you like a really, really tart sherbet.
Agar – Agar is a gelling agent derived from red algae and is sometimes used in place of gelatin. I added 1/4 teaspoon to help create a little creamier texture and it worked. Having made this with and without it, the sherbet with the agar was indeed a little creamier. Be careful not to add too much agar because your mixture could set overnight in the fridge and you would have a pudding the next day when you go to churn.
If you've enjoyed this Meyer Lemon Sherbet, you'll also enjoy these other Meyer lemon recipes.
Ten recipes with Meyer lemon that caught my eye:

Savory dishes
Meyer Lemon Chicken @The Unorthodox Epicure
Creamy Meyer Lemon Pasta @Juanita's Cocina
Creamy Meyer Lemon Pasta with Homemade Ricotta and Broccoli @The Girl in the Little Red Kitchen
Sweet Treats
Meyer Lemon Pound Cake @Just One Cookbook
Meyer Lemon Parfaits @Cravings of a Lunatic
Raspberry Madeleines with Meyer Lemon Curd @From My Sweet Heart
Meyer Lemon Curd @The Galley Gourmet
Meyer Lemon Ricotta Cookies @A Culinary Journey with Chef Dennis
The drinks to enjoy them all with
Meyer Lemon Margarita @The Wicked Noodle
Meyer Lemon Cocktail @Las Vegas Food Adventures
This Meyer Lemon Sherbet post was linked to the following blog hops: Hearth and Soul and  featured on