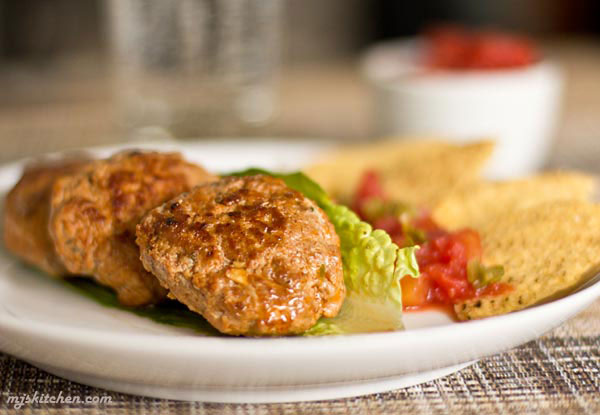 Let's make some Mexican Chorizo, one of my favorite sausages.  Making my own sausage is something I've always wanted to do, but after seeing the process of grinding, stuffing, curing or smoking, I decided to take the easy way out and choose a sausage that doesn't need any of that. Mexican Chorizo can be made with ground pork bought from your local market, and herbs and spices found in any well-stocked spice cabinet. Because it's normally used as a bulk sausage, no casing is needed.  I do like to let mine sit in the refrigerator for 1 to 3 days in order to let the seasoning meld with the meat before using it, but that's not really necessary.  You can use it right away, the next day, 3 days later, or freeze it for another time.
At the end of this post, you'll find several recipes that use Mexican chorizo. Be sure to check them out.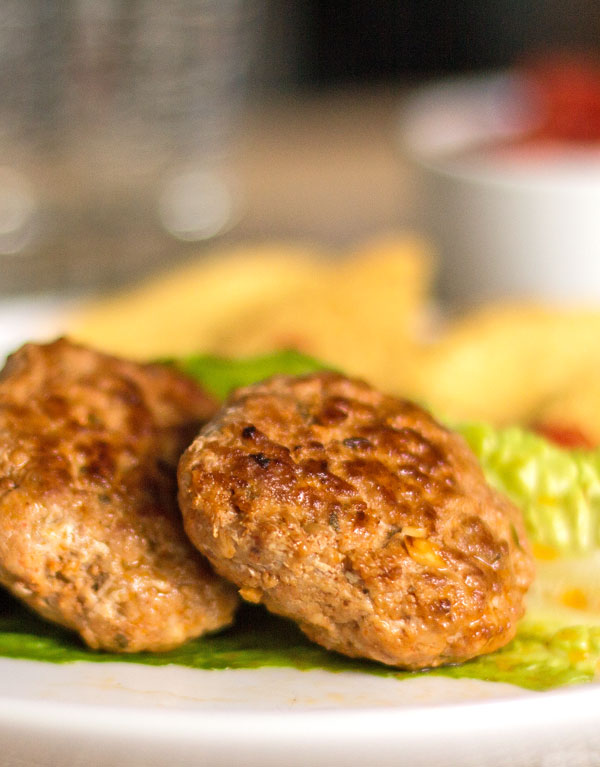 Homemade Mexican Chorizo Sausage Recipe
Below are two recipes – one for 1 pound of ground pork and one for 3 pounds of ground pork.
Recipe author:  MJ of MJ's Kitchen
Yields: 1 pound
Prep time: 15 minutes
Rest: 1 to 3 days
NOTE:  The final flavor profile is dependent on the type(s) of chile powder that you choose.
Ingredients
1 pound ground pork
½ tsp. salt
2 tsp. New Mexico red chile powder (medium heat), Ancho, Aleppo, or a combination of red chile powders
½ tsp. paprika
½ tsp. hot chile powder like cayenne or chipotle or half and half cayenne/chipotle
½ tsp. dried Mexican oregano
1/2 – 1 tsp. toasted cumin/coriander mix (to taste)
2 – 3 tsp. red wine or cider vinegar
2 medium garlic cloves, minced or ¼ tsp. garlic powder
Instructions
Place all ingredients in a bowl; however, start with only 2 tsp. vinegar.
Wearing rubber gloves, combine the ingredients by squeezing the spices and herbs into the sausage. Mix for about 3 minutes to ensure that all ingredients are evenly distributed throughout the sausage and the sausage becomes a deep red.
Take about a teaspoon or two of sausage and cook it up in a skillet.  Taste.  Adjust seasoning to your taste.
Pack in a plastic bag with a seal. Compress the sausage in the bag as much as possible. Press out all of the air and seal.
Place in the refrigerator overnight or for up to 3 days, or omit the packing and use immediately.
After 3 days, use or freeze.
If I'm not going to use it all right away, I divide it into ¼ pound packages which is about the weight of a sausage link and then freeze.
Recipe for 3 pounds of Mexican Chorizo
A few adjustments are made for 3 pounds of pork, but the process is still the same.  With 3 pounds you could use your stand mixer to incorporate the seasoning.
Ingredients for 3 pounds:
3 pound ground pork
1 tsp. salt
6 tsp. New Mexico red chile powder (medium heat), Ancho, Aleppo, or a combination of red chile powders
1 ½ tsp. paprika
1 ½ tsp. hot chile powder like cayenne, chipotle, serrano or a blend
1 ½ tsp. dried Mexican oregano
1 tsp. toasted cumin/coriander mix (to taste)
2 Tbsp. red wine or cider vinegar
5 small to medium garlic cloves, minced or ¾ tsp. garlic powder
Follow the same instructions above.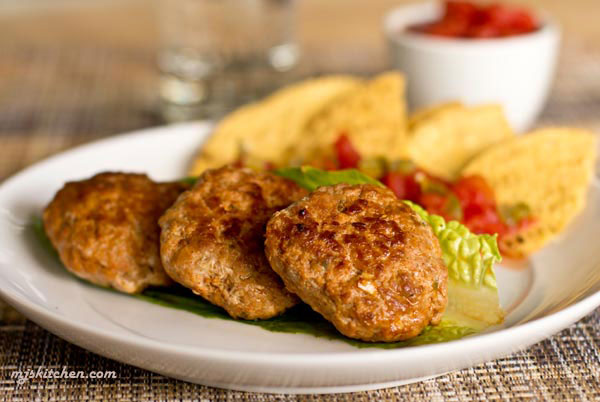 Kitchen Notes
This recipe was inspired by many sausage recipes that I reviewed to get an idea of what goes into making a good sausage, specifically chorizo.  I do not claim that is a classic chorizo recipe, but, after going through several combinations of spices and proportions, this is the one we liked the best. 
Keep in mind that this is "Mexican" chorizo. "Spanish" chorizo is a completely different type of sausage and the two are usually not interchangeable in recipes.

The pork – As with hamburger meat, you can buy ground pork with different fat content. I like using a more fatty sausage, between 20% to 30%, to ensure a juicer end product. Too little fat and your sausage would cook up dry.  If you want the challenge, you could always buy a pork shoulder (an ideal cut for sausage), and grind your own meat. That's more time consuming and, then you have to clean the grinder.
Pork substitutions – If you don't want to use pork, you could substitute ground turkey and/or chicken. I would suggest using dark meat or at least using mostly dark meat.  Too much light or white meat could lead to a dry sausage.  You could also add a tablespoon or two of oil or butter to add some fat to the mixture.  As with any sausage, the lower the fat content, the drier the outcome.
The chile powders – The most important thing about the chile powders is that you use ground chilE powder, not a chilI powder blend. The blend usually has red pepper, salt, garlic and many, many other ingredients. This recipe uses four different chile powders – New Mexico red chile, cayenne, aleppo, and paprika.  I use this blend because that's what I have in my pantry, but most importantly – I like it. The NM chile powder adds a flavor that I love, the cayenne adds the heat, and the paprika and Aleppo add depth.
The vinegar – There are a variety of vinegars used in making chorizo. I found recipes with red wine vinegar, white wine, just white vinegar, and cider vinegar.  Some recipes also added or substituted the vinegar with an alcohol such as tequila, sherry or wine.  The 2 – 3 tsp. of vinegar is due to personal preferences in my house. Bobby prefers the sausage with just 2 tsp. and I prefer it with 3 tsp.
So as you can see, you can adjust the seasoning to meet your personal tastes. You should also be able to see how EASY it is to make chorizo.  Bet you can wait to give it a try!
Recipes that use Mexican chorizo:
Chorizo sausage patties (shown above) with scrambled eggs and toast.
Combine equal amounts of chorizo with ground beef or turkey for a delicious burger.
Asparagus, Chorizo and Soft-Boiled Egg
Christmas Breakfast – Red and Green
Shepherd's Pie, New Mexico Style
Chorizo and Eggplant Skillet Pie
Roasted Vegetable with Mexican Chorizo
Chorizo, Mushroom and Posole (Hominy) Soup
This recipe for Homemade Mexican Chorizo has been shared with the following blog hops: Hearth and Soul, Fat Tuesday, Katherine Martinelli's Cinco de Mayo Hop  .
Save
Save
Save