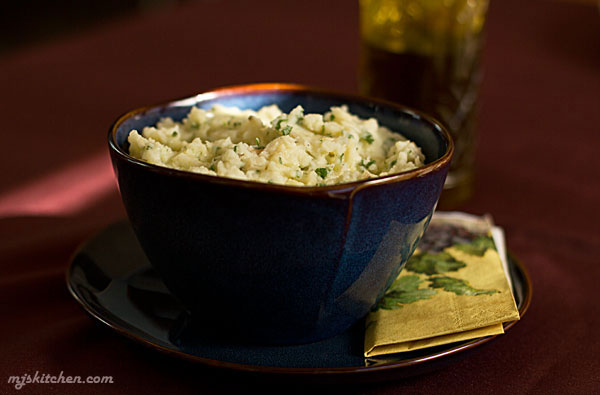 I think by now you know how much I love garlic, but you may not know how much I love potatoes. I could eat potatoes almost everyday. I love them mashed, smashed, roasted, au gratin, as hash browns, and in a variety of soups. I guess the only way I don't like potatoes is as French fries. Those I can take or leave.  This winter organic potatoes have been really cheap, so we've been eating a lot of potato dishes. This mashed potatoes with roasted garlic dish is one of our favorites.
It's a very quick and easy dish for us because I always have a bottle of roasted garlic infused oil in the pantry and jar of roasted garlic in the fridge.  So what better way to use the garlic and some of the oil than in mashed potatoes.  Add some fresh herbs for color and another layer of flavor, and you have yourself a bowl of gourmet mashed potatoes with very little effort.
If you don't have the garlic oil or roasted garlic on hand, not to worry.  In the Kitchen Notes I explain how to get both in 20 minutes, which is about the time it takes to cook and mash the potatoes. Also, if you aren't a huge garlic fan, but do like "a little" garlic, these mashed potatoes with roasted garlic are still for you.  Just cut back on the amount of garlic or replace the garlic-infused oil with extra virgin olive oil or butter.  And if you don't like garlic at all, just omit it altogether.  The buttermilk and olive oil alone make this a very tasty bowl of mashed potatoes.
Mashed Potatoes with Roasted Garlic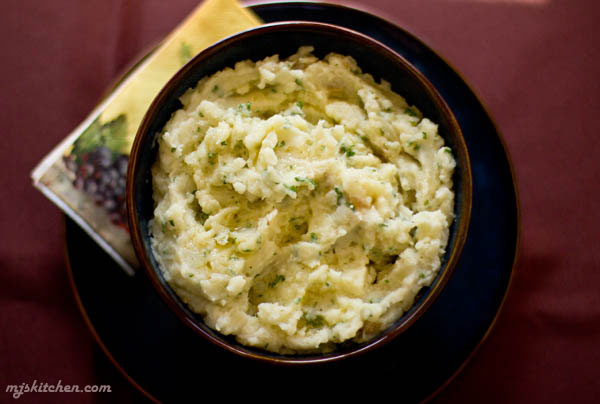 Mashed Potatoes with Roasted Garlic Recipe
A fabulous rich mashed potato with lots of garlic flavor and herbs.
If you don't already have some roasted garlic and infused oil, you can make some on the stovetop in just a few minutes. Instructions are at the end of the post.

"*" See Kitchen Notes for more information or links to special ingredients.
Course:
Side Dish, Vegetarian
Ingredients
The roasted garlic and garlic oil- If you don't have any on hand, refer to the process at the end of this post. You can have some of both in 20 minutes.
4

medium Yukon Gold or yellow potatoes*

10 - 12

medium to large roasted garlic cloves,

minced then mashed (I use a fork to mash)

2

Tbsp.

roasted garlic olive oil or 2 Tbsp. extra virgin olive oil

½

cup

buttermilk,

warm or room temperature

½ - ¾

cup

milk,

warm or room temperature

2

Tbsp.

fresh parsley,

chopped

Salt and pepper to taste
Instructions
Cooking the potatoes - 2 methods
Microwave method: If you plan to peel your potatoes, do NOT peel your potatoes before microwaving. Wait until after the potatoes are cooked. Once cooked, the peel can easily be pulled off the potato. If you peel first, the outer part of the potato will be dry and tough. Poke each potato a couple of times with a fork or knife. Place on a plate and put in the microwave. Cook 4 minutes on high. Turn and flip. Cook 4 more minutes on high. Test with a fork. If there is any resistance, cook the potatoes 2 more minutes and retest.

Stovetop method: Bring a large pot of water to a boil. Quarter the potatoes and place in boiling water. Cook until done, about 6 to 8 minutes. Drain. Remove peel if desired.


Transfer the cooked potatoes to a large bowl. Using a potato masher, mash the potatoes.

Add the mashed garlic and garlic oil. Mash the potatoes. ½ cup buttermilk, and ½ cup milk.

Continue to mash as you slowly as 1/2 cup buttermilk and 1/2 cup milk.


Taste. Season with salt and pepper to your tastes.

Add the parsley.

If the potatoes are too thick to your liking, add more buttermilk or milk.

To reheat, heat in the microwave on high for 2 minutes.
Kitchen Notes
Roasted garlic and oil – I really wouldn't recommend using raw garlic. Way to strong for mashed potatoes. If you don't have roasted garlic, you can always slow roast garlic on the stove top in some olive oil.  See instructions below.
Potatoes – For mashed potatoes, I use yellow or Yukon gold potatoes. I love their texture – soft and creamy.  To mash them, we just use a hand-held potato masher and get perfect results every time. Of course we do like our potatoes more smashed than mashed as some may say.
Buttermilk and milk – Notice that this recipe doesn't use butter.  The buttermilk adds some buttery flavor and since I use olive oil, there's no need for additional fat like butter.  If you don't have buttermilk or don't have enough, just substitute with milk.
Vegan option – Use a milk substitute like soy or almond milk for the milk and buttermilk.  I have used both before with excellent results.
The fresh herbs – Fresh parsley, thyme, or tarragon are great complements with the garlic. If you have lemon thyme, it too, is excellent. However, I would only use 1 Tbsp. thyme, or 1 ½ tsp. tarragon or 1 ½ tsp. lemon thyme.
Leftovers – If you do happen to have any leftovers, I do have a warning for you – the garlic flavor gets more intense!  I actually have been known to make these a day in advance just to take advantage of the enhanced garlic flavor. 🙂
Whether you use a lot of garlic or no garlic, you're going to love these simple, tasty, mashed potatoes.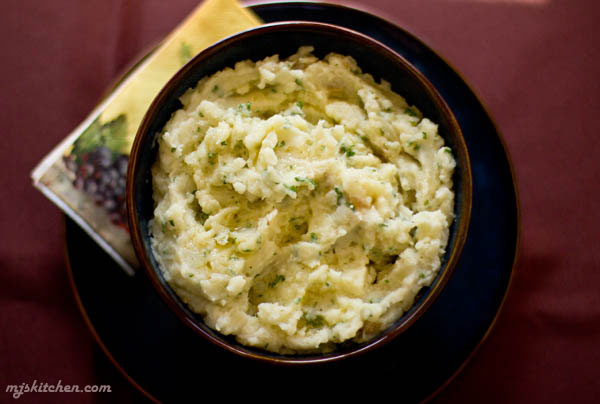 StoveTop Roasted Garlic and Infused Olive oil
Instructions
Peel a head of garlic. Cut the cloves in half lengthwise.

Place in a small skillet and add just enough oil to cover the garlic.

Heat over a low setting. When the oil starts to sizzle, lower the heat to a low simmer and cook for 15 minutes until the garlic is golden brown.

Remove the garlic with a metal slotted spoon.

Use the garlic immediately or toss with a little lemon or lime juice. Pour the unused oil over the garlic and store in the refrigerator.


Both the garlic and oil will keep for several weeks.
Kitchen Notes
Using this method, the garlic is a little crispier so it doesn't work well as a spread. It does however work great in these mashed potatoes and other dishes.