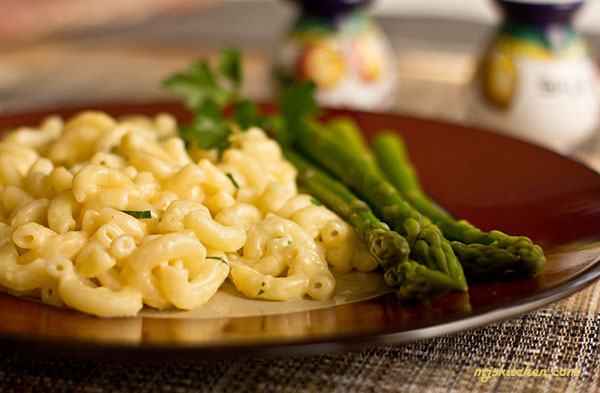 For some reason my craving for macaroni and cheese has been escalating.  Maybe it's because of all the wonderful mac & cheese recipes I've been seeing online lately.  But the one that pushed me over the edge was Zsuzsa's stovetop Creamy Macaroni and Cheese.  When I first saw her picture, I knew that was the mac & cheese I wanted to eat.  Her recipe looked fabulous and the video she provided in the post was a great tutorial on how to put all of the components together for a creamy outcome. You definitely need to check it out.
For this recipe I used Zsuzsa's for the most part, but purely out of habit I ended up making the béchamel (white sauce) the way I normally do. I added a couple of herbs to the dish because I love herbs, and then cut back a bit on the cheese. For the finishing touch and to create a complete meal for Bobby and me, I added my Simply Asparagus dish which you'll find later in this post. Each plate was served with a serving of macaroni and cheese and about 5 to 6 spears of asparagus.  We cut the asparagus into bite size pieces and ate a piece with each bite of mac & cheese.  It is quite tasty!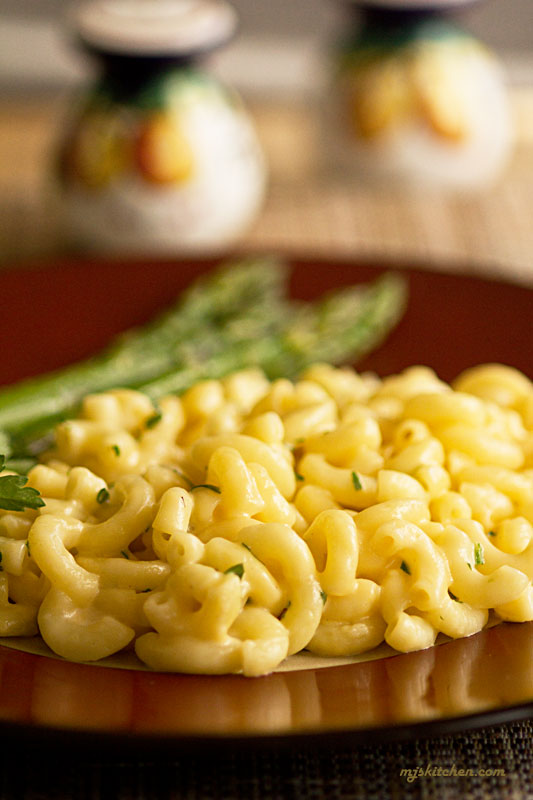 [print_this]
Stovetop Macaroni and Cheese Recipe
This recipe was adapted from Zsuzsa is in the Kitchen's recipe
Serves 4 as a side
Prep and Cook time: 45 minutes
Ingredients
2 cups elbow macaroni
2 Tbsp. butter
2 Tbsp. flour
2 cups milk
A couple of short gratings of nutmeg
¼ tsp. dried tarragon, crushed
Salt and cracked white pepper
1 ½ cup sharp cheddar cheese, grated
1 Tbsp. chopped, fresh parsley
Instructions
Start the water for the macaroni and when it comes to a boil, add the macaroni and cook until it is "almost" done, before al dente'. Drain and transfer back to the pot.  If you aren't ready to add the béchamel, add a small pat of butter and melt, stirring into the macaroni or your could rinse the macaroni briefly under hot water and drain before returning it to the pot. (While the macaroni is cooking, you can start the béchamel.)
In a sauce pan, melt the butter over low medium heat. Add the flour and whisk to combine with the butter.
Slowly add the milk a little at a time, whisking to combine with the roux (butter/flour mixture), keeping it from clumping.  Continue to add the milk, whisking, until you've added 1 cup. Pour in the second cup and increase the heat to medium.
Continue to heat, simmering and whisking the béchamel for about 10 minutes, until it starts to thicken. Don't get it too thick because it will thicken even more once it is stirred into the pasta and the cheese is added. (See Kitchen Notes)
Add the tarragon and grate the nutmeg into the mixture.
Season with salt and cracked white pepper to taste.
Add some of the béchamel to the pasta and stir to coat. Turn the heat on to medium-low.  Continue adding the remaining béchamel, stirring and coating.
Add the grated cheese, a little at a time, stirring until the cheese is melted.
Add the parsley and stir.
Serve immediately with 5 to 6 spears of asparagus, if desired.
[/print_this]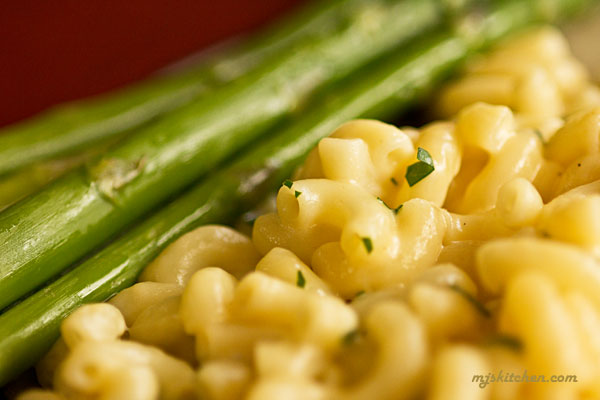 Kitchen Notes
Macaroni – I know you can make mac & cheese from different types of pastas, but we prefer the little elbows.  I think it's because there is so much more surface area with the smaller pieces so more of the pasta gets coated with the sauce and cheese.
Béchamel – The thickness of the béchamel is a factor here.  If you get it too thick, then you end up with a gummy pasta. Too thin and the sauce will be runny.  I usually cook it for about 10 minutes or until, the mixture has reduced by about 1/2 cup. It may seem too thin at this point, but believe me, it will thicken once you add it to the pasta and add the cheese. You will continue to cook the sauce during this process; therefore, it will get thicker.
Herbs – Tarragon is a great herb for asparagus, therefore, it works quite well in this dish.  If you're not a big fan of tarragon, then eliminate or substitute with ¼ to ½ tsp. thyme .  The fresh parsley worked great with the tarragon and cheese. I would not make it optional.
Cheese – The sharp cheddar was excellent and kept this dish quite simple.  I didn't think it needed a second cheese, but you could topped it with a little Parmesan as Zsuzsa suggests or stir in a second cheese for a more complex flavor.
White cracked pepper – I always use white pepper in my béchamel sauce, but if you don't have any, black pepper is just fine.  A generous amount of pepper is a must in my book.
I usually cook the asparagus while the pasta water is heating up. Once it's done, I'll rinse it with cold water and set aside. Right before I add the béchamel to the pasta, I'll start heating up the bacon drippings, then add the asparagus and reheat just before plating.
Simply Asparagus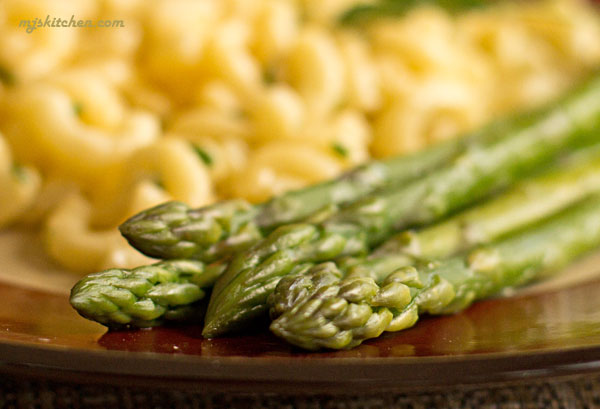 [print_this]
Simply Asparagus
Recipe author:  MJ's Kitchen
Serves: 4
Prep and Cook time: less than 15 minutes
Ingredients
1 pound asparagus, tough ends removed
1 tsp. fat of choice (bacon drippings or butter or olive oil or garlic roasted olive oil)
¼ tsp. dried tarragon, crumbled*
Salt and pepper
*oregano, thyme, or lemon thyme can be used in place of or in combination with the tarragon.
Instructions
If you have an asparagus steamer, just steam the asparagus the way you normally do, but be sure not to overcook.
In a skillet large enough for the asparagus to lie flat, add about 1/4 inch of water. Place the skillet over medium heat, cover and bring to boil.
Add the asparagus, spreading it out across the skillet. Cover.
Bring back to a boil, reduce heat and steam for 3 to 4 minutes until the asparagus is crisp tender.  After 2 minutes, toss the spears to transfer the spears on top to the bottom and vice versa.
Drain and run under cold water to stop the cooking process.
Return the skillet back to the heat and add the bacon drippings, butter or olive oil.  Heat until hot.
Return the asparagus to the skillet. Sprinkle with a little salt and pepper and tarragon. Toss to coat and heat through for about 1 minute.
Remove from heat and serve.
[/print_this]
Kitchen Notes
Asparagus really doesn't need much more than salt and pepper, but we really like just a touch of bacon drippings or other fat.  The bacon drippings adds a little bit of a bacon flavor, but not too much.  If you are vegetarian, butter is just as good. If you're vegan, then olive oil. Garlic infused olive oil works great!
Suggested Sides
For another simple asparagus recipe try my Asparagus with Pecans or Asparagus with Chorizo and Soft-Boiled Egg.
This macaroni and cheese recipe has been shared with the following blog hops:  Hearth and Soul
Simply Asparagus has been shared with the following blog hops: Katherine Martinelli's Asparagus