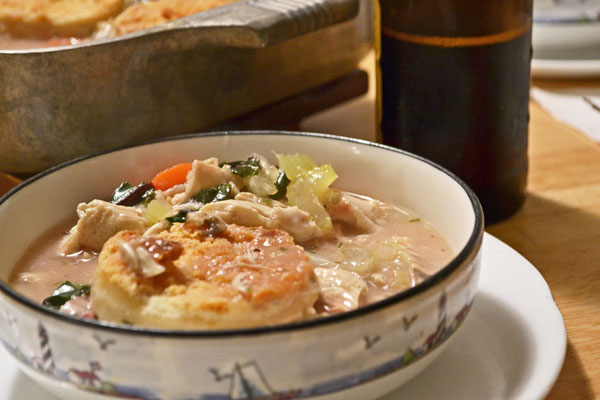 I've been tied up for a couple of weeks, so my wonderful sister Nadalyn, has graciously stepped in and made us a chicken pot pie.  Before I turn this over to her, I have to say that this recipe is SO Nadalyn.  I cook meals with a lot of leftovers because I learned not to waste anything from my mother, but Nadalyn – she has taken it to a whole new level.  She is the frugalista of leftovers and this chicken pot pie is a great example.  It's all yours Babe…
My husband's aunt and uncle made a living running a diner in a small rural town. They were the sweetest, kindest, most generous couple you ever met. Honestly, I think that was the main reason people ate at their diner, and also the fact that their diner was one of only two sit-down eateries in town. His aunt's chicken pot pie was her staple. It was the diner's special every day and the dish she brought to all family gatherings. Unfortunately, we use to say that the closest a chicken got to her pot pie was if one ran past on the road. The dish consisted primarily of a small bag of frozen mixed vegetables in thickened chicken stock covered with a pie crust in a restaurant size baking pan. It was a game among us seeing if anyone would actually find a piece of chicken in their serving of pie. That's where I got the tongue-in-cheek name for my dish.
My version of classic chicken pot pie is a hearty dish with lots of chicken and a mix of non-standard veggies. It is also the lazy girl's pot pie because I don't make a pie crust. I use biscuits instead. Plus, I really don't like to bake that much, despite my Cushaw cake recipe MJ posted several weeks ago. I am very much about repurposing and using what you have on hand, so the point of this dish is to use whatever is leftover in the fridge, including the biscuits. Some of the local fried chicken takeout places around here provide biscuits along with the chicken. We never eat all the biscuits so I freeze them for another time. This is a good way to use them up. I hope you like it.
Chicken Pot Pie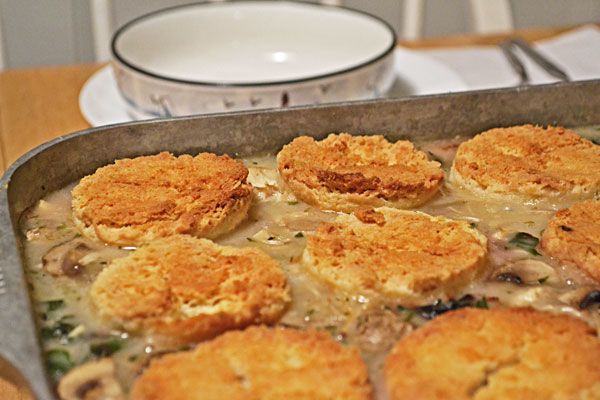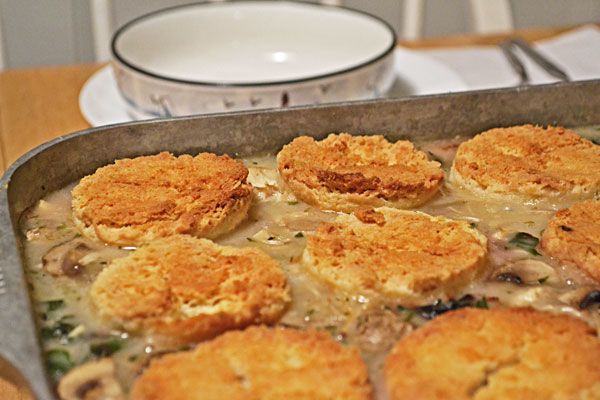 Not My Aunt's Chicken Pot Pie Recipe
A chicken pot pie made mainly from leftovers, but tasting like it was made from scratch.

Prep and cook time depends on what type of leftovers you have and whether or not you need to make the biscuits.
"*" See Kitchen Notes for more information or links to special ingredients.
Course:
Chicken, Main Course
Ingredients
5 to 6

cups

cooked, shredded chicken or turkey

1

cup

sliced celery

6

scallions cut into ½ inch slices or 1 small onion chopped and sautéed

1

cup

sliced carrots

1

cup

sliced mushrooms

1

cup

asparagus cut into 1 inch pieces or sautéed spinach, or sautéed beet greens

Salt and black pepper to taste

½

teaspoon

dried tarragon

4

bay leaves

1

pint

chicken broth or more if needed

½

cup

milk

½

cup

buttermilk

(my preference or half and half)

6

ounces

dark beer or ale

2

pats of butter

3

tablespoons

corn starch

6 to 8

leftover biscuits

(store bought biscuits or your favorite homemade biscuits)
Instructions
If you aren't using leftover biscuits, then bake the biscuits according to package directions, but don't overcook. When cooled down, slice each biscuit in half horizontally and set aside. If using leftover biscuits, just cut in half as shown.

Preheat oven to 375 degrees F. or leave on after baking biscuits.

Toss the shredded chicken with the asparagus, mushrooms, cooked carrots, and whatever already cooked greens you are using.

In a pot of boiling water, blanch the scallions, celery, and raw carrots.When the carrots become tender, remove the blanched veggies with a slotted spoon to preserve the vegetable broth for another use. Add the vegetables to the chicken mixture.

In a large boiling pot combine the chicken broth, beer, bay leaves, salt,Filling for chicken pot pie pepper, and tarragon. Bring to a boil and add the buttermilk. Reduce heat and simmer until you have the right amount of broth. You want enough broth to surround the chicken and veggies but not so much that it is soupy. It will be slightly thick.

Remove the bay leaves. Add the butter.

Whisk together 3 tbsp. cornstarch and 1/2 cup milk. Add to beer mixture and stir constantly until thick and bubbly.

Transfer the chicken and veggies to a 9 by 13 casserole dish. Slowly pour the sauce evenly over the filling.

Place biscuits over the chicken mixture with the cut sides up.


Bake in the preheated oven for 20 minutes or until the biscuits are lightly brown.

This can be divided into smaller pans, covered, and frozen for later if it's too much for one sitting. Bake and cool before freezing and thaw thoroughly before rewarming in the oven or microwave.
Kitchen Notes
Chicken or turkey – Roast chicken from the deli or any leftover chicken or turkey works great for this, particularly if you are in a hurry. This pot pie is a great way to use up leftover holiday turkey bits and pieces.
Beer – A dark beer, like Shiner Bock or Bass Ale, works best.  No need to measure the beer, just pour in half of a normal 12 oz. bottle and drink the rest.
The veggies – First of all, the measurements for the vegetables are not exact. Use what you have on hand and add more or less of what you like. You can use many different veggies in this – peas, pieces of potato, lima beans, whole kernel corn, and artichoke hearts (I used steamed fresh, not canned hearts). All of the vegetables should be pre-cooked.
There are a few veggies that don't work too well. Green snap beans get too mushy. Cooked broccoli can also get mushy and it dominates the flavor of the dish. Broccoli rabe works o.k. if you don't use too much.I suggest that you don't use more than 2 green vegetables at a time, such as peas and greens, or asparagus and peas, or greens and artichoke hearts. Shoot for a 50/50 ratio of vegetables to meat.
Greens other than those listed also get mushy and can be bitter. The greens should be sautéed and seasoned before adding. Beet greens work great! The greens are the best part of the beet and are more versatile than a lot of other greens. Sometimes I throw the greens in with the beet roots when I'm cooking them, but I mostly use them in other dishes – omelets, quiche, soups, stews – to name a few. John and Laurie at RV Cajun Cooking have a great shrimp and beet greens wrap recipe. I've tried it (decrease the amount of mayo) and it was delish.
If you use a regular onion instead of scallion, blanch it with the celery and carrots, to keep it from being too overpowering.
The reason I said to reserve the broth the vegetables were cooked in is because this is excellent broth for use as a base for a soup or stew later. So, as soon as the vegetable water cools, pour it into a freezer container and freeze.
The biscuit layer(s) – I have made this with a layer of biscuits on the bottom and the top. My son likes lots of biscuits. If you are like him, use twice as many biscuits, one layer on the bottom and one on the top with the filling in between. The rest of us don't need the extra calories and prefer just the top layer.
Dig In!
Save