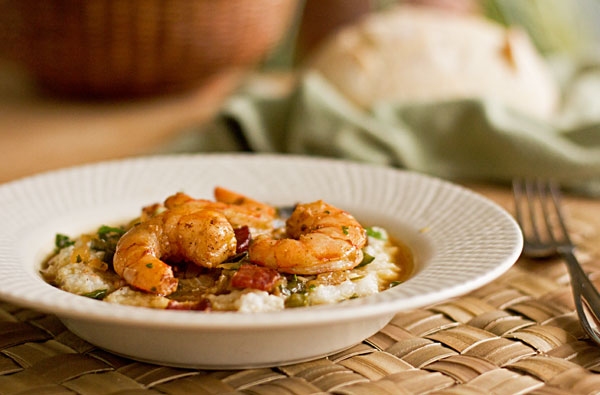 Shrimp and grits is a very simple dish and there are hundreds of recipes. When I goggled it to write this post, I got 495,000 results!  I found recipes with cheese and cream, tasso and andouille, leeks and tomatoes.  The only constants seemed to be the grits, shrimp, and some type of red pepper spice.
My shrimp and grits recipe has evolved through the years from a few spicy shrimp on top of a bowl of creamy grits, to the recipe you see here.  This recipe was inspired by a bowl of shrimp and grits that I had many years ago at a restaurant in Santa Fe, New Mexico. It was the best shrimp and grits I had ever had. Very traditional in flavor, but had more sauce than the shrimp and grits I was use to. I loved that sauce!  It really made the dish for me because it helped to incorporate the grits into the dish rather than just being a platform for the shrimp.  About a year later I returned to that restaurant for the purpose of ordering another bowl and trying to dissect it, but unfortunately, the restaurant was not longer there.  So at this point I was left to my memory (good luck there), and my taste buds.
This shrimp and grits recipe combines the flavors of Louisiana and the southwest in a pretty traditional southern dish. Don't be intimidated by the list of ingredients. It really is an easy dish to throw together and takes less than 45 minutes. It tastes like it cooks for hours.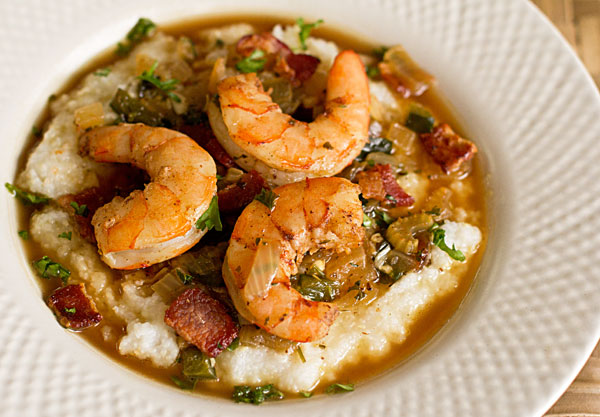 [print_this]
Shrimp and Grits Recipe
Recipe Author:  MJ of MJ's Kitchen
Yields 4 single servings
Prep and Cook time: 45 minutes
Ingredients
1 pound medium to large shrimp, shelled and deveined (Save the shells and heads for stock. See Kitchen Notes.)
1 ½ – 2 tsp. creole seasoning* (if you like things really spicy, used 2 tsp.)
4 slices of thick sliced bacon, cut into 1" strips
1 medium onion, diced
1 poblano pepper or 1/2 cup roasted green chile, seeded and diced
1 celery stalk, sliced thin
6 cloves garlic, minced
½ cup white wine (if you don't want to use wine, then increase the stock to 1 ½ cups)
1 cup shrimp or chicken stock (See Kitchen Notes)
2 bay leaves
½ tsp. dried oregano
¼ tsp. dried thyme
1 Tbsp. parsley, chopped
*You can make your own by combining the ingredients listed below in a bowl, or use a popular creole seasoning like Tony Chachere's or Zatarain's.
Creole Seasoning (adapted from Emeril's Essence Creole Seasoning)
1 Tbsp. paprika
½ tsp. garlic powder
1 tsp. red chile powder or cayenne
1 tsp. dried oregano
1 tsp. dried thyme
¼ tsp. black pepper
¼ tsp. salt
Grits
¾ cup quick cooking grits (not instant grits)
3 cups water
1/2 tsp. salt
1 Tbsp. butter
Instructions
Toss the shrimp with the creole seasoning and set aside until ready to use. (Make shrimp stock from the shells and heads if you have them. See Kitchen Notes.)
Cook the bacon pieces in a large skillet (big enough to hold all ingredients but the grits). Stir occasionally and flip pieces over until crisp. Remove, drain, and set aside. Pour off all but about 2 Tbsp. of the drippings from the pan.
Set the heat to medium-low or low. Add the onion, celery, garlic and poblano. Cook slowly until tender, about 5 minutes.
Add the wine and deglaze the pan, scraping off anything still stuck to the bottom of the skillet.
Add the bay leaves, oregano, thyme, and stock. Stir. Reduce heat to low, cover and simmer 4 minutes.
Add the shrimp, cover and cook 2 minutes. Turn the shrimp over and cook another 2 minutes.
Remove from the heat. Stir in the parsley, cover and let sit for 5 minutes.
Cooking the grits
Bring the water with salt to a boil in a sauce pan.
Slowly whisk in the grits. Set heat to low and cover.
Cook 5 minutes, whisking once every minute to keep the grits from clumping.
Once the grits are cooked, remove from heat, add the butter. Cover until ready to serve.
Just before serving, stir the melted butter into the grits.
To serve
Place a large scoop or two of grits in a wide bowl.
Top with shrimp mixture. Be sure to get some of the stock from the shrimp mixture into each bowl.
Top each serving with some of the bacon pieces and a little more parsley (if desired).
Serve with a baguette or any good bread.
[/print_this]
Kitchen Notes
The Vegetables – I like using more vegetables than most recipes that you see.  This allows me to serve this as a meal with no need to add a side except for some good bread.  For the onion, you can use just onion, a combination of onion and scallions, or use all scallions with the green tops.  For the pepper, I use poblano for its flavor and a touch of added spice. You can easily replace the poblano with a green bell pepper; however, if it's a large one, just use half of it.  If you want even more spice, add some chopped green chile or a jalapeno to the grits.
The Stock – I usually make a very simple shrimp stock from the shrimp peels and let it cook while I'm chopping and sauteing.  Once the shrimp has been peeled, add the shells and heads (if you have them) to a pot and cover with water.  Bring to a boil, then reduce to a simmer.  Continue to simmer until you are ready to add it to the skillet.  Pour through a strainer and add the desired amount to the skillet. Freeze the rest for another day.
The Bacon – Be use to use a tasty, thick sliced bacon.  Even though this recipe calls for 4 pieces of bacon, I really only use about 3 pieces. The fourth piece just seems to disappear before it makes it to the bowls.
Cooking the shrimp – The one thing that I really dislike is overcooked shrimp; therefore, the cook time for the shrimp is critical.  If you choose to use small shrimp, cook no more than 3 minutes, medium and large shrimp for 4 minutes and jumbo shrimp no more than 5 minutes.  I always turn the shrimp over halfway through the cook time for even cooking. Once the shrimp turn pink all over, they are done enough.  Keep in mind they are going to continue to cook while they sit in the stock, waiting to be dished up. So when you think "I'll let them go a little longer", then it's definitely time to turn off the heat.
The grits -Some recipes call for the stone ground grits.  These take 20 to 25 minutes to cook.  I use quick grits (NOT instant) which cook in 5 minutes.  Personally, having cooked both quick grits and stone ground, I'll stick with the quick grits.  I've never been able to taste much of a difference.  (To read more about grits, and grits vs. polenta, see my Grits and Green Chile post.)
The top photograph has been submitted in Your Best Recipe @Spicie Foodie.

This shrimp and grits recipe has been shared with the following blog hops:  Hearth and Soul, Made With Love Mondays .