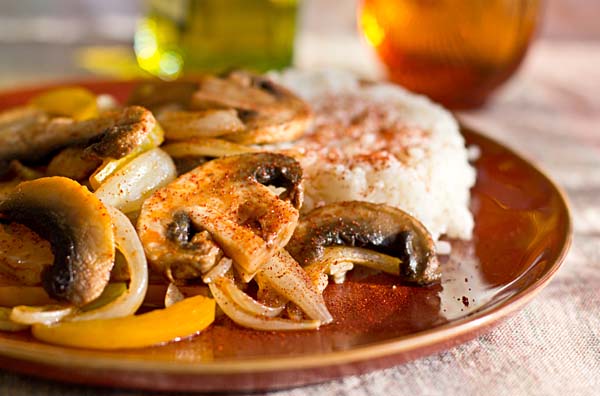 These sauteed mushrooms makes a great side for just about anything.  You can serve it with another vegetable, pretty much any meat, or over rice or a creamy polenta. It's also a very quick and easy dish to throw together. It takes longer to chop the vegetables than to cook the dish.  There are four basic ingredients – mushrooms, garlic, onion, and bell pepper – and then a little bit of spice.  The spices can be changed to better complement the other components of the meal.  These spicy sauteed mushrooms make a simple little dish with a burst of flavor in every bite!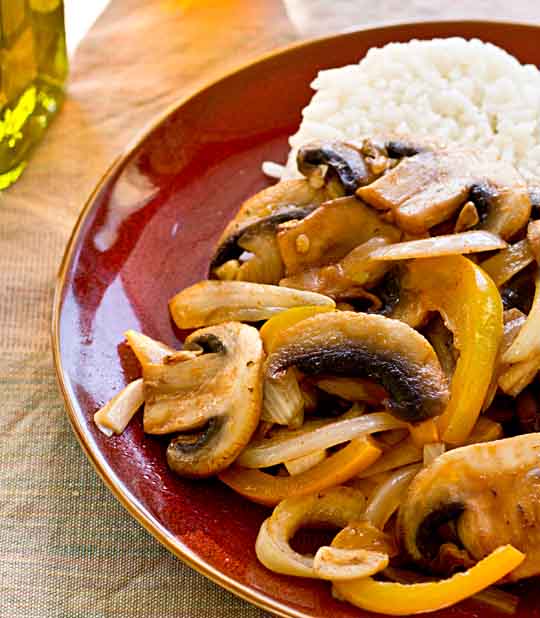 [print_this]
Sauteed Mushrooms with Onion, Red Chile, and Paprika Recipe
Recipe author: MJ of MJ's Kitchen
Serves: 4
Prep and Cook time: less than 30 minutes
Ingredients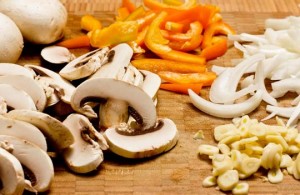 1 Tbsp. olive oil
½ onion, sliced
½ sweet bell pepper, sliced
8 cloves garlic, sliced thin
8 ounces large button mushrooms, sliced
¼ tsp. red chile powder
¼ tsp. Hungarian paprika
Generous amount of cracked black pepper
Truffle oil or sea salt (optional)
Salt to taste
Instructions
Heat olive oil in a large skillet over medium low heat.
Once hot, add the onion, bell pepper and garlic. Saute' until the onion is starting to soften, about 3 minutes.
Add the mushrooms. Saute until soft and releasing liquids. (NOTE: Initially the mushrooms will soak up the oil and liquid in the pan and you'll think you need more oil.  Be patient.  Just a wait a minute until the mushrooms start to release their liquid.)
Add the chile powder, paprika, salt and pepper. Toss to combine and cook for another minute.
Remove from heat and drizzle with the truffle oil or sprinkle with truffle sea salt.
Once you serve up the plates, you can sprinkle with a touch more chile powder or paprika.
[/print_this]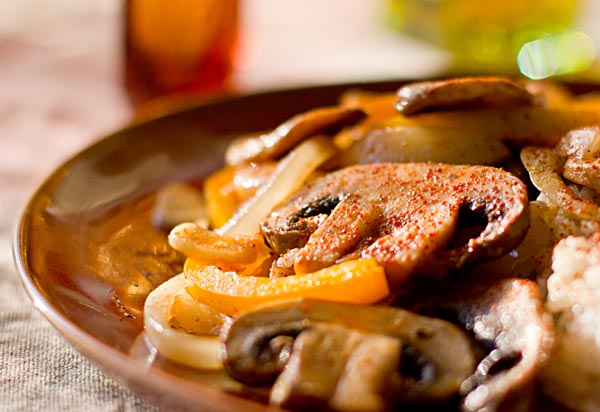 Kitchen Notes
Mushrooms – The best mushrooms for this dish are button mushrooms – white or cremini (baby bellas). You want a mushroom that imparts a lot of moisture when it cooks.  Even though I love shiitakis, they don't work very well for this dish because I end up having to add too much oil.
Bell pepper – I love sweet bells so I add them for flavor, color and texture.  Use a red, yellow, or orange pepper to give the dish some color.  When sauteing the onion and peppers, the onions will soften first.  Don't wait for the peppers to soften.  They'll cook a little more with the mushrooms and still provide a touch of crunch in the final dish.
Spice – Of course I used New Mexico red chile powder, but you could use just about any red chile powder or even red pepper flakes.  If all you have a chili powder blend, I would think that it would work as well.  The 1/4 teaspoon was just enough to add a little heat without overpowering the flavor of the mushrooms.  You can always add more if you choose.  For the paprika, I used an Hungarian paprika which added a little heat as well. Depending on what you are serving these with, you could also go with a toasted cumin and coriander blend, or chile and turmeric.
Truffle oil – I put this as optional, but I really love a touch of the truffle in this dish. You could use truffle oil, sea salt with truffle, or grate some truffle on top.  Just be careful not to go overboard. If you don't have any of these, not to worry – the dish is quite delicious without it!
Serving suggestions:
Serve over rice as a side to another vegetable dish or a meat such as roast chicken or grilled steak.
Last night we served it with leftover rice and a side of steamed asparagus topped with a soft boiled (steamed actually) egg.  (I read about the asparagus dish in Cook's Illustrated.  It was as good as it sounded.)
Serve over creamy polenta such as the one dished up over at Spicie Foodie.
For another complete vegetarian meal using this dish, serve the mushrooms over rice, pasta, or polenta and top with a soft-cooked egg (fried, boiled or steamed).
What to do with any leftovers?  If you do happen to find yourself with a few leftover mushrooms, here's a few ideas on how to use them.
Add them to a soup or casserole
Wrap them in an omelet with a little goat cheese
Add them to scrambled eggs.
Serve them over a piece of toast for lunch
Use them as the topping for a burger
No matter how you dish them up – you're going to love these sauteed mushrooms!
These spicy sauteed mushrooms have been shared with the following recipe parties: Katherine Martinelli's Vegan Hop, Foodie Friday, Weekend Kitchen Creations, Heath and Soul ,