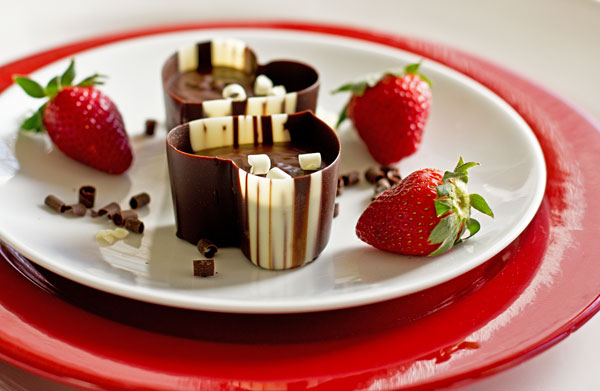 It's February and what better month to post a chocolate recipe. As a huge chocolate lover, finding this chocolate pot recipe and then getting to test it out several times was heavenly. This chocolate pot is not as light, texturally, as a mousse or chocolate pot de creme which use egg or egg yolks, but it's still smooth and creamy, rich and delicious and with less fuss.
A few months ago I was the lucky winner of the Green & Black's Organic Chocolates giveaway from Vianney at Sweet Life. It was a wonderful package as you can see below that consisted of a logo tote bag, Green & Black's Ultimate Chocolate Recipe cookbook, and 3 bars of chocolate.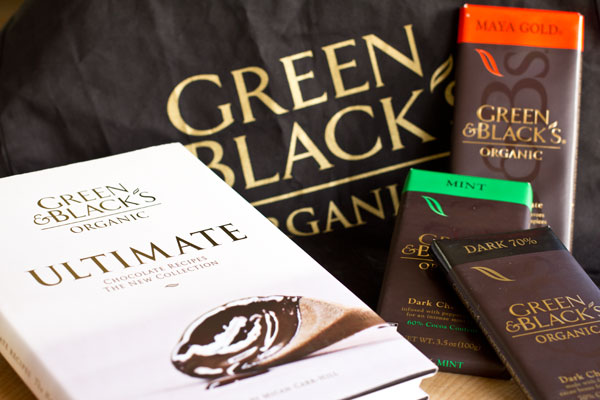 When going through the cookbook, I found it quite difficult to decide which recipe I wanted to make first.  There were SO many that I marked.  However, when I came upon the 5-minute Chocolate Pot, I knew that needed to be made as soon as possible.  It's simply a little pot of chocolate with cream and only takes 10 minute to make. The recipe says 5 minutes, but let's be realistic.  The hardest part of making this was waiting for it to cool off.  It is meant to be served warm or at room temperature, so the recipe says to let it cool on the counter for an hour before serving.  It actually took a couple of hours. You can serve each serving with a little cup of whipped cream or with nothing at all. Either way it's a chocolate lover's dream!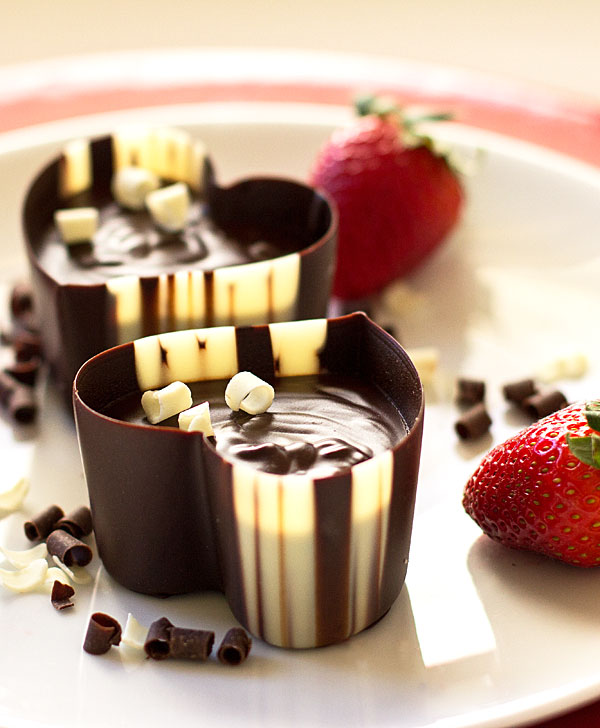 [print_this]
Chocolate Pot with a Hint of Coffee Recipe
Servings: 4 – 6 depending on the size of the serving cups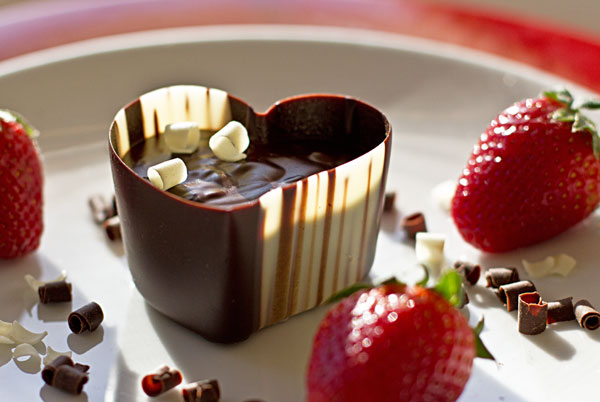 Prep and Cook Time: 10 minutes
Set time:  allow at least 3 hours
Ingredients
3.5 ounces milk chocolate solids, broken into pieces (See Kitchen Notes)
3.5 ounces dark chocolate (70% cocoa), broken into pieces
1/3 cup hot coffee (left over from your morning coffee works fine)
1 tsp. vanilla extract
1/2 cup heavy whipping cream
Instructions
Place a metal bowl over a pot of simmering water.  The water should not touch the metal bowl. If it does, the bowl will get too hot and cook the chocolate rather than melt it.  I usually just put about an inch of water in the bottom of the pot.
Add the chocolate pieces to the bowl. Melt, stirring occasionally.
Once melted turn off the heat and SLOWLY add the hot coffee, stirring constantly. (The chocolate may start to solidify if the coffee isn't really, really hot, but just keep stirring. It will remelt.)
Stir in the vanilla extract and stir until smooth.
Slowly stir in the cream.
Once all of the ingredients have been combined into a smooth chocolate cream, pour into serving cups.
Let the chocolate pots cool for about 3 hours on the counter or let cool for 30 minutes, then refrigerator for an hour. They'll set quicker in the refrigerator. If you do refrigerate for more than 3 hours, remove from the refrigerator at least 30 minutes before serving.
You can serve these with a little bit of whipped cream or just sprinkle with sea salt. Both toppings are wonderful!
This recipe was adapted from the "5-minute Chocolate Pot" recipe in the Black & Green's Ultimate Chocolate Recipes cookbook.
[/print_this]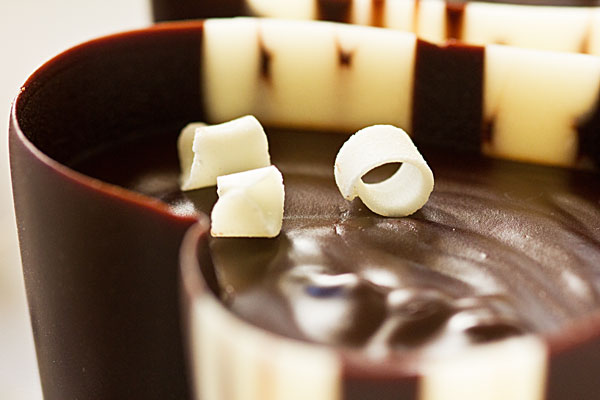 Kitchen Notes
Recipe adaptation – The only things I changed from the original recipe was to use a blend of chocolates rather than use just dark chocolate, and to use coffee rather than water.  For the process I kept the chocolate over the hot water while I added the coffee but with the fire off. The original recipe said to remove the pan from the heat after melting the chocolate and before adding the liquid.  That didn't work for me. The chocolate hardened even though the coffee was hot, so I put the bowl back over the hot water to finish adding the coffee.
The chocolate – I can tell that this recipe could use a number of different types chocolates with different amounts of cocoa.  So I would suggest using whatever chocolate you have on hand, and if you are like us, you always have chocolate on hand.  However, whatever flavor you add (if you decide to use a flavoring) could dictate the best type of chocolate to use.  For instance, I made one batch with all dark chocolate and the coffee. I found it too bitter and had to add a touch of honey.  When I used half B&G dark chocolate and half milk chocolate, no sweetener was needed and the flavor was perfect.
The cream – Don't be tempted to go light and use half and half.  I tried it.  The delicious flavor was there, but I wasn't as crazy about the texture.  The batches I made with heavy cream were like eating a silky, creamy mousse.  The half and half yielded a thicker, less creamy result. Still quite delicious, just a little too thick.
The flavoring – We really loved the hint of coffee, and to make it even better, I sprinkled a little sea salt on each serving after pouring them into the cups. YUM!  I did make one batch with 1/8 teaspoon of mint extract and neither of us liked it. It was too medicinal.  I haven't tried other flavorings, but would think using a flavored chocolate such as hazelnut, almond or orange would be delicious.  You could also add a tablespoon of liquor or brandy if you choose.
Serving size –  The original recipe calls for the chocolate to be poured into espresso cups, but you can use whatever small serving dishes you have.  I've used wine glasses, espresso cups, ramekins, and these cute little chocolate cups I found at World Market.  This is a really rich chocolate dessert, so a little does go a long way and if you add whipped cream, it makes it even richer.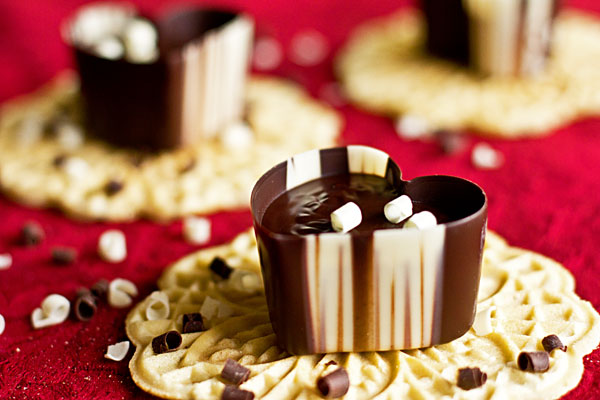 This Chocolate Pot recipe was SO easy and is the perfect recipe for all of you chocolate lovers out there.  Use your favorite chocolate and enjoy!
If you like this chocolate treat, then you'll love these little Fiery Chocolate Shots.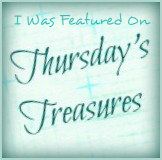 Save