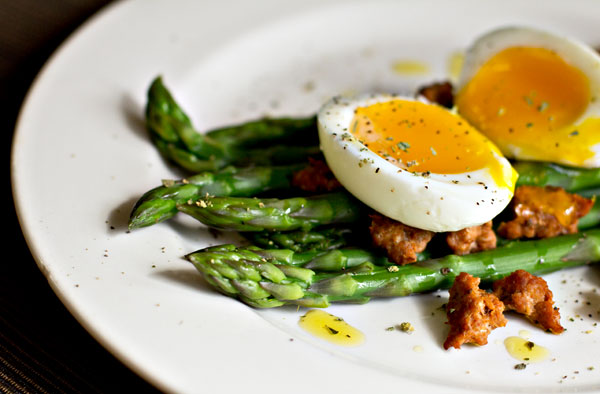 This asparagus, chorizo and egg salad was inspired by an article in a recent issue of Cook's Illustrated.  The article was about getting the perfect soft-boiled egg by actually "steaming" it rather than boiling it.  I have now tried the steaming method several times and each time have ended up with "perfect" soft-boiled eggs – cooked whites and creamy yolks. SO good!
Now that I have all of these soft-boiled eggs, what do I do with them all?  The article suggested serving one over steamed asparagus drizzled with olive oil.  I tried it, and it was excellent, but I wanted more. So by adding just a couple more ingredients, I came up with this delicious asparagus, chorizo salad that can be served by itself, as a side, or a starter for a meal.  If you're vegetarian, just omit the meat.  It's a great salad with or without the chorizo.  The chorizo adds a spiciness and meatiness that you can't get otherwise and actually, provides a complete meal for us.  If you can't find chorizo, you can use bacon.  Who doesn't love bacon on a salad?!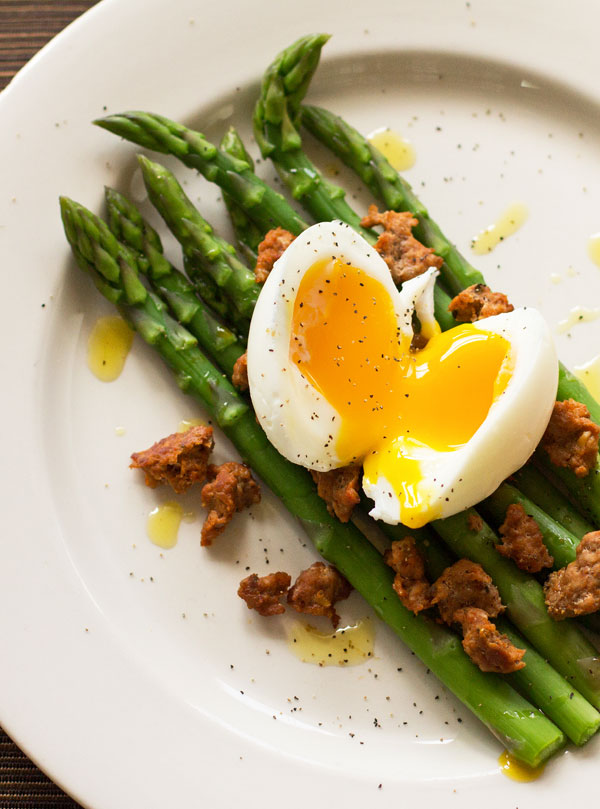 [print_this]
Asparagus, Chorizo and a Soft-Boiled Egg Recipe
Serves 2
Cook and Prep time: less than 30 minutes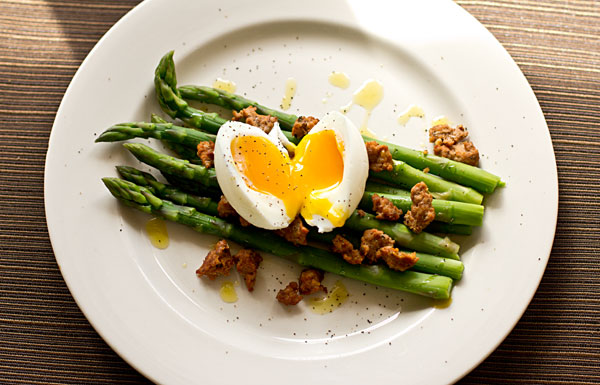 Recipe Author:  MJ of MJ's Kitchen
Ingredients
½ pound asparagus, trim off the tough ends of the stalks and discard
~¼ pound Mexican chorizo, cooked and crumbled (See Kitchen Notes)
¼ cup red chile sauce (optional)
2 soft-boiled eggs
dried oregano (optional)
olive oil (garlic-infused oil works great)
Salt and Pepper
Instructions
Steaming the eggs – To a small sauce pan (big enough to hold 2 to 4 eggs), add about ½" of water. Bring to a boil.  Carefully place the eggs in the pan, reduce heat for a simmer, cover and set the timer for 6 ½ minutes. When the timer goes off, immediately drain the water from the pan and run cold water over the eggs.  Let cool for a minute or two.
Peeling the eggs – Because they are soft-boiled, you need to be extra careful when peeling.  Gently tap the wide end of the egg on the counter to crack. Carefully start removing the shell and the membrane under the shell.  If the membrane won't separate from the egg, hold the egg under a slow stream of water while you peel.  The water will be drawn under the membrane, helping to separate the membrane and shell from the egg.
Cooking the chorizo – Crumble the chorizo in a skillet (preferably the same skillet you plan to use for the asparagus).  Cook over medium low heat, covered, stirring occasionally, until done, but not dry. Add the red chile sauce if desired. Heat through and remove from the heat, cover and set aside.
Cooking the asparagus – Steam the asparagus in a steamer is you have one. If you don't have an asparagus steamer, then add "a little" water to the bottom of a skillet large enough to hold the asparagus.* Bring to a boil, add the asparagus and cover.  Reduce heat and simmer for about 3 to 4 minutes until the asparagus is crispy tender. Drain and run under cold water for a few seconds to stop the cooking process.  Set aside.
Assembling the salad – Divide the asparagus between 2 plates.  Drizzle with olive oil and top with half the chorizo. Cut the eggs in half and place on top.  Sprinkle with salt and pepper and a dusting of crumbled dried oregano.
Enjoy!
*If you use the same skillet that was used to cook the chorizo, then you get to take advantage of the spices and flavors stuck to the bottom of the skillet.  Just transfer the chorizo to a bowl and cover to keep warm.
Note:  Red chile sauce option was added April 2014.
[/print_this]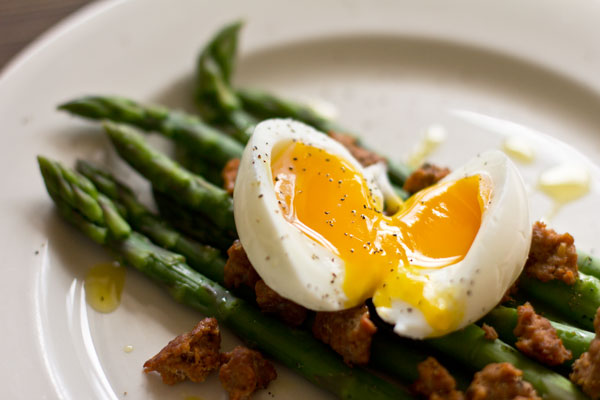 Kitchen Notes
The chorizo – I now make my own Mexican chorizo which is really easy. If you buy it and can only find links, then remove the casing and crumble the sausage into the skillet. One link is approximately ¼ pound which is all you need for two (2) salads.
Other protein options – This salad is great with any type of spicy meat.  We've had it with crispy bacon and crispy salami.  Any spicy sausage would work. If you are vegetarian, just omit the meat or substitute with fried tofu or a sharp, smokey cheese.  In fact, for one salad I just added some Pecorino Romano and no meat and a dusting of smoked paprika. It was fabulous!
The asparagus – We like our asparagus crisp tender. You can cook it using any method you want – steamed, grilled or roasted.  Since I don't have a steamer, I skillet steam, covered, with a little bit of simmering water.
The eggs – If you don't want to soft-boil (or steam) them, a fried egg or poached egg would work as well.  Just make sure you don't overcook it.  You want the yolk runny so that it creates a sauce for the dish.
The oregano – You can use any herb or spice that you want or just omit it altogether.  I like oregano with chorizo, tarragon with bacon and salami, and a touch of smoked paprika with cheese.
The basic salad of asparagus and soft-boiled egg is so simple that it offers many variations. Every time I change it up, we feel like we're eating a completely different dish. So just have fun and enjoy!
This asparagus, chorizo and egg dish has been shared with Foodie Friday, Katherine Martinelli's Asparagus Hop, Made With Love Mondays  .