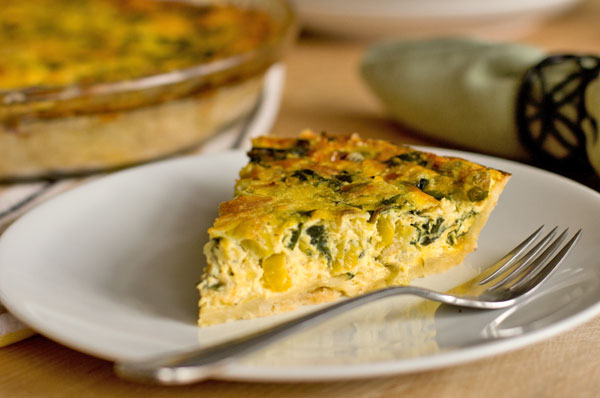 Swiss Chard Leek Quiche is our favorite quiche and one of my tried and true recipes.  But it hasn't always been that way.  For years I was intimidated by quiche because I was always trying to make it too healthy.  I used skim milk, too few eggs, and too many vegetables.  Therefore, my quiches were always runny, thin and tasted like sauteed vegetables with scrambled eggs.  And no – I never followed a recipe, but I have gotten better at that over the years. 🙂 So after many failed quiches, I did decide to follow a recipe and made a beautiful quiche with lots of eggs, heavy cream and cheese.  I finally understood what made a quiche work:  great vegetable/meat ingredients (but not too many), a tasty and light crust, and the right proportion of eggs to cream to milk.  At this point I started working my way toward a healthier quiche.
The base of ingredients for Swiss chard leek quiche is my standard.  I use an amazingly easy and tasty crust that I found at Food.com, and local free range eggs.  The ratio of eggs to cream/milk is 4 eggs to 1 ¼ cups liquid. So with a great crust and the perfect egg and cream/milk mixture, all one needs now are a couple of tasty vegetables and possibly a little meat, and then the cheese.  In this Swiss chard leek quiche I use a sharp provolone and Romano cheese (our favorite); however, you could use pretty much any vegetable, meat, and cheese that you have on hand.  See Kitchen Notes for some ideas.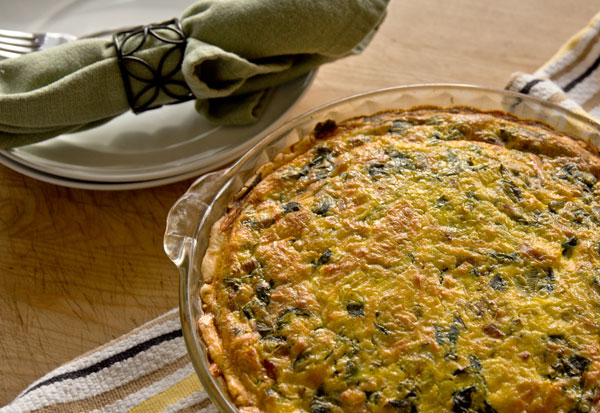 Swiss Chard Leek Quiche Recipe
Recipe author:  MJ of MJ's Kitchen
Serves: 4 – 6
Prep time: 30 to 40 minutes
Cook Time:  45 minutes with 5 minute rest
Ingredients
1 – 9" pie crust (See below)
1 Tbsp. olive oil
1 large leek
4 large garlic cloves, minced
3 large Swiss chard leaves, stems removed, greens chopped (2 heaping cups)
½ tsp. dried thyme
¼ tsp. black pepper
4 eggs
¾ cup half and half
½ cup 2% cup milk
½ tsp. mustard powder
Dash of salt
½ cup sharp cheese (cheddar, Italian provolone, asiago)
½ cup Pecorino Romano cheese
Pie Crust Ingredients (slightly adapted from Quick n Easy Quiche Crust @ Food.com)

1 cup flour (See Kitchen Notes)
1/2 teaspoon salt
1/4 cup olive oil (or 2 tbsp. EVOO and 2 Tbsp. garlic infused olive oil)
1/4 cup ice water (refrigerator water works great)
EVOO – Extra virgin olive oil
Pie Crust Instructions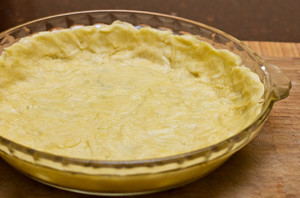 Combine flour and salt.
Whisk oil and water to an emulsion.
Pour emulsion into flour and combine with a spatula.
Press into 9″ pie crust with spatula or fingers initially, then use the back of a spoon to spread into the curve of the pan and up the sides.
Set aside or refrigerate until ready to use.
Quiche Filling Instructions
Preheat oven to 375° F.
To prep the leek, remove the green top and compost or discard.  Cut the leek lengthwise into quarters.  Separate the leaves. Rinse to remove the dirt on the inside of the leaves.  Shake the water off the leaves and chop.
In a skillet, heat the oil over medium low heat. Add the leek and the garlic. Sauté until soft and starting to brown, stirring occasionally about 10 minutes.
Add the Swiss chard to the skillet and sauté for 1 minute. Lower the heat to low, add the thyme, and pepper. Cover and cook for 3 minutes or until chard has wilted. Remove the cover and continue to heat until most of the moisture has evaporated. Remove from heat.
Whisk the eggs in a bowl until fluffy. Add the cream, milk, mustard powder, and a dash of salt and pepper. Whisk to combine.
Spread the sharp cheese across the bottom of the pie crust. Top with the leek/chard mixture followed by the Romano.
Pour in the egg/milk mixture.
Bake in preheated oven for 45 minutes or until a knife inserted into the middle comes out clean.
Remove from oven and let cool about 5 minutes. Serve.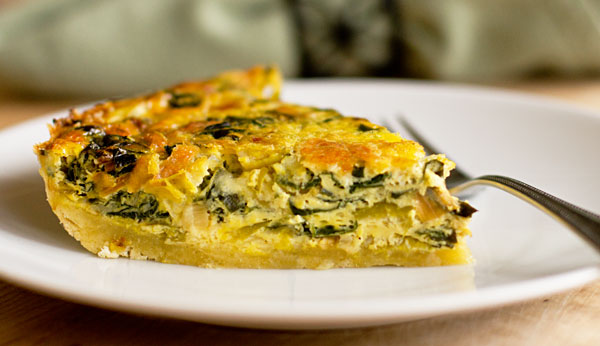 Kitchen Notes
The crust's flour – Like my basic quiche recipe, the crust recipe has gone through many different versions.  I've tried lots of different flours and flour combinations and have found that the best flour to use is pastry flour.  The texture is perfect. However, bread flour and all purpose flours work "almost" as well; therefore, I use one of those if I don't have pastry flour. For a crust with a little more grain to it, substitute 1/4 cup whole wheat or spelt for 1/4 cup of the pastry flour. I didn't like any crust in which I used brown rice flour as part or all of the flour.  These crusts were hard and crunchy – not something I want in a quiche crust.
The crust oil and seasoning – I love to use garlic infused oil as part or all of the oil, but that should come as no surprise. However, any tasty olive oil that you enjoy works. A little spice and/or herbs in the crust is also quite nice.  What you use depends on the quiche ingredients. About 1/4 tsp. of dried oregano in the crust works with almost any quiche.
The milk/cream mixture – My standard mixture is half and half with 2% milk.  However, I have used whipping cream or heavy cream with milk as well, mainly because that's what was in the fridge. When I use heavy cream, I reduce the cream to 1/2 cup and increase the milk to 3/4 cup – still trying to keep that fat content down.
The ratio of eggs to milk/cream mixture – For  9″ quiche, 4 eggs with 1 ¼ cups milk/cream yields a pretty big quiche with the egg/cream mixture rising about the crust. If your pan is smaller, you can reduce the number of eggs to 3, but then you should reduce the cream to 1/2 cup and keep the milk at 1/2 cup.
The ingredients – I usually pick two main ingredients and adjust the seasoning to complement.  Of course, I'll always add a little garlic.  Some of our favorite combinations are Swiss chard and leeks, leeks and mushrooms, crab meat and spinach, turkey mushroom, green chile and turkey, smoked salmon and asparagus, and artichoke and bacon.  The possibilities are endless.  Just don't be tempted to pile it on too high. Too many vegetables or meat can add additional moisture that keeps the egg mixture from setting and produces a runny quiche.  Believe me – I know this to be true!
The cheese – I always add two different cheeses.  Notice in this recipe I just say "sharp cheese".  That's because I've used sharp cheddar, real Italian provolone, and asiago and they all were fabulous.  The second cheese is almost always Pecorino Romano. The sharp, harder cheeses allow me to keep the amount of cheese at a reasonable level. Just choose the cheese or cheeses that best fits the ingredients and that you like the flavor of.
Normally we just eat quiche, but sometimes I'll add a small side salad with a fruit of some kind like orange, apple or dried cranberries.  One Swiss chard leek quiche provides Bobby and me with two meals.
For another vege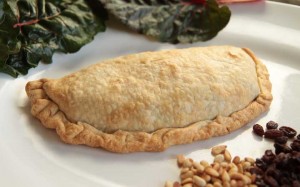 tarian meal made with Swiss chard, try my Swiss Chard Calzone.
This Swiss Chard leek quiche recipe was shared with the following blog hops:
Hearth and Soul, Wonderful Food Wednesday, Weekend Potluck, Foodie Friday, Carole's Food on Friday, and featured at Bizzy's Recipe Box