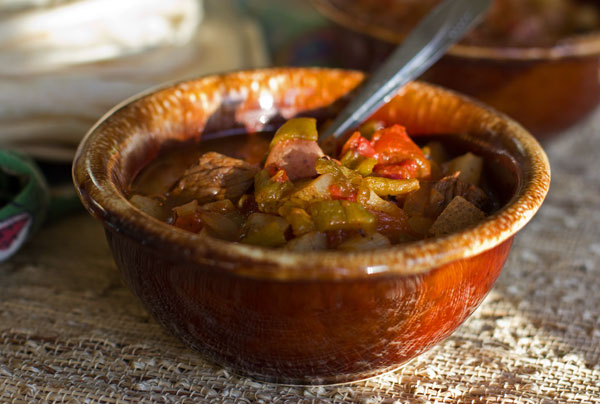 Earlier I posted my Easy Green Chile Stew, a quick little stew with a few ingredients and one that can be made and ready to eat in less than an hour. Since then I've had several requests to post our regular Green Chile Stew, so here it is.
Compared to my other stew, this one replaces ground beef with a sirloin steak cut into bite size pieces. I know, some of you might be screaming – pork! Well, having lived in New Mexico for over 40 years and having eaten green chile stew with pork, beef, ground beef, chicken, and no meat at all, I can honestly say, that we prefer beef to pork.  For any New Mexico green chile stew, the star of the show is the chile, so as long as you use New Mexico green chile, the protein is your own personal preference.
In addition to the sirloin, this New Mexico green chile stew uses potatoes and tomatoes, making a hearty and quite healthy pot of stew. Because it's a "green chile" stew, it uses a lot of roasted, peeled and chopped green chile. It takes a little longer to make than my "easy" stew, but its flavors and richness are hard to beat, making it well worth the extra effort.
In New Mexico green chile stew is a traditional holiday dish. You can't go to a holiday party without seeing a big pot of stew simmering on the stovetop.  For Christmas eve we usually make either a pot of green chile stew or posole' – both of which are serious comfort foods. If you need a serious warming up, this is the dish.
New Mexico Green Chile Stew Recipe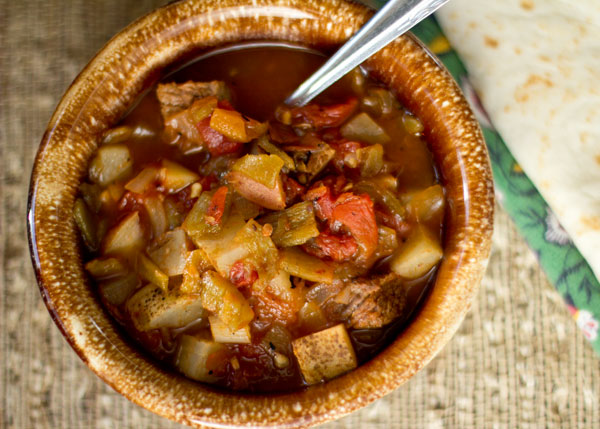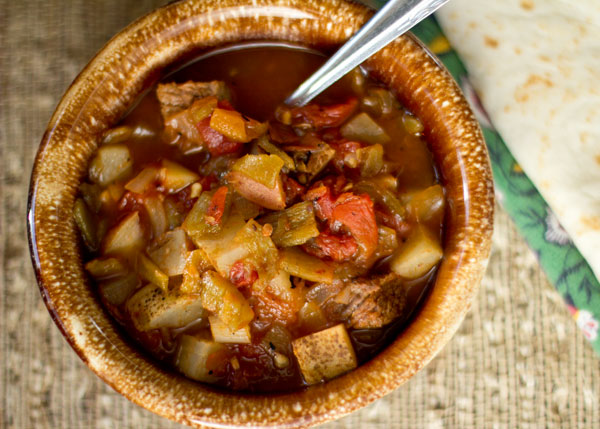 New Mexico Green Chile Stew Recipe
Traditional New Mexico Green Chile Stew is made with pork, but this one is made with sirloin. It's our favorite!
"*" See Kitchen Notes for more information or links to special ingredients.
Ingredients
1 1/2

Tbsp.

coriander seeds

toasted and ground

1

Tbsp.

olive oil or canola oil

1 1/2

pounds

sirloin*

trimmed with no fat

salt and pepper

1

large onion

chopped

3

large garlic cloves

minced

3

cups

crushed tomatoes*

6

cups

chicken stock

1

tsp.

oregano

1

pound

potatoes

cut into ½" cubes

3

cups

roasted, peeled, chopped New Mexico green chile*

Salt to taste

Flour tortillas

as a side

*

See Kitchen Notes
Instructions
To toast the coriander, heat a heavy skillet on the stovetop. Add the coriander seeds, shaking the skillet often until the seeds become aromatic and lightly brown. Transfer to a mortar and pestle and grind. Set aside.

Heat the oil in a large Dutch oven medium high heat. Lightly salt and pepper both sides of the sirloin. Add to the Dutch oven and sear on both sides. Transfer to plate.

Reduce the heat to medium. Add the onion and garlic. Saute' for about 2 minutes.

Add the tomatoes, ground coriander, oregano, stock, potatoes and green chile.

Cut the meat into bite size cubes and transfer back into the pot along with any juices that have accumulated on the plate.

Bring to a boil and reduce to a simmer. Simmer for 45 minutes or until the potatoes are tender.

Taste and add salt if needed. (If you use canned tomatoes, you'll probably do not need to add salt.)

Serve with warm flour tortillas.
Kitchen Notes
Cook time – As with any soup or stew, the flavor of the stew improves overnight or even after a few hours. Bobby usually makes this in the afternoon, then lets it come to room temperature. When he reheats it for supper the flavors of the ingredients have melded yielding a rich tasting stew.
The meat – Many green chile stews call for pork, but once we tried it with beef, we were hooked. I save the pork for posole'. If you don't eat beef, you can easily substitute pork, chicken, or turkey. If you don't eat meat, then you can make the vegetarian version described below.
Green chile – This is a New Mexico chile stew; therefore, the best chile is New Mexico green chile or similar varieties. To read more about the varieties of New Mexico green chile, read my Red or Green? (chile) post. We usually roast, peel and chop our green chile in the fall, then freeze for the winter. You can buy frozen, roasted chile year round from one of the suppliers listed below.
Tomatoes – If you don't have crushed tomatoes, use diced tomatoes or a combination of crushed and diced. We usually use canned tomatoes, but frozen or fresh work fine. No need to drain.
Vegetarian version – Because the primary flavor of this stew comes from the chile, it's very easy to substitute the meat and chicken stock with vegetarian alternatives. For the protein element, pinto beans work best and the liquid can be either vegetable broth or water.
Toppings – Toppings such as cheese, sour cream, or chopped onion can be used if you choose. Sometimes we add a little cheese, but it really doesn't need it. A warm flour tortilla as a side is perfect.
This recipe was slightly adapted from Matt Nichol's Green Chile Stew recipe that was published in the Albuquerque Journal in 2002 (I think that was the year).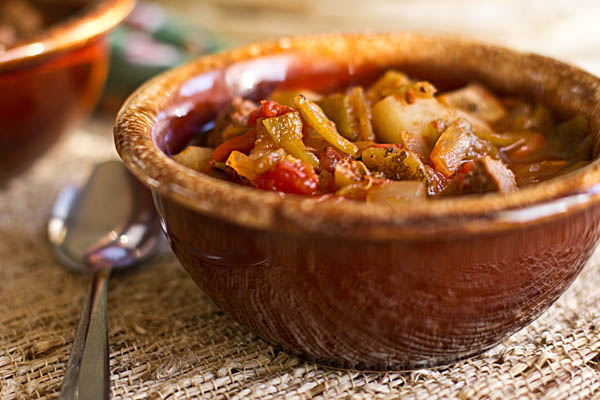 Calming the burn – Most of the time the chile is so hot that my mouth is on fire after eating a bowl and I need sometimes to kill the burn.  I have found two things that work great: milk, and honey, but not together.  My favorite it to drizzle a little honey on a piece of tortilla.  It kills the heat and gives me that bite of sweetness that I love at the end of a meal.  You could also spread real butter on a flour tortilla. That helps as well.
Enjoy!
Another delicious stew that's perfect for cold winter days:  If you aren't familiar with posole', also spelled pozole', then you need to check out my New Mexico Pork and Green Chile Posole' and  Vianney's Pozole' Rojo over at Sweet Life.  Posole' is a New Mexican stew traditionally made with pork, hominy and chile, but there are many variations that are just good. Here are some other posole' recipes:
Chorizo, Mushroom and Posole' Soup
Posole' with Italian Sausage and Kale
New Mexico green chile Suppliers
Recipes with New Mexico green chile
Recipes with New Mexico red chile
This New Mexico Green Chile Stew was featured in an article in The Huffington Post, February 4, 2013 and again on September 25, 2013. It was also featured  in the Wonderful Food Wednesday Blog Hop.