Eat Hoppin John (aka Black-eyed Peas) on New Years for  a prosperous and lucky 2018!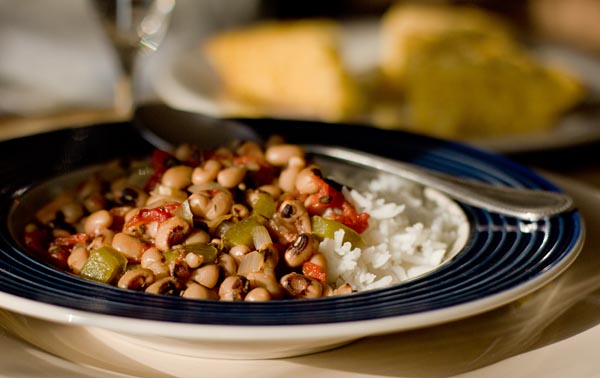 My favorite way to serve black-eyed peas is as a Hoppin' John which is a pot of black-eyed peas cooked with a ham hock, a few vegetables, and a touch of something spicy.  As with most traditional dishes, there are several variations of Hoppin' John.  My version uses ham hock and smoked ham or andouille sausage. The spice comes from Tabasco and homemade pepper sauce which is basically a chile pepper infused vinegar.  The peas are served over rice and with my favorite side for anything served in a bowl – buttermilk cornbread.
Eating black-eyed peas and cornbread on New Year's Day has been a tradition in this household for a very long time. Of course this comes as no surprise having been raised in the south.  In case you didn't know this already, eating black-eyed peas on New Year's Day is intended to provide good luck and prosperity throughout the year.  According to Wikipedia, the tradition of eating black-eyed peas on New Year's Day goes back to the middle ages which I found very interesting. Serving the peas with greens such as collard greens, turnip greens or kale, increases one's potential prosperity because greens are "green" representing money.  However, I like to go for the "gold" and serve my peas with cornbread.
When Hoppin' John is served the day after New Year's, it's called Skippin' Jenny, and provides even more luck for a prosperous year.  If you are like us, you'll have this dish on January 1 and 2 and a couple more times in winter, racking up as much luck as possible. Does it work? Who knows.  We're obviously not going hungry, so something's going our way.
Hoppin' John aka Skippin' Jenny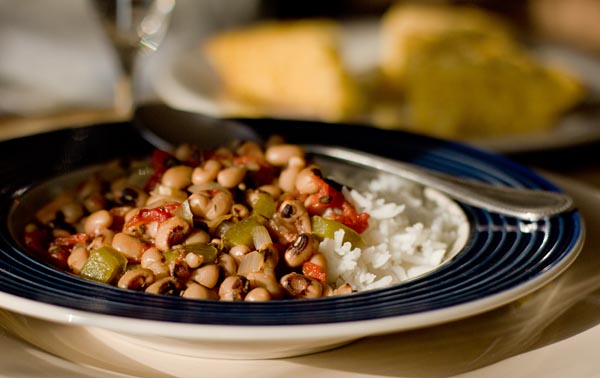 Hoppin' John (Black-eyed peas) Recipe
When served on New Year's Day, black-eyed peas brings good luck and prosperity throughout the year. This recipe can be made from fresh, frozen, or dried black-eyed peas.

"*" See Kitchen Notes for more information or links to special ingredients.
Cuisine:
American, Southern US
Ingredients
1

Tbsp.

bacon drippings or oil

1

medium onion,

chopped

1

medium green bell pepper,

chopped

4

garlic cloves,

minced

1

– 16 oz. bag of frozen black-eyed peas*

1

small to medium smoked ham hock

(about 1 pound)

6 to 8

cups

water or chicken stock or both

1 - 14

oz.

can diced tomato or 1.5 cups fresh or frozen,

diced

2

cups

smoked ham,

chopped or 3 Andouille sausage, sliced

1/2

tsp.

dried thyme

1

tsp.

dried oregano

2

bay leaves

1/2

bunch

kale or Swiss Chard,

chopped (optional)

dash hot sauce

(Tabasco)

salt and pepper,

to taste

Pepper Sauce*

2

cups

water for rice

1/4

tsp.

salt

1

cup

uncooked white rice

*Use a few dashes of the pickling vinegar from any jar of hot

pickled peppers over each serving.
Instructions
Melt bacon drippings in large Dutch oven or soup pot over medium low heat. When hot add the onion, bell peppers, and garlic. Cook, stirring occasionally for 3 to 4 minutes or until onions are translucent.


Add 6 cups water and bring to a boil. Add ham hock and peas. Cook 30 minutes stirring occasionally. If the ham hock is not completely submerged, turn over a few times while cooking. (Add additional water as needed during most of the cook time.)

Add ham, tomatoes, herbs, hot sauce, salt and pepper. Cook for 30 minutes or until the peas are done.

Start the rice. (See instructions below.)

Remove ham hock. Let cool enough to pick off the meat.


While the ham hock is cooling, add the chopped greens (if using) to the peas and continue to simmer.




Return the ham hock meat to the peas and discard the bone and fat. Remove from heat and serve.


To serve, scoop some rice into a bowl. Top with the Hoppin Johns. Top with a few dashes of pepper sauce*.

Serve with Buttermilk Cornbread*.
Rice
Bring 2 cups water to a boil with 1/4 tsp. salt

Add the rice, cover, and reduce heat for a simmer.

Cook about 20 minutes or until rice is cooked.
Kitchen Notes
Black-eyed peas – Frozen peas work great, but if you have time, dried peas are best in my opinion. If using dried peas, brine for 4 hours in a brine of 1 Tbsp. salt and enough water to cover the peas and them some.  Once brined, you can either pressure cook the peas with the ham hock until "almost" done  (medium for about 8 minutes) or cook the peas with the vegetables using the same timing and instructions as the recipe.
Canned black-eyed peas can also be used; however, because they are already cooked, they should be added during the last 10 minutes of cook time. In other words, cook the ham hock and vegetables with the seasoning for about 50 minutes, then add the canned black-eyed peas and cook another 10 minutes.
Ham Hock – If you can't find smoked ham hock, you can substitute with andouille sausage, using both sausage and smoked ham.  We've made this with andouille many times and it's excellent. 
Vegetarian or vegan version – There are a couple of ways to make Hoppin' John vegetarian/vegan. I've cooked dried peas in the pressure cooker with 2 Tbsp. chipotle paste and the rest of the ingredients (vegetables and seasoning) and it turned out pretty darn good. You can also substitute the meat with a vegetarian sausage. I've never tried it, but I can't imagine it wouldn't be good.
Serve with Buttermilk Cornbread
Leftovers– One of the things we like to do with the leftover peas and cornbread is to cut up some of the cornbread in a bowl and smother it with the black-eyed peas. Add a few dashes of pepper sauce and you have another delicious meal!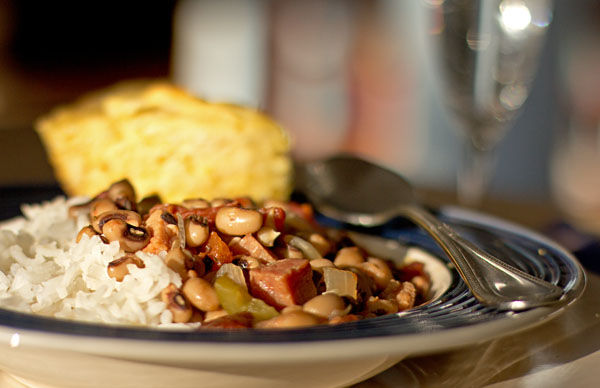 Another meal suggestion – Add ½ bunch kale about 5 minutes before serving and simmer until kale is tender.  Serve as a side for fried catfish.  Set a bowl of pickled peppers on the table and suggest to at the peppers with the catfish and spoon some of the pepper sauce into the black-eyed peas.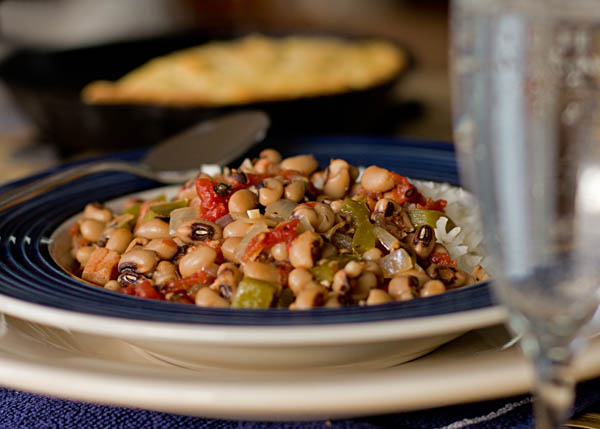 Here's to a happy and prosperous new year!
Save
Save
Save
Save