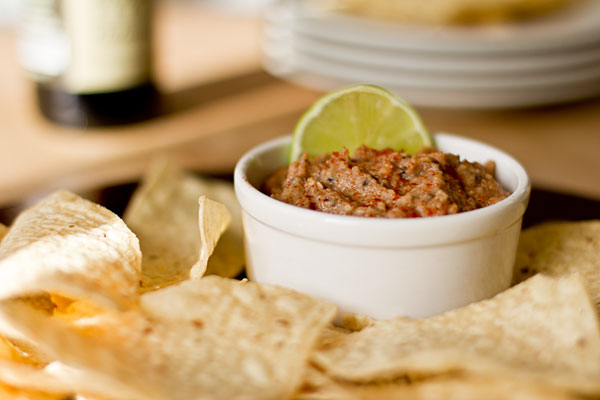 Whenever I make this Black-eyed pea Chipotle Dip I remember the time (way back when), when me and my three older siblings had to shell 5 bushels of black-eyed peas that we had picked at my granddaddy's farm. Do you know how many peas are in 5 bushels? A lot! By the time we got to the last bushel we were so giddy that we started shooting peas at each other and having contests to see who could shoot a pea from its pod the farthest. Needless to say, the kitchen floor soon became covered with peas.  When our mother came into the kitchen, let's just say she wasn't too happy, but we sure were having fun! 🙂
This black-eyed pea chipotle dip is one of those pleasant little surprises you get when you throw a few things together and end up with something very special.  Last week I had some black-eyed peas that I had set aside before making Skippin' Jenny. Needing a party appetizer, I threw the peas into a blender, added a few other ingredients and pureed the ingredients into this dip.  It was so tasty! However, you know how soups are better the next day?  Well, so is this dip! By the next day all of the ingredients had melded together to provide a very unique and delicious flavor.  My party guests loved it and were quite surprised when they realized what they were eating.
This Black-eyed Pea Chipotle Dip is so easy, quite different fro normal dips, and absolutely delicious!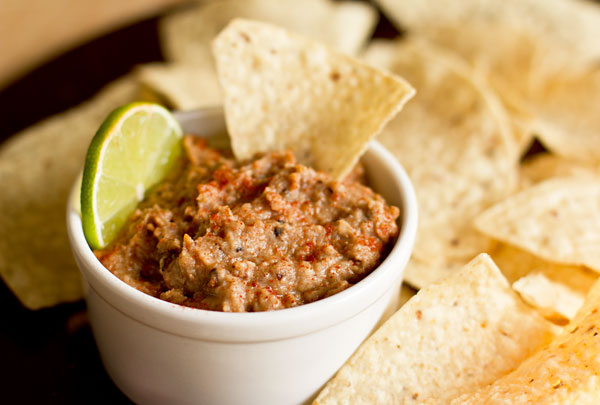 [print_this]
Black-eyed Pea Chipotle Dip Recipe
Recipe author:  MJ of MJ's Kitchen
Yields about 1.5 cups
Prep time: 15 minutes (if peas are cooked and garlic is roasted)
I do recommend that you make this the day before.  The flavor gets even better.
Ingredients
~1.5 cups cooked black-eyed peas, drained, reserve the juice
6 large roasted garlic cloves (See Kitchen Notes for alternative.)
1/2 tsp. olive oil (or garlic infused olive oil)
¼ cup onion, chopped
½ tsp. chipotle powder
Juice from half a lime (about 1 Tbsp.)
¼ tsp. salt or to taste
Your choice of chips
Instructions
Place the peas, garlic, oil, onion, chipotle powder and lime juice in a blender and puree'.  Add a little of the pea juice if the puree is too thick.  I stopped at a semi-coarse puree' rather than a really smooth puree' (as you can see in the pictures).
Taste.  Add salt if needed.
Transfer to a serving bowl, sprinkle with a touch of chipotle powder or paprika, and serve with chips of your choice OR, refrigerate and serve the next day.
[/print_this]
Kitchen Notes
The peas – All you need are some cooked black-eyed peas.  Canned peas would work fine. One 14 ounce can is about 1.5 cups. You could also cook up some frozen peas, fresh shelled peas, or dried peas.  I like cooking up large batches of dried peas in a pressure cooking then using them for different dishes.  If you do like dried peas, just cook them in a pressure cooker in water or stock with some salt and pepper.  This simple seasoning allows you to use them for a variety of dishes.
The roasted garlic – If you don't have roasted garlic, you can always slow cook several cloves in olive oil on the stove top for about 15 minutes.  Just cut the garlic lengthwise into quarters, heat about 1/4 cup of olive oil in a small skillet over a low heat. (You want the oil to cover the garlic.) Let the garlic cook until it starts to turn a light brown and soften.  Remove from the oil and use in the dip.  Use 1/2 tsp of the oil in the dip and save the rest for other dishes.
The chipotle – If you don't have chipotle powder, you can substitute with one adobo chipotle pepper or one dried chipotle that has been rehydrated in hot water. You might actually start with 1/2 of a pepper depending on your desired heat level.
The blender – I used the blender container attachment for my immersion blender.  It did a great job because it didn't over puree' the peas.
When you taste this dip you aren't going to believe that something so good can be made with so little effort.  I will be making this often.
If you like this  Black-eyed Pea Chipotle Dip you'll probably love the following dips:
Green Chile Pecan Cheese Spread
Roasted Bell Pepper Cheese Spread
Save