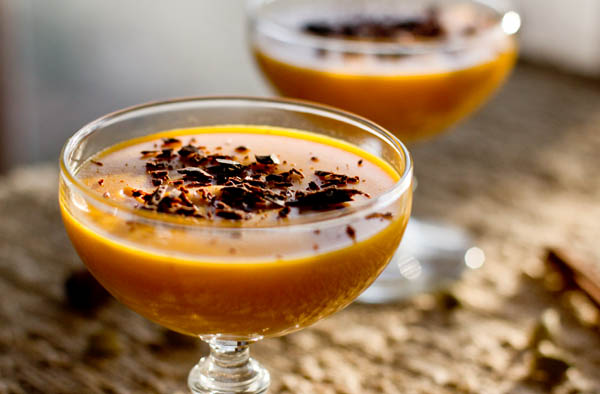 A few days ago I roasted a Kabocha squash with the intention of making a soup; however, when I tasted the pulp it was so sweet, I decided to make a dessert instead.  Because roasted kabocha is so creamy, it just seemed the perfect fit for a pudding. And thus, a sweet Kabocha pudding was born.
The main ingredients for this Kabocha pudding are squash pulp and almond milk. A little maple syrup is used as the sweetener and agar as the gelling agent.  Because I used agar, the texture isn't the same as pudding made with eggs and milk, but it is still very creamy and smooth.  Bobby grabbed a pudding from the fridge thinking it was butterscotch. He took a couple of bites and then said "I have no idea what I'm eating, but it's damn good!"  Need I say more? 🙂
Because I only used 1 cup of pulp to make this pudding, I still had 2 cups left to make a small batch of Kabocha and Fennel Soup. A completely different use of the Kabocha and oh so good!
Sweet Kabocha Pudding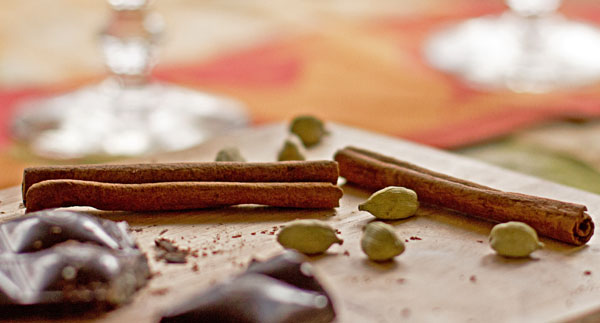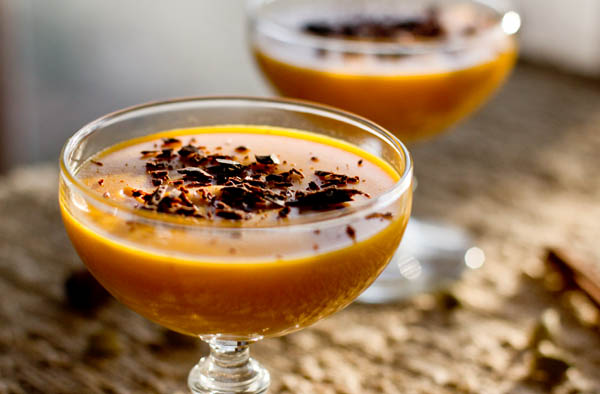 Sweet Kabocha Pudding Recipe
A sweet and creamy pudding made with spices and roasted kabocha squash puree'.
Prep and Cook Times include roasting the squash.

"*" See Kitchen Notes for more information or links to special ingredients.
Ingredients
1

cup

cooked kabocha squash* pulp

(Instructions below)

1 ¼

cup

Vanilla Almond milk*

1/8

tsp.

vanilla extract

3

Tbsp.

maple syrup or to taste

modest dash of ground cardamom*

modest dash of ground cinnamon*

½

tsp.

agar*

(also called agar agar)

Topping: Grated chocolate
Instructions
To Roast the squash
Preheat oven to 400° F.

Cut the squash in half top to bottom. Leave in the seeds. Wipe the cut surfaces with olive oil.

Line a sheet pan with aluminum foil. Place the squash on the foil cut side up and place in the oven. Bake for a 45 to 50 minutes until the squash is done. Test with a fork. If the fork goes through easily, it's done.

Remove from oven and let cool. Remove the seeds and strings using a fork. Discard.

Scoop all of the pulp to a large bowl. Measure out 1 cup of pulp for this recipe and save the rest for another recipe.
Making the Pudding
Add 1 cup squash pulp, the almond milk and vanilla extract to a blender. Blend to smooth consistency.

Transfer to sauce pan. Add maple syrup, cardamom, cinnamon, and agar. Stir to combine.

Bring to a boil over low heat, stirring constantly.

Once it boils, continue to stir for 1 minute. Remove from heat.

Divide between 4 pudding cups. Once cool, refrigerate for at least 2 hours or overnight.

Before serving, grate your choice of chocolate on top.
Kitchen Notes
Kabocha Squash – Kabocha squash is sweeter than most winter squash and is definitely creamier.  Because it is so sweet, 3 Tbsp. of maple syrup should be enough, but adjust to your taste.  Once blended with the almond milk, it had the perfect consistency for pudding.  As far as substituting another winter squash, I can't think of one that is sweet enough for this particular recipe. I'm sure other squash could be used, but you would need to add more sweetener.
Almond Milk – You can substitute plain almond, soy or whole milk.  With these substitutions, increase the vanilla extract to 1/4 tsp. Taste and adjust sweetness if needed.
Spices – Just a touch of cardamom and cinnamon is all that is needed to enhance the flavor of the Kabocha without overpowering it, so don't be tempted to go over board, but as always, adjust to taste.
The agar – 1/2 tsp. was perfect.  I got the idea of using agar from Sissi of With a Glass.  Sissi has made some great little creams using agar and I've always wanted to give it a try.  Now that I have, I know that I'll be using it more and more for quick and easy, creamy desserts.  Thanks Sissi!
Chocolate topping – Grated your favorite chocolate bar for the topping.
About agar (from With A Glass) – "Agar (agar-agar, "kanten" in Japanese) is a gelling agent very popular in Asia. Contrary to what one might think, this is not a gelatin substitute. It is prepared in a slightly different way and, most of all, gives different textures and consistencies. In Europe it is widely used in the food industry and is quite popular among vegetarians, since agar is produced from seaweed (not bones, like gelatin). Apart from gelling properties, agar has considerable health benefits. It helps digestion and is often consumed as a slimming diet booster."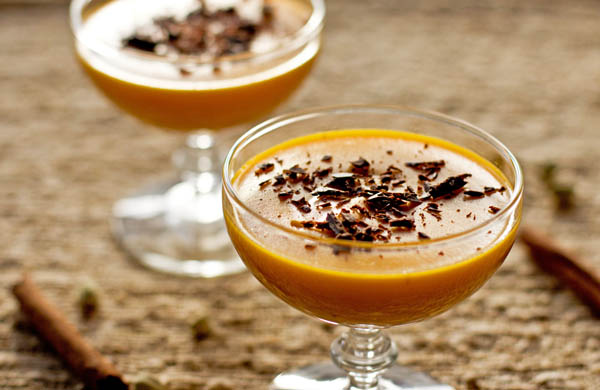 If you enjoy this Kabocha pudding, here are some other pudding recipes you might enjoy:
Matcha White Chocolate Pudding
Chocolate Pudding – New Mexico Style
This Sweet Kabocha Pudding has been shared with the following blog hops:  Food on Friday   .