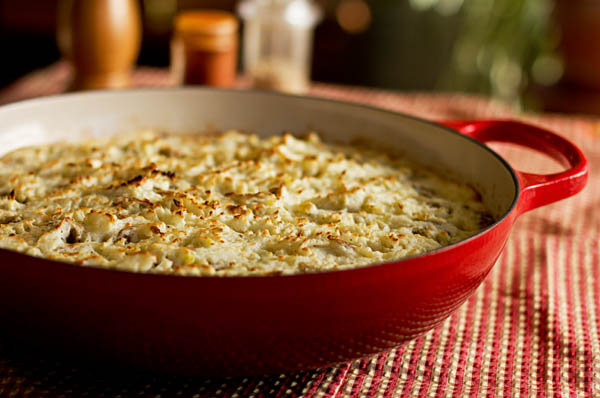 Several months back one of my nieces posted on her Facebook page a picture of a Shepherd's Pie she had made.  It looked delicious and made me aware that I had never made one and I'm not sure if I had ever eaten one. Growing up my mother made a lot of casseroles with meat and veggies topped with potatoes, biscuits or cornmeal mush, but I don't remember anything being called "Shepherd's Pie".  Now that I've made one, I realize that I've been missing out on a delicious little classic.
I'd like to thank Andy of Today's the Day and Today's the Day I Cook for giving me that push I needed to make this dish.  Andy is the hostess of the Daring Cooks' December 2012 challenge. She shared with us a traditional French Canadian classic, the Paté Chinois, also known as Shepherd's pie, cottage pie, fish pie, St Stephen's Day pie and even Shepherdless Pie. When Andy stated, "If one dish says comfort food.. this one is it!", I was hooked.  It's definitely the season for comfort food, so I accepted the challenge and got to cooking.
I tried to stay as close to the heart of Shepherd's Pie as I could; however, like most recipes, I had to give it my own personal little twist.  This recipe keeps the traditional layers of meat and potatoes, but between these two layers is a layer of sauteed mushrooms followed by a layer of feta cheese.  The meat mixture is ground beef and Mexican chorizo, corn and a touch of New Mexico red chile sauce. (Bet you didn't see that coming. 🙂 ).  The result was amazing!  I can't believe it took me so long to make this dish!

Shepherd's Pie – New Mexico Style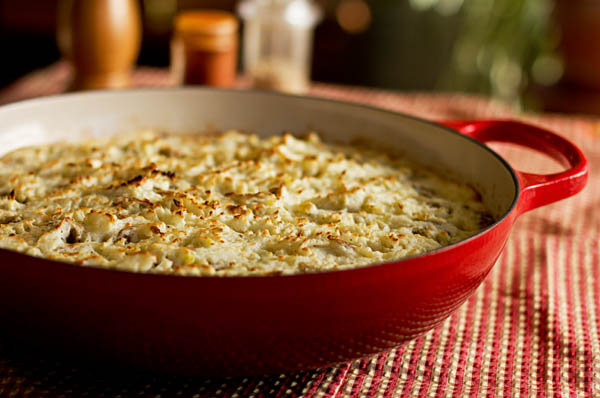 Shepherd's Pie - New Mexico Style Recipe
A New Mexican twist on Shepher's Pie. A main dish entree' with beef and chorizo, red chile, mushrooms, feta, and mashed potatoes. This should spice up your love and give you a full belly at the same time.

You may need to REFRESH page to print or save.
"*" See Kitchen Notes for more information or links to special ingredients.
Revised February 2018

Course:
Main Course, Meat Entree
Ingredients
Meat Mixture Layer
1

Tbsp.

olive or canola oil

1

pound

lean ground beef

8

ounces

(~200 g) bulk Mexican chorizo*

(or 2 to 3 links, casing removed)

1

medium onion,

chopped

4-6

garlic cloves,

minced

1

cup

corn

frozen, fresh or canned

½

cup

red chile sauce*

Salt and pepper to taste
Mushroom and Feta Layers
8

ounces

button mushrooms*,

sliced

½

Tbsp.

butter

½

cup

feta,

crumbled
Potato Topping
2

pounds

potatoes,

scrubbed, cut into large chunks

water

2

Tbsp.

butter

½

cup+

milk

Salt and pepper
Instructions
This dish can be prepared in an hour if you have someone to help. Here is how you can divide up the tasks.
One person makes the mashed potatoes.


One person chops and cooks the meat mixture and the mushrooms.

Making Shepherd's Pie - Step 1
Heat the oil in a large ovenproof skillet over medium low heat. When hot, add the onion, garlic, ground beef and chorizo.

When the meat is cooked through, add the red chile sauce and corn. Stir to incorporate, simmer for 1 minute, then remove from heat. Spread the meat mixture to cover the bottom of the skillet.
Potatoes*
Fill a pot with enough water to boil the potatoes. Bring the water to a boil, add the potatoes and simmer under done - 6 to 8 minutes (depending on the size of the pieces). Test with a fork to ensure that the potatoes are done. Transfer to a colander and drain.

Transfer to a large bowl and mash with a potato masher.

Add the butter and ½ cup milk. Continue to mash. If the potatoes are too thick, add more milk 1 Tbsp. at a time until the consistency of mashed potatoes.

Season with salt and pepper.
Mushrooms and assembly
In another large skillet, melt 1/2 Tbsp. butter over medium low heat.

Once the butter has melted and some of the foam has subsided, add the mushrooms. Toss to coat with butter.

Spread the mushrooms across the bottom of the skillet and cook for 2 minutes.

Stir and continue to cook until the mushrooms start to release their juices and turn brown. Be careful not to overcook. You don't want the mushrooms dry.

Spread mushrooms across the top of the meat mixture.

Spread the feta cheese across the top of the mushrooms.

Scoop the mashed potatoes in large scoops across the top of the feta. Gently spread the potatoes evenly across the surface of the dish.

Using a fork, create little peaks throughout the potatoes. The tips of these peaks will brown during cooking.

Bake @375°F for 20 minutes, then place under broiler for 3 to 4 minutes until tips are brown.
Kitchen Notes
Dish - If you don't have an ovenproof skillet or Dutch oven big enough, you can use a casserole dish for assembly and baking.
Chorizo – Mexican chorizo is perfect with this dish – spicy, and flavorful. If you don't have any or don't want to make your own chorizo, just use pork sausage or even turkey sausage.  If you do this, then you might want to increase the amount of red chile to make it spicy enough.
Red chile sauce – If you don't have red chile sauce, you could substitute with 1/2 cup spicy salsa or use 2 tsp. red chile powder (chile with an "e"), ¼ tsp. ground cumin, ½ tsp. oregano, and 1/2 cup water.  Red chile can be made from pods or made quickly, using red chile powder.
Mushrooms – You could use a variety of mushrooms.  I used button mushrooms, but you could easily substitute cremini, baby bellas, or shiitake. Just be sure to not overcook the mushrooms. They should be lightly brown and juicy.
To shorten the stovetop cooking time – add the mushrooms to the meat mixture after cooking the meat for about 3 minutes. Continue to cook until the mushrooms start to release their liquids, then add the red chile sauce.
Feta – Once I didn't have any feta, so I used 1 cup of a sharp cheddar.  It was delicious.  So don't be afraid to try out a different cheese or to use a cheese you already have in your refrigerator.
Potatoes – For mashed potatoes, I find Yukon gold or yellow potatoes to be the best.  However you could use in type of potatoes, including mashed sweet potato. 
Because I use organic potatoes, I don't peel them. There are a lot of nutrients in the peel that I'd rather have in my body than in the compost pile. So I just scrub the potatoes, cut and cook.
Cooking the potatoes – There are three ways to cook the potatoes:  boil them, microwave them, or bake them.  I chose to boil them this time, but most of the time I microwave them. Baking would add time to the overall process, so I wouldn't recommend that. You'll be baking them anyway once the dish is assembled.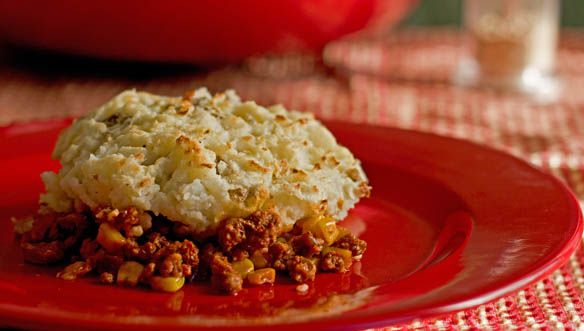 Variations – In Canada Paté Chinois (aka Shepherd's Pie) is a quick and easy ground (minced) beef dish. Andy showed us one that she made with a layer of creamed corn. It looked delicious.  The beef can be replaced with lamb or a variety of vegetables could be added to meat. There are also fish versions and vegetarian versions.  Based on all of the variations that I found, it's clear that this is a comfort food that can be adjusted to what you have on hand and what you like to eat.
Have you ever made a Shepherd's Pie or Paté Chinois?  If no, then it's high time you did!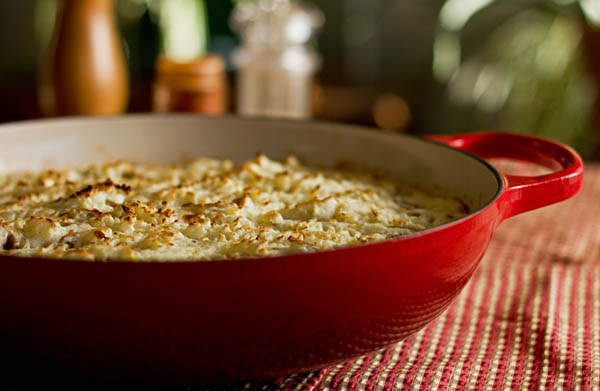 This New Mexico inspired Shepherd's Pie is wonderful comfort food. If you enjoy this dish, then you should try these:
Chorizo and Eggplant Skillet Pie
Beans and Rice with Sausage (Use pinto beans and Mexican chorizo)