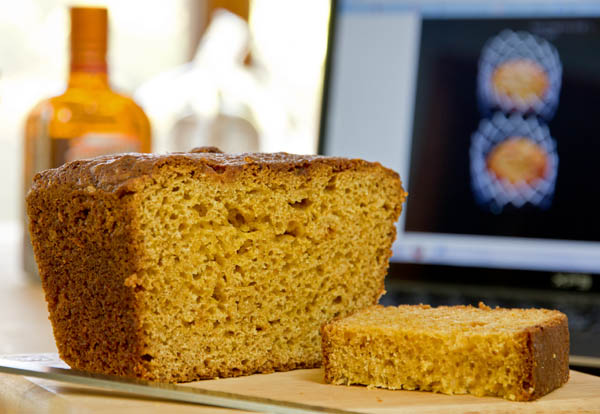 A few months ago I saw a muffin recipe over at Baker Street for brandied orange marmalade muffins (shown on the computer screen).  The recipe sounded absolutely delicious, except – it was for muffins, something I rarely eat, have never made, and really have no interest in making.  However, I do love a good quick bread. So I decided to try making a quick bread using the same recipe.  I followed the recipe pretty much to a tee, including preheating the oven to 400° F.  That was the only thing I ended up changing. Fifteen minutes into the bake, I noticed that the bread was already starting to brown on top. So I turned the temperature down to 350° F and cooked for another 35 minutes. The bread turned out GREAT! I will definitely be making this again once I have another jar of orange marmalade!
[print_this]
Brandied Orange Marmalade Quick Bread Recipe
Adapted by MJ from muffin recipe at
Baker Street
Yields 1 loaf
Prep Time: ~20 minutes
Cook Time: 1 hour
Ingredients
2 1/4 cups all-purpose flour
¼ cup spelt flour*
2 teaspoons baking soda
1 teaspoon baking powder
½ teaspoon salt
1 cup buttermilk (regular or low-fat)
¾ cup sugar
½ cup orange marmalade*
1 teaspoon grated lemon zest
2 large eggs, at room temperature
¾ stick unsalted butter, melted and cooled
1 tablespoons Cognac or brandy
2 tablespoons Cointreau
1 teaspoon fresh lemon juice
Instructions
Preheat the oven to 350°F and prepare a bread pan with cooking spray.
In a large bowl, whisk the all-purpose flour, spelt flour, baking soda, baking powder, and salt. Set aside.
In a food processor or blender, blend the buttermilk, sugar, marmalade and lemon zest until the mixture is smooth (about 20 seconds)*
Add the eggs, melted butter, brandy, and lemon juice. Process until smooth.
Pour the liquid mixture over the flour mixture; stir with a rubber spatula, scraping the sides of the bowl, until the flour is incorporated. Do not overmix.
Transfer the batter to the bread pan.
Bake for 55 -60 minutes. or until it passes the toothpick test. (Insert a toothpick into the middle of the loaf.  If it comes out clean, the bread is done.)
Remove from the oven and let sit for 3 to 5 minutes. Run a knife around the sides to loosen, if necessary to get the bread out of the bread. Transfer to a cooling rack to cool.  It will be ready to sliced in about 30 minutes if you can wait that long.
*See Kitchen Notes
[/print_this]

Kitchen Notes
Spelt Flour – The original recipe calls for whole wheat or spelt.
Orange Marmalade – The first time I made this, I had a failed jar of marmalade in the refrigerator that started to crystallized.  Because the marmalade is processed with the wet ingredients "until smooth", the sugared marmalade worked great and kept me from having to toss it.  At other times, I've used regular marmalade that is more like a jam than a preserve; in other words, small pieces.  It processes better.
Processor or Blender – The blender is normally use for this is the blender attachment that comes with my immersion blender. It works just fine.
Thanks to Anuradha at Baker Street for such a great recipe and ALL of her wonderful recipes!