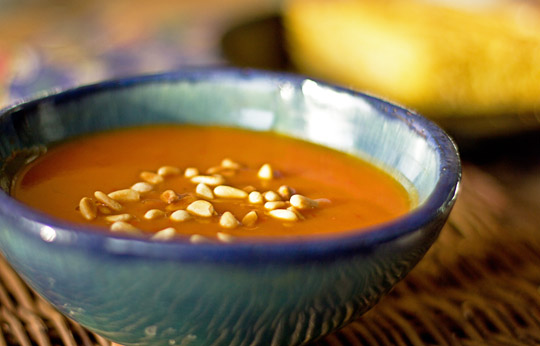 This soup was inspired by a beautiful little pumpkin and some dried red chiles that I picked up from a roadside stand in northern New Mexico.  When Bobby asked what I was going to do with the pumpkin I told him that I had been thinking about a pumpkin and red chile soup. He agreed that it was a great idea but then added "You should top it with toasted pinons."  He was so right. The flavors of the pumpkin, the red chile, and the pinon nuts (pine nuts) make a delicious soup. This is a recipe that requires a little more work than most of my recipes; however, it only takes a few ingredients to yield a whole lot of taste!  It's like a bite of New Mexico in your mouth.
Roasted Pumpkin and Red Chile Soup Recipe
Serves 6 to 8
Prep and cook time for roasting pumpkin:  1 hour
Prep and cook time for making soup:  45 to 60 minutes
Recipe Author:  MJ of MJ's Kitchen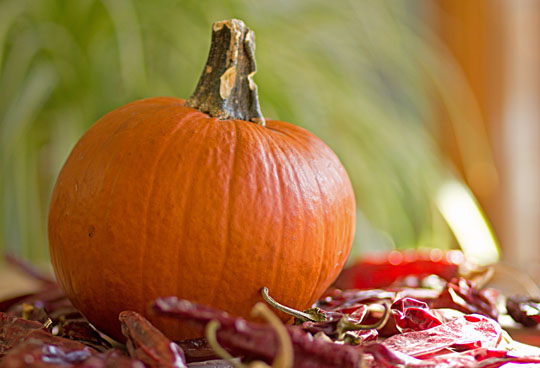 Ingredients
3 to 4 pound pumpkin (you'll need about 4 cups of pulp)
1 Tbsp. olive oil
1 medium sweet onion, coarsely chopped
5 – 6 cups vegetable or chicken broth (Start with 5 and add more if the soup is too thick. I used 4 cup vegetable broth and then added water as needed.)
½ tsp. salt
3 dried red chile pods and ½ cup red chile sauce (See Kitchen Notes)
½ tsp. cumin/coriander mix, toasted
½ tsp. paprika
¼ cup green olive brine
¼ cup pinon nuts (pine nuts), toasted
Instructions
Preheat oven to 400°F.
Cut the pumpkin in half, rub a little oil on the cut surfaces and place, cut side up on a baking sheet.  Bake for 45 minutes. Let cool for about 5 minutes, then use a fork to separate the seeds and threads from the pulp. (See Kitchen Notes)
Scoop out the pulp and measure out 4 cups.  Do not puree it yet.  Just set aside the 4 cups for the soup and use the rest for another purpose or freeze for later.
Heat olive oil in large pot over medium-low heat. Add the onion and sweat until clear, about 4 minutes.
Add 5 cups broth/water, salt, pumpkin pulp, chile, cumin/coriander, paprika and brine. Bring to a boil then reduce to a simmer and cook 20 minutes.
Let cool down a little. Puree' with an immersion blender or regular blender. You may need to add more water to get the consistency you like in a pureed soup.
Reheat.  Taste for salt content and spice level. If you want it hotter, than add a little more chile sauce.
While reheating the soup, transfer the pine nuts to a hot skillet over medium-low heat and toast to a medium toast. (Keep a watch on the nuts, stirring often, because they do brown fast once they start to brown.)  Transfer to another container until ready to use.
Ladle soup into bowls and top each bowl with some of the toasted pine nuts.
Serve with tortilla chips or apple/sage cornbread.  For the apple/sage cornbread, just make buttermilk cornbread and substitute the onion with 1/2 minced apple and 1/4 tsp. dried sage, crumbled.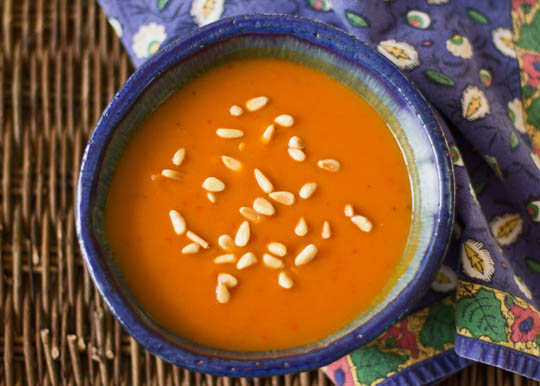 Kitchen Notes
Roasting Pumpkin – In my opinion, the hardest part of roasting any winter squash is scrapping the seeds and fibers from the inside when the squash is raw; therefore, I always roast the squash first with the seeds intact. I find it much easier to remove the fibers and seeds once the squash is cooked.  Just use a fork and separate the fibers from the pulp and remove.
The chile – I used both dried chiles and chile sauce because I had both.  However, using just one or the other would work fine.  The amount of chile sauce that you use depends on how hot your sauce is and how hot you like your soup.  If you don't have chile sauce or time to make it, just tear up 3 or more pods (depending on the heat of the chile) and cook down with the pumpkin pulp.  The chile pods will be pureed with the pulp when you blend.
As far as what type of dried red chile, well you know which type I used – New Mexico red chile.  However, if you can't find these, then use your favorite red chile or red chile sauce. I haven't found a spicy chile that I didn't like. Just be sure to adjust the amount of chile sauce to the heat level and flavor of the chile.  For example, if you use chipotle, cut way back to one or at the most two peppers.  Chipotle peppers have a pretty powerful flavor and can easily overpower the pumpkin. You want the chile to complement the pumpkin, not drown it out.
If you purchase a chile sauce, be sure it's "chile" sauce, not "chili" sauce. There's a huge difference. Chile sauce is primarily chile peppers, water and salt. Chili sauce is a blend of peppers, vinegar,water, lots of seasoning, and who knows what else.  For more on this topic, check out my page "Chile or Chili?".
The cooking process – This does look like a rather laborious soup to make with the roasting of the pumpkin, the toasting of the spice mix, and the making of the red chile sauce.  However, if you are like me, you already have a lot of this on hand. Periodically I make up a batch of spice mix so it's available when I need it (see recipe below.)  One can always find little containers of red chile sauce in my freezer. I couldn't call myself a New Mexican if that wasn't true. 🙂  So really, with a well-stocked spice rack and freezer, the only thing one needs to do is roast the pumpkin and that can be done on the weekend when you have the time.  Once you have the roasted pumpkin and the red chile sauce, the making of this soup is easy breezy.
The soup's thickness – When you originally make the soup, add water, broth or stock to whatever your desired thickness.  After the soup sits in the refrigerator for a day or two, it will thicken up, so when you reheat it, be prepared to have to add more liquid.
The spice mix – You can make up a small jar of spice mix (below), or just toast 1/2 tsp. each of cumin seeds and coriander seeds in a skillet, grind, and use what you need.

Cumin Coriander Spice Mix

Cumin Coriander Spice Mix Recipe
Recipe Author:  MJ of MJ's Kitchen
Makes about 2 tablespoons
Ingredients
1 Tbsp. cumin seed
1 Tbsp. coriander seed
Instructions
Heat a small skillet over medium-low heat.
Add the coriander seed and toast, shaking the skillet occasionally for 1 minute.
Add 1 Tbsp. cumin seed to the skillet and continue to toast until the spice mix becomes aromatic and is a nice brown).
Transfer seeds immediately to mortar or spice grinder and grind to a powder.
Transfer to a glass spice jar.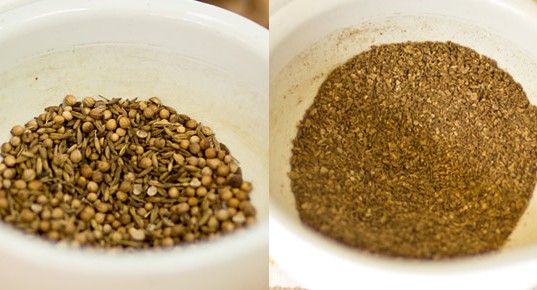 Recipes that use a mix of toasted cumin and coriander:
This Pumpkin and Red chile soup recipe has been shared with the following blog hops. Click on the link for more delicious recipes.  Katherine Martenelli's Comfort Food Hop (Food Bloggers Support for Sandy), Gallery of Favorites, Slightly Indulgent Tuesday, Fat Tuesday, Hearth and Soul, Whole Foods Wednesday, Full Plate Thursday, Gluten-Free Fridays, Foodie Friday Recipes, Foodtastic Friday , My Meatless Monday, Clever Chicks, Meatless Monday, Wonderful Food Wednesday, Keep It Real Thursday, Creative Thursday, Made From Scratch Monday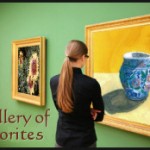 This pumpkin and red chile soup was featured in the Gallery of Favorites – Pumpkin Edition.