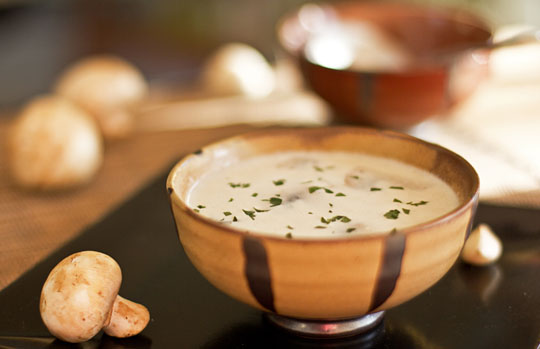 Do you like mushrooms? Garlic? Soup?  If you answered yes, yes, and yes, then this mushroom garlic soup is definitely the dish for you. This soup takes the wonderful flavor of mushrooms sauteed in garlic butter and puts it into a soup – a garlic and mushroom lover's dream!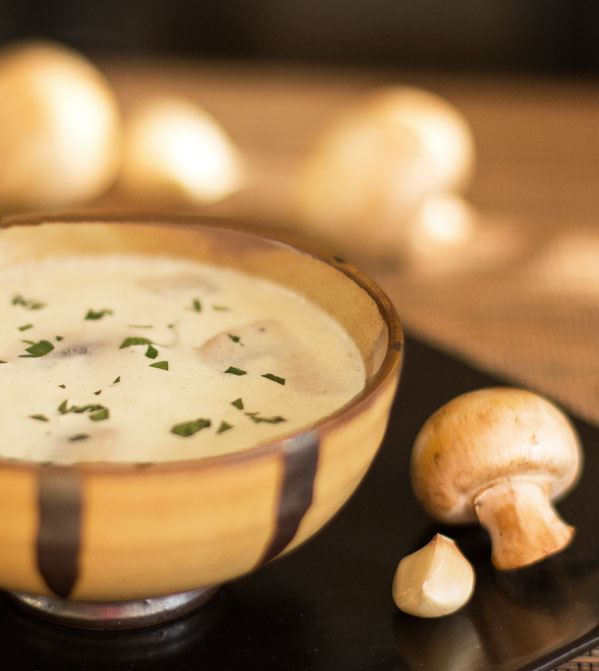 Mushroom Garlic Soup Recipe
Serves: 4
Prep and Cook Time: 1 – 1.5 hours
Like any soup – making it a day ahead of time will let the flavors meld
Recipe Author:  MJ of MJ's Kitchen
Ingredients
1 Tbsp. olive oil
1 Tbsp. butter
1 large onion, chopped
2 large heads of garlic, cloves peeled and chopped
1 apple, peeled and chopped
1 qt. homemade chicken broth or stock or canned chicken broth (or vegetable broth)
1 herb bundle of 5 parsley stems, 4 sprigs fresh thyme (tie together with string)
¼ tsp. salt or to taste
1/2 tsp. mustard powder
1/4 tsp. dill weed
1 pound button mushrooms, sliced vertically (if slices are too big, cut in half vertically)
1 Tbsp. butter, divided in half
½ cup cream or half and half
1/4 tsp. fresh-ground white pepper
Chopped fresh parsley for garnish
Instructions
In a large pot, heat the oil and butter over low to medium-low heat. Add the onions and garlic. Cover and cook, stirring occasionally, until soft and beginning to turn brown, about 25  minutes.
Add the apple and continue to cook, covered, for another 10 minutes, stirring occasionally.
Add the stock and herb bundle. Bring to a boil. Reduce the heat and simmer about 15 minutes.
Remove the herbs. Puree the soup until smooth with an immersion blender or regular blender.
Add the mustard powder and dill, and pepper and salt to taste.  Return the soup to a low heat and continue to simmer.
While the soup is simmering, melt 1/2 Tbsp. butter in a skillet over medium low heat. Add half of the mushrooms and spread the slices out across the skillet.
Cook the mushroom slices on both sides until lightly brown, but not dry.  Pour into soup.
Repeat with another 1/2 Tbsp. butter and the remaining mushrooms.  Add these mushrooms to the soup and stir.
Add the cream and bring the soup back to a simmer, stirring. Remove from heat.
Ladle into soup bowls and top with chopped parsley.
You may have seen this as a variation to my Garlic Soup from last year, but this soup is SO good, that I wanted to give it its own post.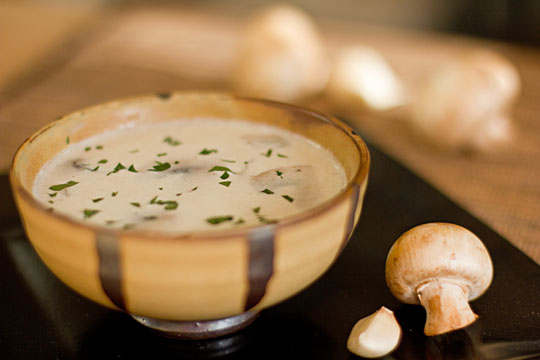 Kitchen Notes
As with any soup, this mushroom garlic soup gets better with age; therefore, if you have time, let the soup sit for a couple of hours, or even better, overnight.
The garlic – If you are a little garlic shy, cut the garlic down to 1 head of garlic and add a little more onion. If you are a garlic lover like me, 2 heads of garlic are plenty.
The herbs – If you don't have fresh herbs, substitute the fresh parsley and thyme with 1/2 tsp. dried thyme and 1/4 tsp. dried oregano. (I suggest oregano because I find that there is nothing more tasteless than dried parsley.)
The mushrooms – I really like sauteing the mushrooms rather than letting them cook in the soup.  They stay quite firm and keep that rich buttery flavor of sauteed mushrooms even after you add them to the soup.
The broth – I recommend chicken broth or a lowfat stock. If you are vegetarian, I'm sure vegetable broth would be delicious with this; however, I've never tried it.
A side – Any good bread works great with this soup.  We love eating it with an Herb Bread.
This mushroom garlic soup could be used as an appetizer, a side, or a meal. We usually make a meal out of it with some bread, but did have it as a side once with grilled steak. That was certainly a great combination of flavors!! I was tempted to just pour the soup all over the steak.
This Mushroom Garlic Soup has been shared with the following blog hops.  Gluten-Free Fridays, Melt in Your Mouth Monday, Mix It Up Monday, Hearth and Soul, Made From Scratch Monday, Made With Love Monday, Katherine Martinelli's Garlic Hop