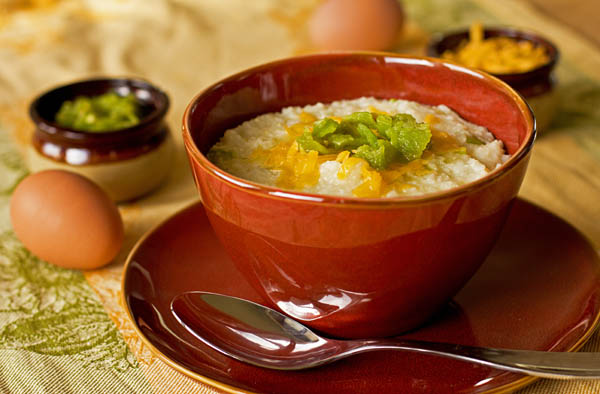 Grits and green chile is the ultimate fusion of southern and New Mexico cuisine. It's creamy, spicy, and cheesy, and definite comfort food.  It takes about 15 minutes to make and has only 5 ingredients, two of which are water and salt. You can't make an easier or more comforting breakfast, lunch or dinner. With this dish, I have turned many people who disliked grits into grits lovers!
Ever since I discovered green chile back in the 70's, this has been our favorite cool/cold weather breakfast. Bobby wasn't that big on grits, but once he tried them with green chile, he became hooked and this is now one of his most requested breakfasts (right alongside Huevos Rancheros). I make grits and green chile at least once a week from fall to spring. It was a standard breakfast on camping and backpacking trips, and is a regular request from our houseguests.    And, like my Mushroom Garlic Soup, it's a great dish to ease the common cold.
Even if you think you don't like grits, please give this dish a try. You will be converted – I guarantee it! 🙂  And for those of you who don't know what grits are, fear not – check out the Kitchen Notes.

Grits and Green Chile


Grits and Green Chile Recipe
The cure for the common cold! This recipe can easily be increased or decreased. Check out the Kitchen Notes. Prep and cook time assumes you already have some roasted green chile either fresh, canned or frozen.
"*" See Kitchen Notes for more information or links to special ingredients.
Ingredients
3

cups

water

1/4

tsp.

salt

3/4

cup

quick-cooking grits*

(not instant!)

1/2

cup

grated cheddar cheese*

1/4 to 1/2

cup

chopped green chile*

(the amount depends on the heat of the chile and how much heat you want)

1

overeasy or sunnyside up egg per person

(optional)
Instructions
Bring the water with salt to a boil.

SLOWLY whisk in the grits. Reduce heat to low and cover. Whisk every 1 minute or so to prevent lumping and sticking to the pot.


Once the grits have thickened, stir in the cheese and chile. Cook for another 1 minute, stirring.

Remove from heat and pour into bowls.

If desired, top your bowl of grits with a fried egg.
Kitchen Notes
Instant grits vs. quick cooking grits vs. slow-cooking grits – Remember the movie My Cousin Vinny? There is a classic line from that movie that says "No self-respecting southerner uses instant grits." Well, I don't use "instant" grits, but I do use "quick-cooking" grits which cook in 5 minutes. Bob's Red Mill White Corn Grits are my favorite. I don't feel at all guilty about it because my mother, who lived in Louisiana all of her life, used quick grits. And if they were good enough for her, they are good enough for me.
Green chile – New Mexico roasted, peeled, and chopped green chile is best. However, you can also use roasted and chopped poblano, and if you don't like spicy, roasted sweet bell peppers work great.  If you have chipotle you can make my Chipotle Grits with Feta and if you have some roasted red chile, then you could always make this Roasted Red Chile and Grits.
Cheese Choices – We use a mild cheddar cheese, but any mild semi-soft cheese works - Monterey Jack, sharp cheddar, Fontina, and even feta. You could also leave the cheese out altogether. In addition to just omitting the cheese, you could replace it with 1 tablespoon butter or butter substitute (if there is such a thing 🙂 ).
An egg on top – Bobby loves an overeasy egg on top. Me…not so much, which is surprising since I do love fried eggs on pasta and enchiladas. But for some reason, I prefer my grits without an egg.
Increasing the recipe – As with polenta, if you want to increase or decrease the recipe just work with a ratio of 1/4 cup uncooked grits to 1 cup water.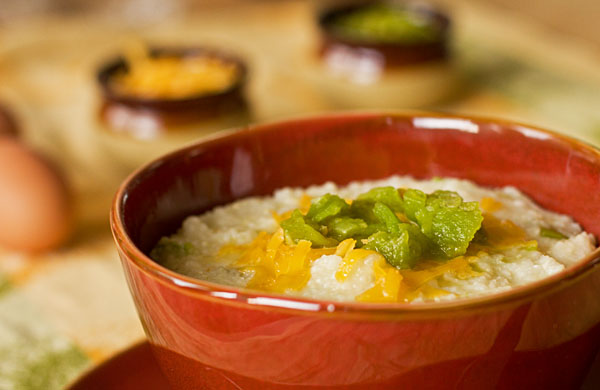 What are grits?  Grits can be a couple of things. First of all, grits can be a Girl Raised In The South (like me), or they can be coarsely ground corn.  There are white grits and yellow grits. White grits (the ones I prefer for this dish), are ground from hominy which is an alkali-treated corn.  Yellow grits are ground from yellow corn.  Coarsely ground yellow corn is also used for polenta.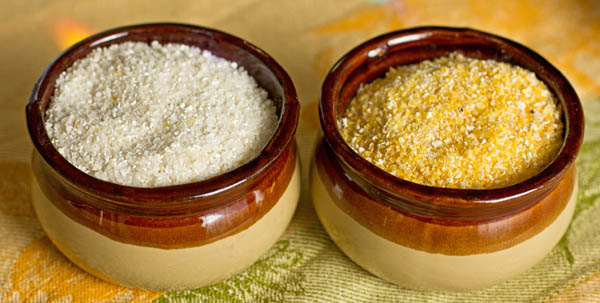 If you like grits or polenta, here are some other recipes to enjoy:
Peaches with Fried Grits and Pecans
Smoky Polenta with Aged Cheddar
Southwestern Pork Stir fry over Polenta
This Grits and Green Chile post has been shared with Thursday Treasures, Gluten-free Fridays, Weekend Potluck, Hearth and Soul, Slightly Indulgent Tuesday, Wonderful Food Wednesday, Made From Scratch Monday, Creative Thursday, My Meatless Monday