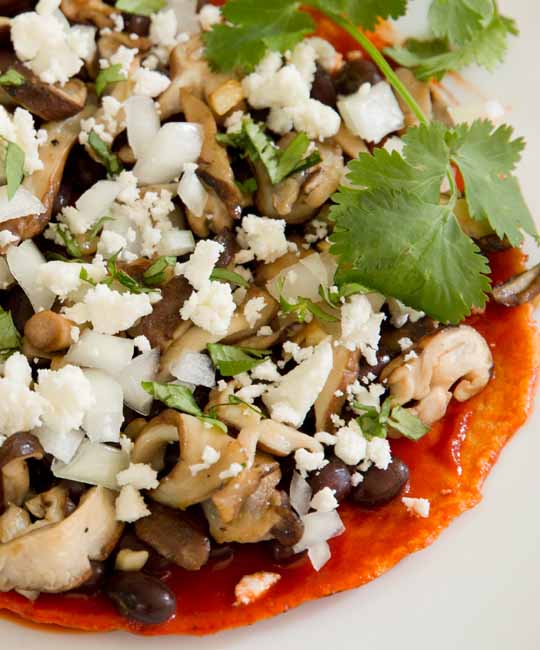 Many years ago there was a restaurant downtown that served a dynamite shiitake mushroom burrito with red chile sauce.  I ordered it every time we went. Unfortunately, the restaurant eventually shutdown so I recreated the burrito in order to have it at home.  The burrito eventually evolved into a vegetarian enchilada with some minor changes.  We actually prefer the enchiladas more than the burrito.  They use corn tortillas instead of flour making for a lighter meal, and the mushrooms seem to be more complementary with the corn than the flour. Another "favorite" enchilada! 🙂  I hope you enjoy these as much as we do!

[print_this]
Black Bean and Shiitake Mushroom Enchiladas Recipe
Batch version serves 4
Prep and cook time: 60 minutes
Recipe Author:  MJ of MJ's Kitchen
Individual servings
Prep time: 30 minutes
Cook time: 2 minutes
Prep and cook times assume that the red chile sauce is already made.
Ingredients
¼ tsp. cumin seeds (optional)*
1 Tbsp. oil
½ Tbsp. butter
4 garlic cloves, minced
1 pound shiitake mushrooms, sliced*
1 ½ cups cooked black beans, drained
½ tsp. oregano
¼ tsp. salt
¼ tsp. pepper
½ medium onion, diced
½ cup feta cheese, crumbled
8 corn tortillas
2 cups red chile sauce*
1 Tbsp. fresh cilantro or parsley, chopped
4 eggs
*See Kitchen Notes
Instructions
Preheat oven to 350° F.
Heat a skillet over medium low heat and add the cumin seed. Toast, stirring occasionally until light brown and starting to become aromatic. Transfer to a mortar. Grind to a powder.
To the hot skillet, add the olive oil and butter. Once the foaming of the butter is reduced, add the mushrooms and garlic. Sauté, stirring occasionally until tender, but still moist. Don't let all of the moisture evaporate. Add the cumin, oregano, and salt and pepper.
Add the black beans and heat through for about 1 minute. Remove from heat.
Transfer the red chile sauce to a wide bowl for dipping the tortillas.
Assembly for batch enchiladas
For 3 layers, divide the mushroom bean mixture into 3 equal parts.
Pour about ¼ cup chile sauce to the bottom of a 6″ by 8″ casserole dish. Dip two tortillas in the chile sauce and place in the bottom of the casserole dish making a layer of tortilla.
Top the tortillas with 1/3 of the mushroom mixture, ¼ of the onion, and ¼ of the feta. Repeat for two more layers.
Top the third layer with the last two corn tortillas, dipped in sauce. Top with the remaining onion and any sauce that may be left. Last, but not least, top with the remaining feta.
Bake for 30 minutes. Once cooked, remove from the oven and let rest while you cook the eggs.
Cook the eggs sunny-side up or over easy.
Top each serving of enchiladas with an egg and a sprinkling of chopping cilantro.
Assembly for individual serving
You'll need 2 to 3 tortillas for each serving depending on how much you want to eat. (I usually use 2, which makes one layer, and Bobby uses 3 for 2 layers.)
Dip one tortilla in the chile sauce and place on plate.
Top with some of the mushroom mixture, a sprinkling of onion and feta cheese.
Dip the second tortilla in the chile sauce and place on the stack.  Top with more of the mushroom mixture, onion, and feta. (If you are only making one layer, then omit the mushroom mixture. Top only with the onion and feta and jump to step 6.)
Dip the third tortilla in the chile sauce and place on the stack.  Top with a little onion and feta.
Microwave for 2 minutes.  While the enchiladas are cooking, cook the egg.
Top with a sunny-side up or over easy egg and a sprinkling of cilantro.
[/print_this]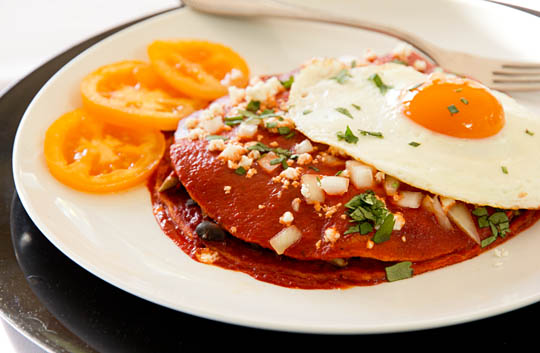 Kitchen Notes
Flat vs. rolled – As you can see I prefer flat enchiladas over rolled.  Even when I make a batch using a casserole pan, I still stack the tortillas as opposed to rolling them.  If you prefer your tortillas rolled, then go for it.  Just put some of the mushroom filling down the center of the chile dipped tortilla with a little onion and feta, and roll.
Batch vs. individual serving – When I want leftovers or serving more than just the two of us, I'll make a batch of enchiladas.  When I just want a quick and easy supper, I'll make the individual servings and cook them in the microwave.  I always have red chile sauce in the freezer ready to go.
The cumin – I've met quite a few people that really don't like cumin, so I've made these enchiladas with and without cumin and found that they are good either way.  So you can omit the cumin all together or substitute with toasted ground coriander.
The mushrooms – I know that shiitakes tend to be expensive, so a mix of shiitakes with button mushrooms works just fine.  Just be sure to include at least 1/4 pound of shiitakes in order to get that musky flavor.  Shiitake and feta is a great flavor combination.
Red chile sauce – If you don't make your own red chile sauce, you may be able to purchase it in a Mexican market or at your local grocery store.  Be sure to read the list of ingredients.  The ingredients should be primarily red chile pepper, water and salt.  If there are tomatoes and a host of spices and herbs, you're probably purchasing chili sauce, not chile sauce. If you can not find red chile sauce, then your favorite enchilada sauce works just fine.
YES – that egg yolk really is that orange!  It's an organic, free-range egg that my SIL gets from a friend of hers.  It's hard to get better eggs than these!

Here are some other enchilada recipes you might enjoy:
This recipe has been shared with Slightly Indulgent Tuesdays, Hearth and Soul, Allergy-Free Wednesday, Wonderful Food Wednesday, Creative Thursday, Keep It Real Thursday, Gallery of Favorites, Foodie Friday, Mix It Up Monday, My Meatless Monday , Meatless Monday, Melt In Your Mouth Monday, Full Plate Thursday, Gluten-Free Friday, Foodtastic Friday, Katherine Martinelli's Gluten-free Blog hog
This Black Bean and Shiitake Enchilada recipe was featured by Rate Your Burn in its article "Because We Love Mushrooms: 23 Tasty Mushroom Recipes" on Dec. 3, 2012.