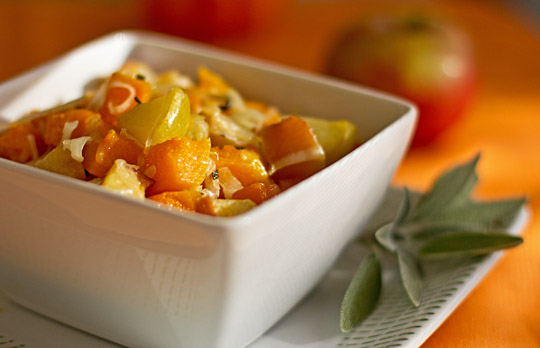 Last week on our road trip through northern New Mexico, we bought two baskets of apples, one being Winesap and the other cameo.  Winesap apples are crisp and tart with a touch of sweetness.  Cameos are crisp, juicy, and sweet.  With this butternut squash with apple recipe I discovered that the tartness of the Winesap was a perfect complement to the sweetness of roasted butternut squash.  Add a little sage and you have the perfect fall dish.  But wait, there's more! Let's throw in some of my favorite cheese to eat with apples:  Manchego – "a cheese made in the La Mancha region of Spain from the milk of sheep of the Manchega breed" (Wikipedia).   Now the dish is complete and what a delicious dish it is!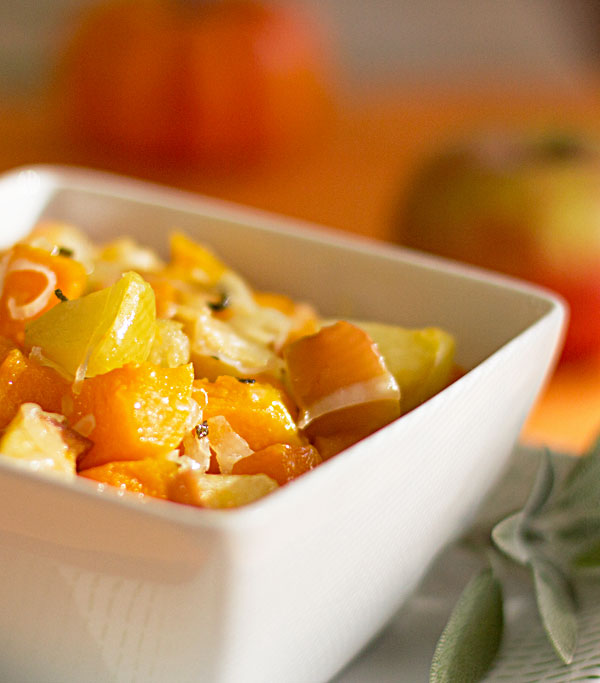 [print_this]
Roasted Butternut Squash with Apple and Manchego Cheese Recipe
Serves: 4
Prep and Cook time: 1 hour (15 minutes prep)
Recipe author:  MJ of MJ's Kitchen
Ingredients
1 small butternut squash, cut into ½" cubes (about 4 cups)
2 large crisp, sweet/tart apples, cut into ½" cubes (2 to 3 cups)*
2 Tbsp. walnut or peanut oil*
1 ½ tsp. dried Sage, crumbled (or 1 Tbsp. fresh, chopped)
¼ tsp. salt
1 cup grated Manchego cheese*
*See Kitchen Notes
Instructions
Preheat oven to 400° F .
Mixed together all ingredients except the cheese.
Spread out in a roasting or casserole dish.
Roast in oven for 20 minutes. Remove and give it a stir. Return to oven and roast an additional 25 minutes.
Remove from the oven and sprinkle with the cheese. Carefully, stir in the cheese.
Serve.
[/print_this]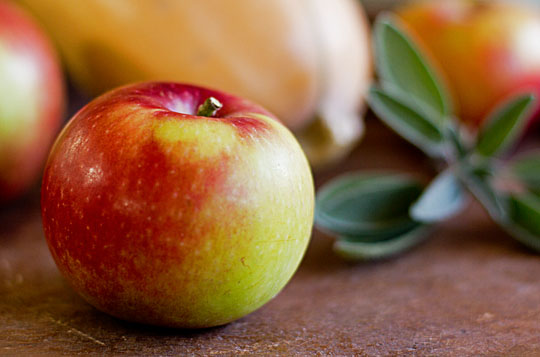 Kitchen Notes
The first time I made this butternut squash with apple dish I sliced the squash and the apples, tossed with oil and sage, then layered them with slices of cheese.  The flavor was amazing, but the texture of the cheese was dry and tough. Then next day I reheated the leftovers, covered, in the microwave and the cheese melted very nicely.  That gave me the answer to the problem.  Instead of baking the cheese in the oven, just toss it at the end. Perfect solution!
The apples – Use any crispy, sweet tart apple like winesap, gala or cameo. A crisp apple stays somewhat firm, providing a different texture than the squash.  Softer, sweeter apples just get mushy.
The oil – I used about 2 tablespoons. Just drizzle what looks good on top of the chopped squash and apples. It will probably end up being around 2 Tbsp. Use just enough to coat and to keep the squash and apple from sticking to the dish while roasting.  Walnut and peanut oil work well, but canola, safflower, or avocado work as well.  Any oil with a smoke point above 400º F works.  Just make sure the flavor of the oil complements the squash and apples.
The cheese – Not much to say here except that you need to find some Manchego and enjoy this wonderful dish!  I can't think of another cheese that would be as good.
This Butternut Squash with Apple recipe  was featured at the Zesty South Indian Kitchen the Hearth and Soul Blog Hop as well as Premeditated Leftovers Hearth and Soul Hop.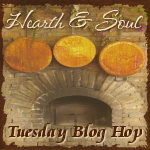 Save