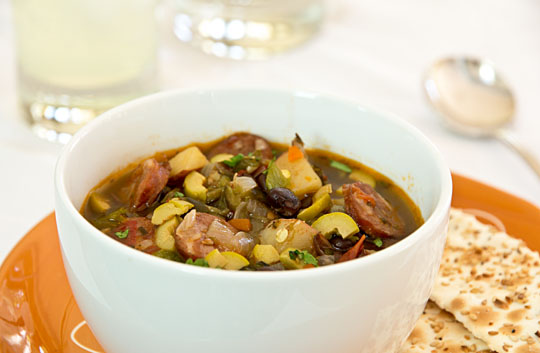 This andouille and black bean soup started with two ingredients – black beans and roasted poblanos.  I had a huge container of black beans in the refrigerator from the pot of beans I had made for the black bean and shiitake enchiladas.  The poblanos were from a market bargain – a 99 cent bag of 10 large peppers.  As soon as I got home from the market I roasted, peeled and chopped the poblanos and started using them in a variety of dishes throughout the week, including this soup. A couple of 1/2 cup bags did end up in the freezer for the winter. The rest of the soup's ingredients (andouille, potatoes and tomatoes) evolved from what was in the refrigerator and freezer. The result was fantastic!

The first night we ate this andouille and black bean soup with "everything" crackers. The second night I made buttermilk cornbread. The crackers worked good, but the cornbread was better. But then what soup doesn't go better with cornbread?
Andouille and Black Bean Soup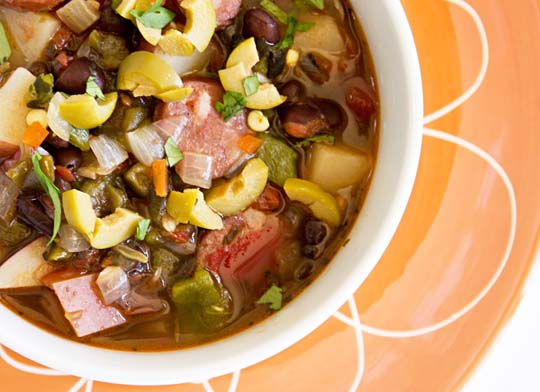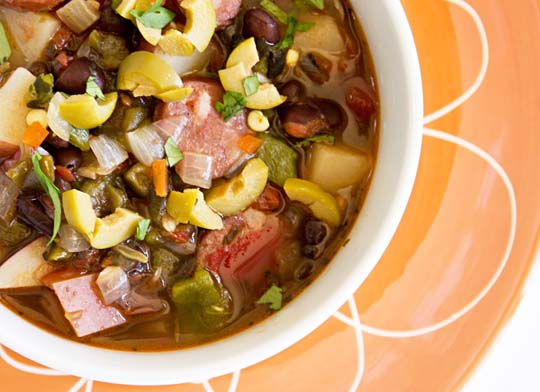 Andouille and Black Bean Soup Recipe
A hearty soup with andouille, black beans and other tasty ingredients.
"*" See Kitchen Notes for more information or links to special ingredients.
Course:
Main Course, Soup
Cuisine:
Southern US, Southwestern
Ingredients
½

tsp.

cumin seeds*

½

tsp.

coriander seeds*

1

Tbsp.

oil

4

garlic cloves,

minced

1

medium onion,

chopped

4

cups

stock - vegetable, chicken, or beef

2

Andouille sausage,

sliced

1 ½

cups

fresh tomatoes,

diced (or one 14.5 oz. can, drained)

1 ½

cups

cooked black beans,

drained

½

cup

meaty NM green or poblano chile,

roasted, peeled, chopped*

2

medium red potatoes

(about 1 ½ cups, 1/2" cubes)

½

tsp.

oregano

Salt and pepper to taste

Fresh cilantro for garnish,

chopped (optional)

Chopped green olives for garnish

(not optional)
Instructions
In a large soup pot, toast the cumin and coriander seeds over a medium heat. Shake often to keep seeds from burning. Once the seeds start to brown and become aromatic, transfer to a mortar and grind to a powder.

Add the oil to the pot and heat over medium low heat. When the oil is hot, add the onion and garlic and sweat until onion is clear.

Add the stock and bring to a boil.

Add the andouille, beans, tomatoes, poblano, and potatoes. Return to a boil, then reduce to a simmer.

Add the oregano and 1/2 tsp. of the cumin/coriander powder.

Simmer for 30 minutes. Taste. Add salt and pepper if needed.

Remove from heat and add the cilantro is desired.

Ladle into bowls and top with chopped green olives.

Serve with cornbread, tortillas, or crackers.
Kitchen Notes
Cumin / coriander spice mix – The toasted seeds yield more powder than you need for this recipe. Just save the rest of the powder for another use.  It's great in scrambled eggs, sprinkled on top of a salad or sandwich, added to a chile sauce or chili, and many other dishes.  Because I use this blend pretty much every week, I keep a prepared bottle of it in the spice drawer.  Just click on the link above to see how to make an even bigger batch.
The stock – The individual ingredients in this soup have so much spiciness and flavor, that it really shouldn't matter what type of stock you use – vegetable, chicken, beef, or pork.
Andouille – Andouille sausage is a spicy, smoked pork sausage brought to Louisiana by French immigrants.  When we lived in Louisiana we could find it quite easily in any grocery or market. Here in New Mexico, there are a couple of local sources that we've found that make a darn good andouille. The spicy smokiness of the sausage worked great in this soup.  If you don't have andouille, then use another smoked sausage like Kielbasa.
Poblano peppers – To save time, don't roast the poblano peppers. Just seed them and dice them. Poblanos have such a thin skin that they really don't need roasting.  I roast them because I love roasted peppers of any kind!  AND you could always use New Mexico roasted green chiles – of course. 🙂
Tomatoes – I use fresh Romas and don't bother to peel them making the prep for this soup even easier. You can use canned tomatoes, but be sure to get diced, not chopped.  You want the tomatoes to add flavor without being a noticeable ingredient of the soup.
Black Beans – I always recommend cooking your own beans using dried beans, but I know that this is not always possible.  Canned beans would work just fine, but be sure to drain them.
Olives – The green olives are a must. They are a great finish.
Other soups that will keep you warm during cold weather: