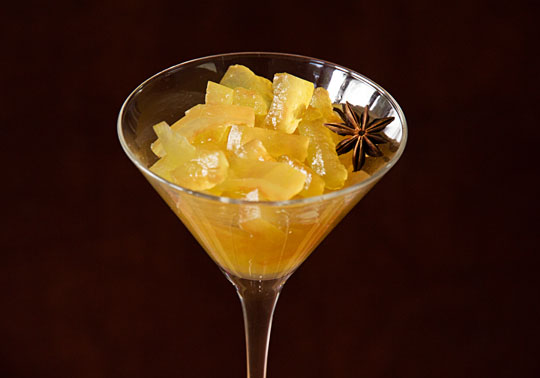 In my watermelon post a while back I mentioned that my mother saved the watermelon rind and made watermelon rind preserves.  After we all finished off the watermelon, she would cut away any remaining pink from the rind, peel the rind, then slice it into spears. All of the rind spears were transferred to a big pot and layered with sugar, then left to sit overnight. The next day she cooked them down "until done".  🙂  After they cooked I helped her pack the spears lengthwise into sterilized mason jars and then seal the jars.  By fall we had enough watermelon rind preserves to last the winter and then some. This was the inspiration for these watermelon rind candies.
Eating her watermelon rind preserves was like eating a crunchy, sweet stick of candy.  It didn't really have a watermelon flavor, but it had a clean, sweet taste that is very hard to describe.  All I know is those preserves were really, really good, very, very sweet, and hard to stop eating. A couple of years ago I decided to come up with my own way to preserve watermelon rind but in smaller pieces and less sweet, if possible. My efforts paid off!  These little watermelon rind candies turned out exactly like I wanted – small, crispy bites of sweetness with a touch of anise flavor. So good, so addicting!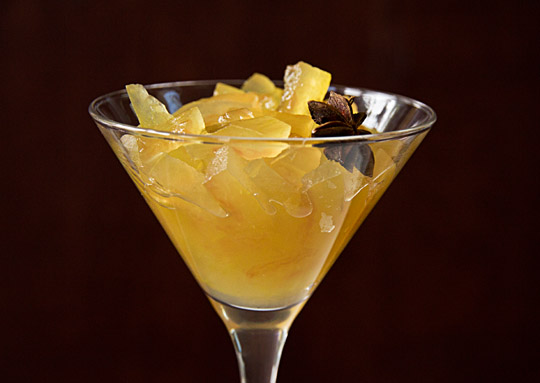 [print_this]
Watermelon Rind Candies Recipe
Recipe Author:  MJ of MJ's Kitchen
Yields about 2 cups
Prep and cook time:  1 – 1.5 hours
Note:  This is a refrigerator preserve and not intended to be sealed and stored in the pantry.

Ingredients
Rind of 1/2 large watermelon (about 4 cups of cut pieces)*
2 cups water
1 cup sugar
juice from 1 lime
1/2 tsp. salt
2 star anise
Instructions
Peel the green outer skin off the watermelon rind and remove any of the pink meat still on the rind.
Cut the rind into strips (about 1 inch long by ¼" wide or 2.5 cm x 0.6 cm)
Bring the water, sugar, salt, and lime juice to a boil. Add the diced watermelon rind and star anise. Lower the heat to medium low, and simmer for 30 to 45 minutes, stirring occasionally or until the fruit is translucent and the syrup has reduced by at least half and thickened. (See Kitchen Notes)
Remove the star anise.
Transfer the rind to a clean pint jar with a lid and let cool.
Best if refrigerated overnight before eating.
Lasts up to 6 months or maybe longer in the refrigerator. It's hard to say since it disappears within 2 months in this house and that's with me being "good".
*The amount you end up with can depend on the size of the watermelon as well as the thickness of the rind.
[/print_this]
Kitchen Notes
You can cut the pieces into larger strips if you choose, but you will have to cook it longer and add a touch more water for the rind to cook through and become translucent.
The cooking process – Once the watermelon rind candies becomes translucent, they are pretty much ready.  At this point the syrup should have reduced by at least half and become thick. If your syrup is still too thin, then turn up the heat and cook it faster, stirring constantly until the syrup thickens into a heavy syrup.  The candies don't need to be covered by the syrup when transferred to a jar.  For me, once the rind is transferred, the syrup only comes about halfway up the jar.
The spice – If you aren't a fan of star anise, then omit it altogether or replace it with a large cinnamon stick or 5 cardamom pods.   My mother liked her preserves with no spice, whereas I like the star anise flavoring, but then I love anything with a hint of licorice.
As far as how to use these watermelon rind candies –   Just eat them like you would a piece of candy. Serve as an after dinner sweet, or afternoon snack. I usually just eat them straight out of the jar when I want a little something sweet.  You could also fold into cake, muffin or cupcake batter, or bread recipes that call for candied fruits.
These Watermelon Rind candies comes with an ADDICTION WARNING!
These watermelon rind candies were shared with the following blog hop.
Whimsy Wednesdays, Wonderful Food Wednesday, Creative Thursday, Frugal Foods Thursday, Carole's Food on Friday, Foodie Friday, Melt in Your Mouth Monday, Recipe Sharing Monday, Hearth & Soul  .