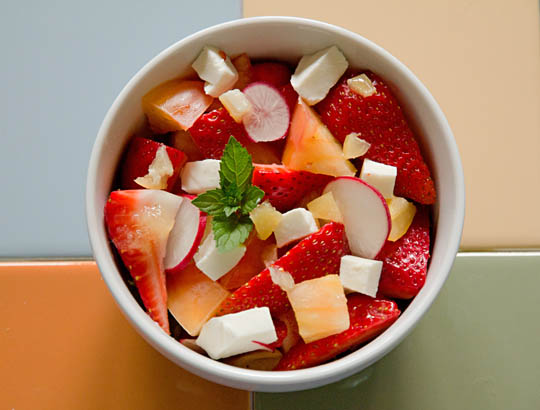 We had this Strawberry Tomato Salad for lunch the other day and I just had to share it with you.  Last summer I came across a beautiful Mozzarella, Tomato and Strawberry Salad over at eat.live.travel.write.  It was one of those recipes that introduces a combination that one (meaning "me") would never have thought of – strawberry and tomato. I just had to give it a try. Well folks – if you haven't tried this combination, then you are missing a real treat.  It is wonderful!!  Since I first tried it, I've been playing around with different ingredients and different vinaigrettes.  This strawberry tomato salad is one of the variations that we love.
For the salad in the picture, I used this beautiful heirloom tomato that I bought at the growers' market.  I just recently discovered from Tessa over at Feral Kitchen that this particular heirloom is called a Pineapple Tomato.  It was one of the biggest tomatoes I've ever seen, but also one of the best tasting!  Any good, meaty tomato works for the salad, but how can you turn down an heirloom?!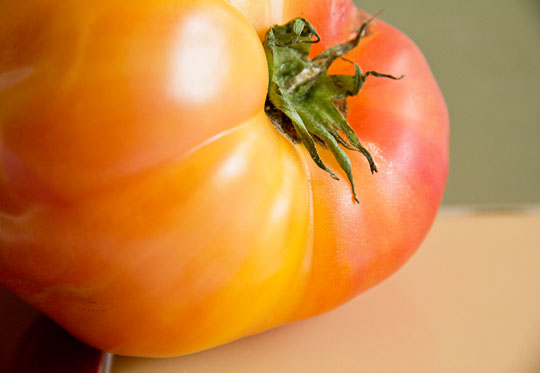 [print_this]
Strawberry Tomato Salad Recipe
Recipe Author:  MJ of MJ's Kitchen
The actual amount of the ingredients depends on how many people you are serving.
Ingredients
Equal amount of strawberries and tomatoes, chopped into large pieces
1 small radish per person, sliced very thin
Preserved lemons, minced (I use about 2 tsp. in a salad for 2)
Crumbled feta cheese or chopped fresh mozzarella cheese (about 1/4 cup for 2)
Fresh mint, chopped
Dressing (for a salad for 2 people)
1 tsp. maple syrup
1 Tbsp. white wine vinegar
2 Tbsp. canola oil
Instructions
Combine all of the ingredients (except for dressing) in a salad bowl.
For the dressing, whisk together the maple syrup and vinegar. Whisk in canola oil. Taste. If too vinegary for your taste, whisk in a little more canola oil.
Top the salad with the desired amount of salad dressing. (It doesn't take much.)
Toss and serve.
[/print_this]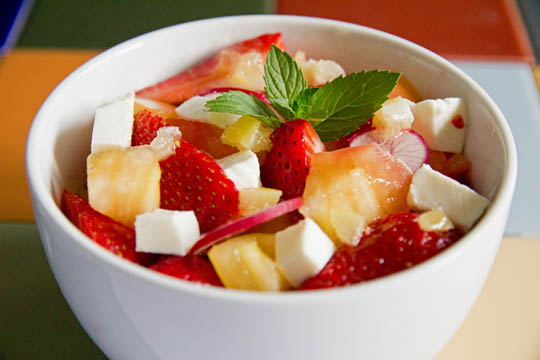 Kitchen Notes
The cheese – Fresh mozzarella and feta both work quite well. The mozzarella yields a milder tasting salad and is subtle compared to the strawberries and tomatoes.  Feta is saltier and bolder so stands out more but still works as a tasty complement to the rest of the ingredients.
The radish – The first time I made this, I threw the radish in because I had some that needed to be used. I figured that Bobby would pick them out since he's not a big radish fan.  He didn't! In fact, he loved them with the salad; therefore, I kept them in the recipe and continue to include them whenever I make this salad.
The preserved lemon – Must I explain? 🙂 Isn't everything better with preserved lemons? If you don't have preserved lemons in the fridge, then you can always make my quick version.
The mint – We prefer fresh mint with this salad, but fresh basil is quite delicious as well.
If you enjoyed this Strawberry Tomato Salad, here are some other salads you might enjoy:
Strawberry, Coconut and Pinon Salad
Watermelon Salad with Preserved Lemon
This Strawberry Tomato Salad was featured on the Hearth and Soul Blog Hop @ Zesty South Indian Kitchen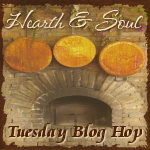 and Hearth and Soul @ Premeditated Leftovers.