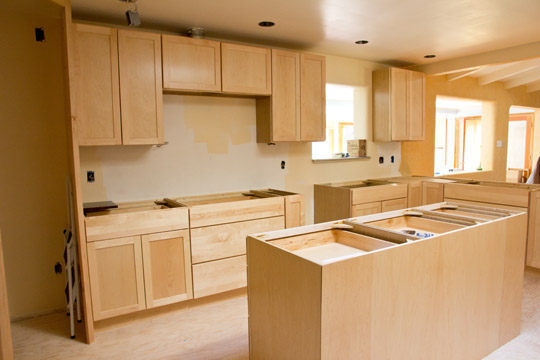 I've had many comments asking how the kitchen remodel is going so I thought I would catch you up on the progress (and thank you so much for asking!).  Well, we're getting there.  My kitchen was torn out on August 20 and it looks like we'll be able to move back in around September 27. Not soon enough for me!  All of the old wiring and plumbing has been replaced and brought up to code, the floor was torn out through the subfloor which has been replaced and prepped for the marmoleum flooring, the plaster walls have been repaired and painted, and, as you can see, the cabinets have been installed (almost).  The template has been made for the countertops which are a quartz composite product but we haven't heard when they will be installed. Hopefully, they'll be installed along with the backsplash before the 24th because that's when the flooring is going down. Appliances on the 26th and we're done!
When we looked at this house 14 years ago, one of the things that sold ME on the house was the size of the kitchen and that it was open to the den. My kitchen at the time (and for the previous 21 years) was a one person kitchen with so little countertop and space that my prep was done at the kitchen table. When I saw this kitchen, I didn't care that it was a 50's kitchen with 38 inch counter heights (not a good height for a 5′ 2″ cook) – it had counter space and lots of possibility! So fast forward 14 years later and in less than 3 weeks, those possibilities will be realized.
Cooking without a kitchen
From some of the comments in my previous post, it is apparent that there are others out there about to remodel their kitchens.  Therefore, I thought I would share how we are surviving this inconvenience.  I'll admit right up front that it is easier to deal with  logistically than it is mentally! 🙂
Most of our meals have been cooked on the grill or not cooked at all.  We kept the old microwave to warm things up and to heat my water for tea.  The grill has acted as both a grill and an oven at times, and our old Coleman camping stove allows us to heat up tortillas and cook eggs and pasta.  We could probably use the camping stove for more "cooking" but then we have to consider the cleanup.  Washing dishes in the bathtub is the biggest "inconvenience" to be honest; therefore, we try our best to minimize the amount of dishes used as well as the mess.  Here is how we prepared for the remodel and what we are eating.
Preparation
Weeks before the remodel started I made several jars of refrigerator jam (e.g., apricot, strawberry, cherry, strawberry-rhubarb, kiwi-jalapeno)
Every time I made pizza during June/July, I made enough dough for two pizzas, freezing half the dough.  By the time we started the remodel there were three pizza doughs in the freezer.
Remember those two batches of vegetarian tamales?  I froze enough for three meals.
Roasted several red bell peppers on the grill, peeled and froze.  Have been using them in salads and on pizzas.
Made pesto and froze 5 serving size containers (thanks to my SIL for the basil!)
The night before the remodel started I made a large pot of rice for the fridge.
Eating Out
During the remodel we have been eating out more than our usual twice a month. So far it's been a couple of times a week – a lunch and a dinner. Each time we go out, we think "leftovers", and bring home leftovers for another lunch. Below are some of the meals we've been eating thus far.
Breakfast
Whole grain cereal with fresh fruit (our standard breakfast)
Raisin and Walnut sweet tamales with yogurt maple sauce (The tamales were dessert tamales that I made during the holidays last year and still had a few left in the freezer.  I found them when I cleaned out the freezer before moving the refrigerator.  Gotta love those surprises!)
Irish bacon, with scrambled eggs, toast and jam (Cooked on Coleman camping stove – a must during a remodel)
Artisan cinnamon rolls with honeydew melon (a real treat!)
New Mexico Christmas breakfast
Lunch
Leftover pasta primavera that I made prior to the start of the remodel
Frozen meal of Tandoor Chef Palak Paneer served over leftover rice (The one and only frozen dinner that we like.)
Watermelon
Peanut Butter and Jam sandwiches
Yogurt w/ granola and fruit
Honeydew cucumber soup (recipe coming soon!) with grilled cheese sandwiches
Not another Waldorf Salad by Beyond the Peel – YUM! (I did use Gorgonzola instead of Blue cheese because that's what I had)
Leftovers from eating out and from dinners
Dinner
Black bean and fish tostadas made from leftovers on one of our lunches out.  Used a ready-made tostada shell and topped the beans and fish with cheese, salsa, chopped tomatoes, black olives, onion and lettuce.
Grilled Lamb chops topped with kiwi-jalapeno jam, grilled corn on the cob, strawberry-tomato salad. (made enough for a lunch)
Green Salad variation of smoked salmon and cucumber onion salad – added lettuce, boiled eggs and feta
Leftover roast chicken from eating out, massaged kale and mango salad (omitted the pepitas), Caprese salad
Grilled veggie pizza made with freezer dough, cheese, and fresh veggies (chopped tomatoes, onions, roasted bell peppers from the freezer, and basil)
Leftover pizza with a simple watermelon salad
Grilled ribeye steaks with onion and squash (layered the onion and squash in foil with some salt, pepper, thyme and a drizzle of garlic infused oil, sealed it up and placed it on the grill with the steaks. It cooked perfectly!)
Pasta with chopped heirloom tomatoes, basil, cheese, and a few other ingredients (made enough for 2 meals)
Green chile cheese burgers with carrot and raisin salad (made enough for 2 meals)
Steak salad with a leftover ribeye cooked previously
Chicken shish-kabobs with bell pepper/onion and grilled sweet corn (Adapted Manu's Chicken Tikka 2nd marinade for the chicken using the seasoning that I had and could find. Loved it!)
Freezer dive – Sliced turkey breast, cranberry pecan dressing topped with sauteed apples, and sliced tomato as a side.
Grilled pesto pizza with fresh veggie toppings and cheese
Red chile enchiladas (red chile sauce from the freezer)
Refrigerator clean-out Southwestern Casserole – chipotle pinto beans (from freezer) topped with black olives, yogurt, cheese, carnitas, onion and pepper, grilled corn (all leftover items) – heated in the microwave and topped with fresh tomatoes.
Grilled marinated chicken breast with apple, cucumber, radish, Gorgonzola salad
Fennel Infused Onions (used fresh herbs from the garden – lemon thyme, tarragon)
Parchment grilled Potatoes (layers of thin sliced potatoes, roasted bell pepper, feta, garlic infused oil, salt and pepper)
I'll be updating this list of meals during the next 3 weeks, then the reveal – hopefully!!!  🙂
Houdi will certainly be glad when it's all over.  He is a little freaked out right now.