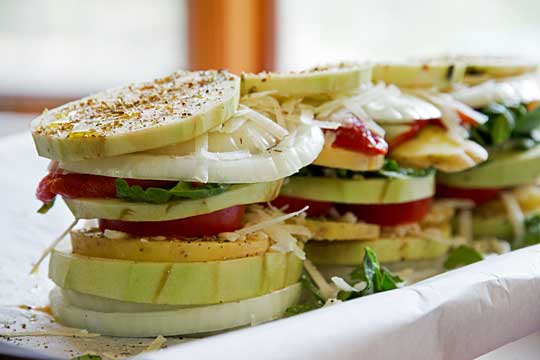 Cooking in parchment paper (en papillote) on the grill during hot weather has become an addiction!  It's such a great way to keep the heat out of the kitchen and to minimize both prep and clean-up.  Last week  I made this stacked vegetable dish and Bobby and I both agree that it's as good and maybe even better than the Italian Sausage with Vegetables 'en Papillote. It's completely different in ingredients, texture, smells and flavors, and makes a very hearty and delicious vegetarian meal.  It could also be used as a side to a meat entree' if desired.
When I started putting this together, I was aiming for something like a vegetable lasagne without the noodles, but then if you don't use the noodles, can you call it lasagne?  I used thin slices of Yukon Gold potatoes for the carbohydrate and that turned out to be what really held this meal together and took it beyond just a bunch of steamed vegetables.  Bobby said that it was like eating a vegetable au gratin but without the breadcrumbs and all the cheese.  The potatoes, the herbs, the super fresh vegetables, and a touch of cheese all blended together to provide a memorable dish.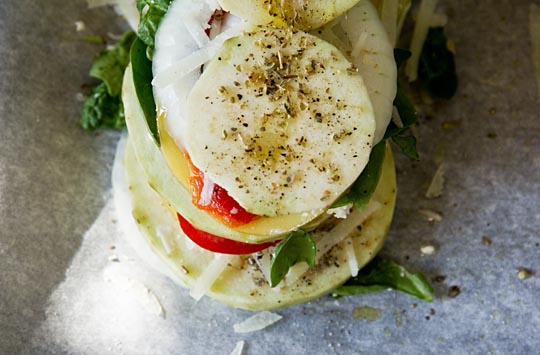 Summer Vegetables 'en Papillote Recipe
Serves: 4 as a side or 3 as a meal
Prep and Cook time: 60 minutes
Ingredients
1 medium eggplant, peeled, ¼" to ½"slices
1 medium Yukon gold potato, sliced very thin
2 large Roma tomatoes or other meaty tomato, sliced
1 roasted red bell pepper, cut into 1" strips, then cut in half
1 medium onion, ¼" to ½" slices
1 cup fresh spinach, torn
Dried sage
Dried oregano
¼ cup feta, crumbled
1 cup Romano, grated (set ¼ cup off to the side to use after the vegetables are cooked)
Salt and pepper
Garlic-infused olive oil or olive oil and garlic powder
Instructions
In a bowl large enough to hold the eggplant slices, add 1 tsp. salt and enough water to cover the eggplant.  Stir to dissolve the salt.  Place the eggplant slices in the salt water and weigh down with a plate.  Set aside until ready to stack.  (This keeps the eggplant from turning brown.)
Slice and chop the remaining vegetables, grate the Romano and crumble the feta.
Prepare the grill for medium heat (350° F to 375° F) or preheat the oven for 350° F (177° C).
Tear off two pieces of parchment paper long enough to roll the top over the stack of vegetables. The parchment should be wide enough and the stacks short enough to tie the ends of the parchment after closing the pouch.
Drain the eggplant.  Don't worry about patting dry. The moisture will help the cooking process.
Assemble by placing the slices of vegetables side-by-side in a single row in the middle of the parchment across its width. Create the stacks using 3 to 4 slices of each vegetable in the following order with alternating layers of either cheese, herbs or oil as described below:
onion, eggplant, brush eggplant with garlic infused olive oil,
potatoes, salt and pepper, some of the Romano cheese,
tomato, light sprinkle of crumbled sage,
eggplant, brush with garlic infused olive oil,
half of the spinach, half the feta cheese,
potatoes, salt and pepper,
roasted red bell pepper, onion, a little Romano cheese,
eggplant, a drizzle of oil and sprinkle of oregano.
Pull the paper up above the vegetables and fold the paper until it almost comes in contact with the vegetables.  Tie each of the ends using trussing string.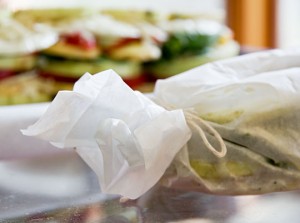 Make a second stack using the rest of the vegetables, repeating the above procedure.
Place both pouches on a sheet pan.  Place in hot oven or on the grill. Cook for 15 minutes then turn sheet pan and cook another 15 minutes.
Open the pouches, transfer to plates and serve with a sprinkling of Romano cheese.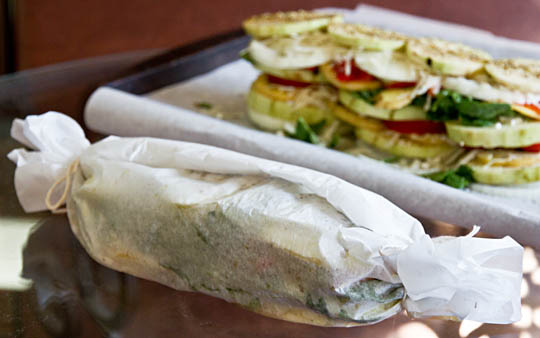 Kitchen Notes
Serving size – I had estimated that each pouch would serve two people.  But since this was all I served for supper (and because it was SO good), we only had one-half of one pouch leftover.  Don't be tempted to stacked the vegetables too high to feed more people, because then it might not cook evenly, especially if you use the grill.
The vegetables  – The only change I might make would be to omit the spinach.  It was great for color, but so little was used that I wouldn't buy it just for this dish. The rest of the vegetables and the layering order was perfect!  Great mix of textures and a wonderful blend of flavors.
Don't skip the step where you soak the eggplant in saltwater.  This keeps the eggplant looking freshly cut even through the cooking process. I loved the way the eggplant cooked in this dish. It didn't get mushy or tough.  It was just right!
I had a roasted bell pepper in the freezer that I used, so that saved on the prep time.  If you don't have a roasted bell pepper, you may need to roast one or just use a sliced, raw pepper.  I'm sure that would work great!
Yukon Gold potatoes work great in this dish because they do tend to cook faster than some other types of potatoes. Even though I sliced them thin they didn't fall apart. They cooked perfectly!  Other types of potatoes would work, just make sure to slice really thin.
The herbs – I used dried herbs because I just felt they would work better than fresh. A little bit goes a long way. Even though just a sprinkling for the sage and oregano were used, we could definitely taste them in every bite.
The garlic oil – If you don't have garlic infused oil, use olive oil and a sprinkling of garlic powder.
Cooking method – This method of cooking is so easy.  For this meal the only prep was cutting up the vegetables, stacking them, and wrapping in parchment.  The cleanup was easy – we just threw away the used parchment.  Even though I cooked this on the grill, it could easily be baked in the oven.  Just use the temperatures provided in the recipe.
Vegan version – Omit the cheese; however, since cheese does add salt to the dish, add a touch more salt and brush one or two more layers with the garlic infused oil.
I apologize for not having pictures of the cooked dish.  On every occasion that I have cooked in parchment, once we broke open the pouch and smelled the escaping aromas, we couldn't waste the moment getting pictures. You definitely want to eat these meals while they're hot.
I would again like to thank Sarah of All Our Fingers in the Pie!.  Sarah was the host of the July 2012 Daring Cooks' Challenge.  She challenged us to learn this new cooking technique and to even go beyond the more typical form of cooking en papillote in the oven and to use the stove top or barbeque instead. And that's exactly what I have done!
This recipe has been linked to the following blog hops. Be sure to click on the links for more fabulous recipes!
Whole Foods Wednesday, Keep It Real Thursday, Frugal Food Thursday, Full Plate Thursday, Full Plate Thursday, Showcase Your Talent Thursday, Freaky Friday, Gallery of Favorites, It's a Piece of Cake, My Meatless Monday, Melt In Your Mouth Monday, Made From Scratch Monday, Meatless Monday, Creative Thursday, Recipe Sharing Monday, Allergy-Free Wednesday, Mix It Up Monday, Made With Love Monday, Fresh Foods Wednesday
This recipe for Stacked Vegetables en papillote was featured in the Huffington Post article:  Dinner in A Bag:  14 Recipes for Cooking in Parchment, April 5, 2013.