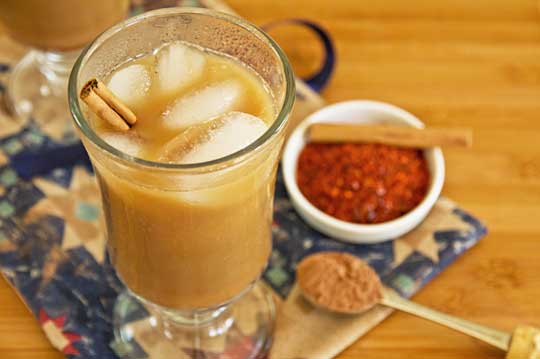 In all of the years that we've lived in New Mexico, we've never been to Denver, Colorado. We've been all over the western half of Colorado, but Denver and the surrounding area has alluded us for some reason.  That all changed last week.  I had a conference in Denver so Bobby arranged his schedule so he could go with me and we do some sightseeing on a couple of afternoons I had off.
One afternoon we drove to Littleton, a small town (suburb) a little southwest of Denver.  It was a quaint little place and the old town area had a few shops that were right up my alley. There were two small antique shops housed in century old homes and around the corner on Main Street were two fabulous spice shops. In one of the antique shops I found this 1930's recipe book that was written as a promotional for Worcester Salt.  I thought it to be a perfect match for the 1930's book that my mother-in-law gave me – The Art of Cooking and Serving, a promotional for Crisco.  Both books are a hoot! I'll be sharing some of the comments and recipes with you in the fall. Just as a teaser, the Worcester Salt book recommends boiling summer squash in salt water for 45 minutes!  Would there be anything one could call squash after 45 minutes?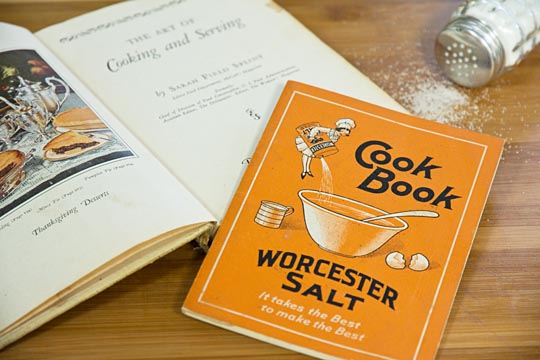 I could have spent hours in the spice shops, sniffing and tasting and chatting up with the wonderful people that worked there.  Here are the of highlights from each shop.
In Penzeys Spices, I was drawn to the large assortment of dried peppers.  Many I knew, but some were new to me.  I bought a bag of  crushed Aleppo peppers because I had never heard of them and I loved the unique smell.  The other thing that caught my eye was the assortment of curry blends. I couldn't help smelling most of them and would have loved to have bought a small bottle of each, but resisted. Overall, I was able to control myself and only bought the peppers, a bottle of smoked paprika and small bottle of Herbes de Provence.
Just down Main Street was another fabulous shop – Savory Spice, a more laid back atmosphere than Penzey's and a somewhat different focus. For example, instead of having curry blends, Savory Spice had the individual spices that go into curries. One thing I was specifically looking for were curry leaves and it had them!  It also had a variety of salts blended with different herbs and spices. I actually resisted purchasing any of these even after smelling several of them. I have too many salt blends already!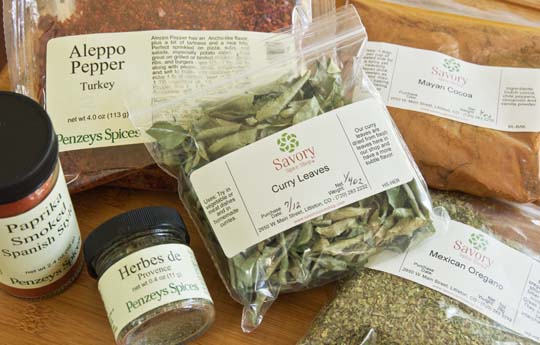 What I couldn't resist was the cocoa powder section – an assortment of different cocoa powders and blends. The moment I saw the Mayan Cocoa, I knew I had to have it. It's a blend of "Dutch cocoa, chile peppers, cinnamon and vanilla powder". The first thing I made when we got home was this Mayan Chocolate Iced Coffee – a sweet chocolate coffee with a real kick.  I have the feeling that the 4 ounce bag of Mayan cocoa I bought isn't going to last very long.
[print_this]
Mayan Chocolate Iced Coffee Recipe
Yields 3 cups
Time: 10 minutes if you use leftover coffee
Ingredients
2 cups strong coffee (leftover or freshly made)
1 tsp. Mayan Cocoa Powder
1 tsp. honey
1 cup Vanilla Almond Milk
Instructions
Add the coffee to a mixing bowl. If it isn't warm, heat for 1 minute in the microwave.
Add the cocoa powder and honey.  Whisk to dissolve.
Add 1 cup almond milk. Stir to combine.
Add crushed ice or cubes to two glasses.  Divide the coffee mixture between the two glasses.
Enjoy!
[/print_this]
Kitchen Notes
If you've been following my site, you know how much I LOVE sweet and spicy and this drink is just that.  During the winter I drink a hot sweet and spicy Mayan Chocolate Truffle Chai from Mighty Leaf tea.  I'm thrilled that I have now found my perfect sweet and spicy summer drink!
Mayan Cocoa – The amount of Mayan cocoa you use depends on the specific blend. The blend I bought was pretty spicy. The first time I made this I used 2 tsp. and it was much too spicy. In fact, the coffee was so overpowered by the chile powder that it was hard to taste the coffee. For the next batch I cut the cocoa blend in half and that was perfect.
The honey – Once you add the Vanilla Almond Milk, you should do a taste test for sweetness.  If it's not sweet enough, just add more honey.
The Almond Milk – We have become addicted to Vanilla Almond Milk for our iced coffees, chais and lattes.  However, if you're not an almond milk fan, I'm sure milk, cream or soy would work just fine.  It's your preference.
Other Denver Highlights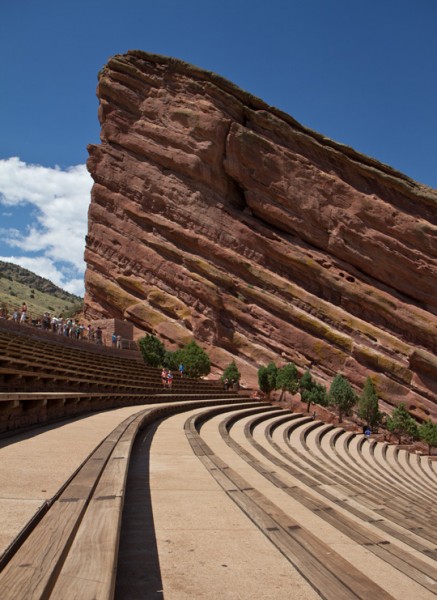 The Red Rocks Amphitheater – An amazing place! Large vertical rocks that angle upward and form a natural amphitheater with perfect acoustics. We were standing at the very top and could hear the conversations of the people talking on the stage.  Performers have included The Beatles, U2 and Sting. In August one can see Neil Young & Crazy Horse, Crosby, Stills & Nash, Norah Jones and many others!
We had a lovely lunch at the Red Rock Grill while taking in the view and watching hawks and swallows fly above us. The Bison tamales with mole' sauce were delicious!
Denver Art Museum – Spent an afternoon going through most of the exhibits then ended up a Dazzle's.
Dazzle – A comfortable jazz club in downtown Denver where we spent a couple of hours drinking beer (Bobby) and Tequila Sunrises (me).  It was National Tequila Day afterall. 🙂
Ya Ya Euro Bistro – You know it has to be good when you go there twice in one short week!  The Mulligatawny Mussels took my breath away! I usually don't eat mussels, but we ordered these twice.  Lots and lots of mussels steamed in a curry sauce with dried apricots, apples and Basmati rice.  Couldn't get enough of these!  And then there was the dessert – Belgian Chocolate Souffle with raspberry coulis and vanilla ice cream.  The server recommended the Dashe Late Harvest Zinfandel to go with it and she was right – it was a perfect complement to this dessert!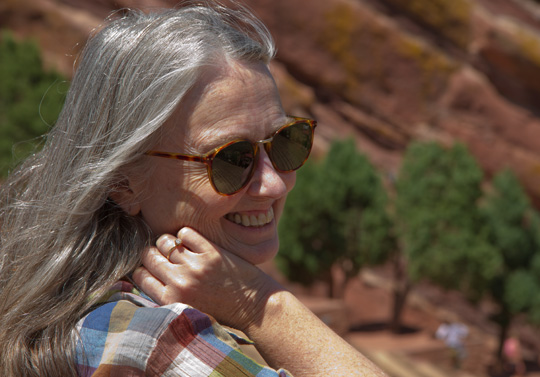 What a great time we had!
This post is not a promotional for any product or business. All comments and opinions are my own.
This post has been shared with the following blog hops.
My Meatless Monday, Melt In Your Mouth Monday, Slightly Indulgent Tuesday, Allergy-Free Wednesday, Full Plate Thursday, Cast Party Wednesday