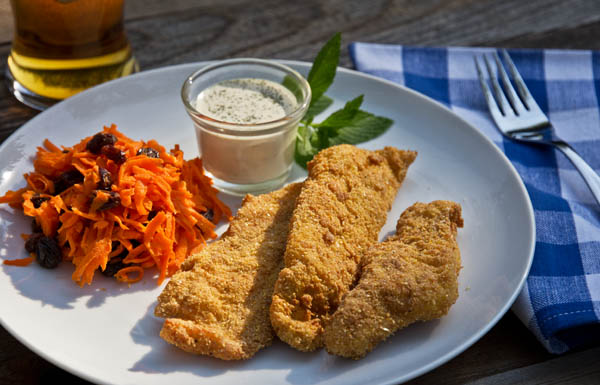 Today we're taking a couple of virtual road trips. Our first trip is picnic of southern fried chicken over to Wok With Ray where you meet Ray (if you haven't already), a great blogger friend, and a wonderful chef and caterer. Ray features some of the most amazing Filipino and Asian dishes and his photography is beautiful! In May I gave you a taste of his Sweet and Garlicky Pork Chops in my Celebration of Garlic post.
Our second trip is to Black Lake, a lake in north Louisiana where I learned to fish and which supplied my family with all of the catfish and bluegill (bream) that we could eat. Once there I'll be serving up a picnic of Southern Fried Catfish and Carrot & Raisin Salad.
The following recipes are featured at Wok With Ray.
[print_this]
Southern Fried Catfish Recipe
Serves: 2
Prep and Cook time: 45 minutes
Recipe Author:  MJ of MJ's Kitchen
Ingredients
1 pound catfish fillets, cut in half lengthwise
1 large egg
1 tsp. Worcestershire sauce
2 Tbsp. buttermilk
1 cup cornmeal
Salt and pepper
4 cups peanut or canola oil or enough oil to deep fry the fillets
Instructions for frying catfish
In a shallow bowl, whisk together the egg, Worcestershire sauce, buttermilk, and a little salt and pepper.
Place cornmeal in another shallow bowl or pie pan. Add a little salt and a generous amount of pepper. Stir to combine.
Heat oil in deep frying skillet or cast iron Dutch oven over medium high heat to a temperature of 325°F (163°C).  (The temperature is important to keep your catfish from being greasy.)
While the oil is heating, start dipping the catfish fillets in egg mixture, then into the cornmeal. Coat both sides of the fillets with the cornmeal.
Place gently in hot oil. Cook until lightly brown on both sides, about 2 minutes per side or cooked through. With enough oil, you shouldn't have to turn it. Just cook it in the oil for about 4 minutes.
Transfer to a flat paper bag or paper towels to drain.
Sprinkle with more salt if desired. (We like adding salt right out of the fryer.)
Serve with Catfish Dipping Sauce.
Catfish Dipping Sauce (not quite a Tartar Sauce)
1/4 cup mayonnaise
¼ cup plain Greek Style Yogurt
1 Tbsp. onion, minced
1 Tbsp. dill pickle, minced
1 Tbsp. horseradish sauce
1 tsp. Dijon mustard
1 Tbsp. fresh lemon juice
A pinch of dried dill weed
Combine all ingredients for the sauce in a bowl, mix well, and set aside.
[/print_this]
If you're going to make fried catfish, you're going to need a Carrot & Raisin Salad.  This isn't the typical southern carrot & raisin salad which is made with mayonnaise and honey.  This salad uses a simple dressing of orange juice, honey and Dijon.  Very light and just as tasty.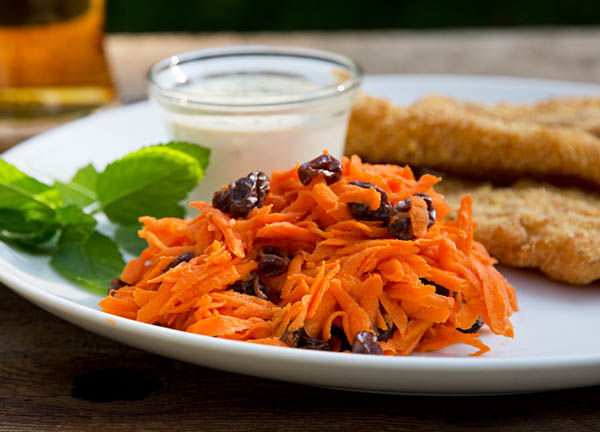 [print_this]
Carrot and Raisin Salad Recipe
Recipe Author:  MJ of MJ's Kitchen
Serves: 4
Prep time: 20 minutes
Ingredients
½ cup raisins
Juice from 1 orange (about 3 to 4 Tbsp.)
4 large carrots, peeled and grated
Touch of salt
Dressing
1 Tbsp. honey or maple syrup
1 Tbsp. Dijon or Creole mustard
3 Tbsp. orange juice (drained from raisins)
Instructions
Squeeze the juice from the orange into a bowl. Add the raisins and set aside for at least 10 minutes to re-hydrate.
Grate the carrots into a large bowl.
In a small bowl, whisk together the honey and mustard.
Drain the juice from the raisins and add 3 Tbsp of the orange juice to the dressing. Whisk.
Add the raisins to the carrots then a touch of salt.
Add the dressing and toss.
Refrigerate until ready to serve. Stir again before serving.
[/print_this]
My southern fried catfish and carrot & raisin salad recipes have been linked to the following blog hops.  Summer Salad Sunday, Mix It Up Monday!, My Meatless Monday, Hearth & Soul, Bizzy's Recipe Box, Gluten-Free Wednesday, Allergy-Free Wednesday, Whole Foods Wednesday, Showcase Your Talent Thursday, Frugal Foods Thursday, Keep It Real Thursday, Melt In Your Mouth Monday, Made With Luv Mondays, Totally Tasty Tuesday, Mom's Test Meal Monday, Katherine Martinelli's Fried Food Hop