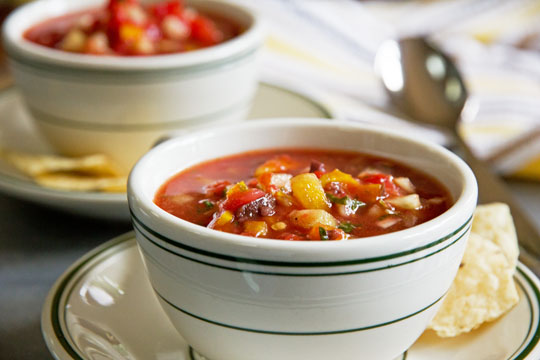 When one of my nieces graduated from high school back in 2003, my mother and I flew to California to attend the ceremony and spend some time with my sister and her family.  It was a great trip but there are two memories that will last forever.  One was making S'mores on the beach with my niece and nephew, burning the marshmallows and stuffing our faces with gooey sweetness.  The other was hanging out in the kitchen with my mother and sister making a chunky gazpacho and talking, talking, and talking. The trip was so much fun that I almost missed how delicious the gazpacho was.
My sister's chunky gazpacho was quite different from mine at that time. Instead of throwing everything in the blender and pulsing a few times like I did, we chopped everything!  It was somewhat laborious, not that we noticed with all the talking going on.  I didn't get her recipe because, like all of the women in my family, we aren't in the habit of writing recipes down.  So when I got back home, I did a makeover with my own gazpacho recipe, eliminating most, but not all of the blending, and created this chunky gazpacho.  I'm not sure if it's exactly like my sister's or even close for that matter, but Bobby and I sure love it!  I thank my sister for the inspiration of going chunky with my gazpacho.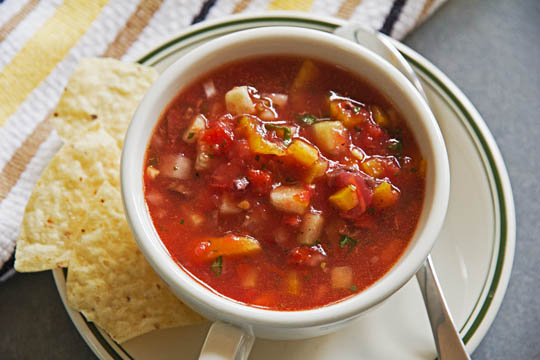 [print_this]
Chunky Gazpacho Recipe
Recipe Author:  MJ of MJ's Kitchen
Yields over a quart of gazpacho
Prep time: less than 30 minutes, then refrigerator 4 hours or overnight before serving
Ingredients
1 ½ to 2 pounds Roma or other meaty tomatoes (7 – 9 large)
1 garlic clove, minced (size depends on how much you like garlic)
A handful of fresh basil leaves
1 medium cucumber, peeled, finely chopped
½ medium sweet bell pepper, finely chopped (any color but green)
¼ cup sweet onion, finely chopped
12 Kalamata olives, finely chopped
1 Tbsp. brine from olives
1 Tbsp. red wine vinegar
2 Tbsp olive oil
Salt and pepper to taste
Chopped fresh mint for garnish (optional)
Instructions
Cut the stem end off the tomatoes, then cut tomatoes into quarters. Place in a blender and pulse a few times until tomatoes are coarsely chopped. Transfer all but about one cup to a large bowl.
Add the garlic and all but about 4 to 5 leaves of basil to the blender. Puree for 30 seconds. Pour into bowl with the rest of the tomatoes.
Chop the reserved basil leaves and add to the bowl.
Add the remaining ingredients and mix well.
Taste. Season with the desired amount of salt and pepper.
Refrigerate at least 4 hours, or overnight preferably.  Remove from the refrigerator about 30 minutes before serving.
Serve with a garnish of freshly chopped mint leaves.
[/print_this]
Kitchen Notes
The tomatoes – Like any gazpacho it's best with the freshest ingredients, so vine-ripened garden tomatoes,  local tomatoes, or meaty heirlooms are a must.  You don't have to use Romas.  Any meaty tomato works. If the tomatoes are really meaty and you need more juice, add a cup of V8 juice or tomato juice.
Sugar – It you find it a little acidic, which it can become after a couple of days in the refrigerator, add a touch of sugar.  You won't even taste the sugar, but it will calm the acidity.
For spicy gazpacho – Substitute the olive brine with brine from pickled jalapeno or add a minced jalapeno pepper or some chopped green chile.
Serve chunky gazpacho with
a grilled cheese sandwich made with a smoked cheese,
a tortilla egg sandwich made with a pepper jack cheese, or
a side of chips.
If you enjoyed this chunky gazpacho, here are a few more summer soups for you to try:
Cold Asparagus and Garlic Soup
Cold Curried Green Vegetable Soup
Cold Cantaloupe and Cucumber Soup
Chilled Three Onion and Green Chile Soup
This Chunky Gazpacho has joined the July 2012 Tomato Hop #tomatolove as well as the following blog hops. Be sure to click on the links for more fabulous recipes!
Slightly Indulgent Tuesdays, Totally Tasty Tuesdays, Bizzy's Recipe Box, Whole Foods Wednesday, Creative Thursday, Keep It Real Thursday, Frugal Foods Thursday, Mouthwatering Monday, Hearth and Soul, What's Cooking Wednesday?, Meatless Monday, Gallery of Favorites, Katherine Martinelli's Tomato hop, Foodie Friday, Just Another Meatless Monday, My Meatless Monday, Made With Love Mondays .
This recipe was featured in the Hearth and Soul Blog Hop and Foodie Friday Blog Hop.