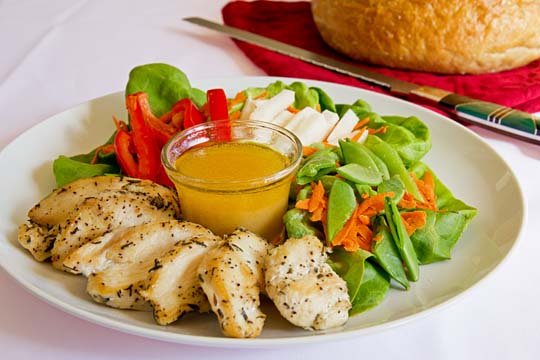 June is here and it's HOT!  The oven is officially off for the next 3 to 4 months, so meals are either grilled, cooked on the cooktop or not cooked at all.  Neither Bobby nor I like eating hot or heavy meals in the summertime. We eat lots and lots of salads and this Orange Ginger Chicken Salad is one of our summer staples.  The chicken breasts are pan fried on the cooktop and the rest of the salad is washed, chopped and plated.  A simple dressing with crystallized ginger and orange juice is poured over the top and voilà!  We have a healthy, hearty, and very tasty meal.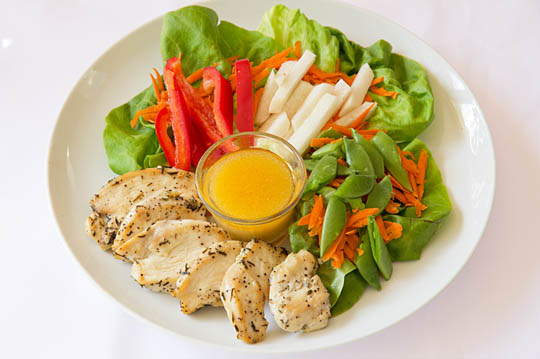 [print_this]
Orange Ginger Chicken Salad Recipe
[Inspired from either a Cooking Light or a Bon Appetit recipe of more 10 years ago.]
Serves: 2
Prep and Cook time: 30 minutes
Ingredients
2 skinless, boneless chicken breasts, sliced across the grain into 1/2″ slices
Salt and pepper, to taste
about 1 tsp. Garlic powder
1 ½ tsp. dried Thyme
1 Tbsp. olive oil
mixed greens or your favorite lettuce
½ carrot, grated
½ red bell pepper, coarsely chopped
sugar snap peas, halved crosswise
jicama, peeled, julienned
(or other assortment of vegetables)
Dressing
1 Tbsp. crystallized ginger, minced
1 Tbsp. orange juice concentrate, thawed (or juice from half an orange)
1 tsp. Dijon mustard
1 Tbsp. rice vinegar
1 ½ tsp. unrefined peanut oil
2 – 3 Tbsp. canola oil (adjust to your level of desired acidity)
Instructions
For the dressing, whisk together all of the ingredients and set aside.
Place the sliced chicken in a large bowl.  Sprinkle with salt, pepper, garlic powder, and dried thyme.  Toss to coat chicken pieces with seasoning.
Heat 1 Tbsp. olive oil in non-stick skillet over medium heat.
Add the chicken and saute' 1 to 2 minutes per side, until chicken pieces are cooked through. (These pieces cook really quick.)  Transfer to a plate until ready to assemble the salad.
Divide the lettuce and vegetables between two plates.
Place  the desired amount of chicken slices on each plate.
Whisk salad dressing and drizzle over vegetables and the chicken.
Serve and enjoy!
[/print_this]
Kitchen Notes
The vegetables – The vegetables for this salad can be just about anything that is in season.  Some vegetables like asparagus should be steamed or blanched.  Here are some other vegetables and fruits that work quite well.
 asparagus (blanched and chilled)
 green beans (blanched and chilled)
broccoli
cucumber
sliced apple
orange wedges
chopped sweet onion
Fennel infused onion, chopped
raw spinach
snow peas
The chicken – Two whole chickens breast could actually serve four people, one-half breast per serving.  That's probably closer to serving guidelines.  For the two of  us, I can actually stretch 2 breasts to make a nice dinner and light lunch.
Vegetarian version – I haven't tried it but I would imagine that tofu marinated in the dressing then grilled would be a perfect protein for this salad.  So for all my vegetarian readers – Would that work?
If you like this Orange Ginger Chicken Salad, then you'll probably like these salads as well.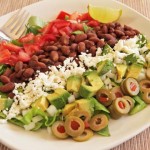 Spicy Bean Salad – Chipotle beans, avocado, tomato, olives and feta cheese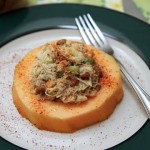 Chicken and Cantaloupe Salad – A simple chicken salad served in a cantaloupe ring.
For more recipes that use Crystallized Ginger, check out The Rockstar of the Baker's Pantry @theKitchn,
This Orange Ginger Chicken Salad has been linked to the following blog hops.  Be sure to clicks on the links for more delicious recipe.
Weekend Potluck, Summer Salad Sunday!, Mix It Up Monday, Made From Scratch Monday, Hearth and Soul, Whole Food Wednesdays, What's Cooking Wednesday?, Whole Foods Wednesday, Full Plate Thursday, Showcase Your Talent Thursday, The Recipe Box, Fat Tuesday
This Orange Ginger Chicken Salad was featured on Carole's Chatter Salad Inspiration