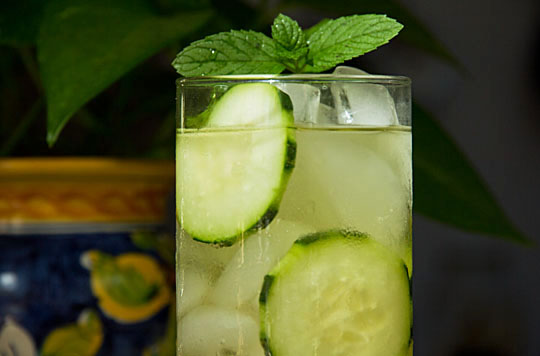 I love all of the refreshing cocktails that I've been seeing lately so I thought I would join the party. This sweet cucumber drink is delicious both as a cocktail and as a non-alcoholic refresher.  I've had it both ways many times. The first time I had it was a few months ago when my brother-in-law made the cucumber cocktail for me.  I loved it then and I love it now!
My BIL acquired this recipe from "Johnny the bartender" in Austin, TX.  It was Johnny's creation and he asked my BIL to try it. Needless to say my BIL loved it and, being the east Texas boy he is, he easily talked Johnny into sharing the recipe.  So I credit this recipe to Johnny, wherever you are.  I hope I've done your drink justice.
Sweet Cucumber Beverage (Cocktail)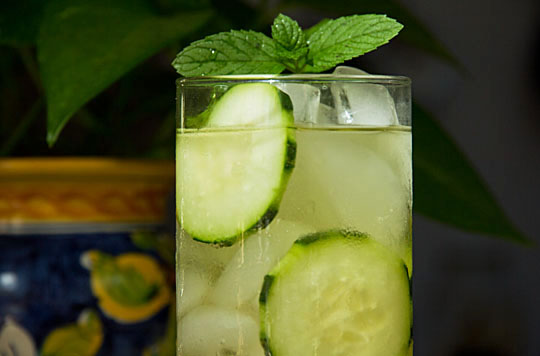 Sweet Cucumber Cocktail Recipe
A refreshing beverage served with or without alcohol.

"*" See Kitchen Notes for more information or links to special ingredients.
Course:
Drinks, Vegan, Vegetarian
Ingredients
2

oz.

(4 Tbsp. or ¼ cup) Vodka

(optional)

3/4

oz.

(1 ½ Tbsp) Agave Nectar

1/2

oz.

(1 Tbsp) Lime Juice

8

Slices

Cucumber

4

sprigs of Mint

Club Soda or sparkling mineral water
Instructions
Place the vodka, agave nectar, lime juice, 2 sprigs of mint and 4 slices of cucumber in shaker with ice.

Shake and strain into 2 tall highball glasses filled 3/4 with ice and a couple slices of cucumber.

Top off with Club Soda or mineral water. Gently stir to blend in the sparkling water.

Top each glass off with a sprig of mint.
Kitchen Notes
I don't have a shaker so I put the first five ingredients in a large glass, stir, then add some crushed ice and stir vigorously for a few seconds. At this point I divide between two glasses and follow the rest of the instructions.
Virgin cocktail – It's just as good without the vodka.  I've made it several times for when I just wanted something refreshing and cold to drink, sitting on the porch reading a good book.
The first time I took a sip of this cocktail it reminded me of a local restaurant that serves water with a cucumber slice instead of lemon.  For some reason the cucumber imparts a freshness that I like better than lemon.  This cocktail does the same.  It's so summery and refreshing!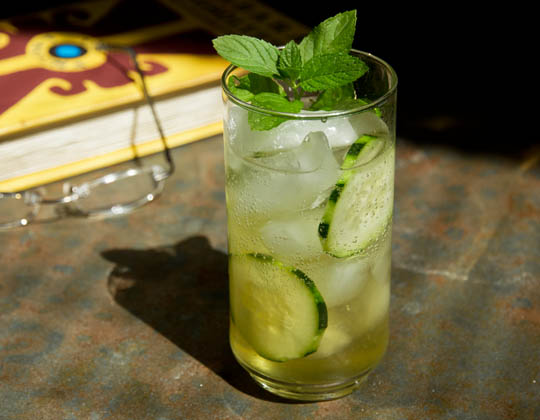 For great information on cocktails and ideas on making some of the classics as well as new drinks, be sure to check out the cocktail  series on Kitchen Riffs.  While there, check out the gorgeous photography! It was Kitchen Riffs' drink photography that inspired the second shot in this post.  Being new to photography, I find photographing drinks very challenging; therefore, I took LOTS of pictures in different settings to test the results. It was fun!
If you enjoy this cucumber beverage, then you'll probably enjoy these other beverages as well: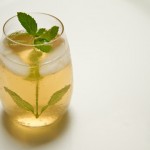 Jamaican Cooler – A mix of simple ginger syrup, Jamaican Rum and sparkling water.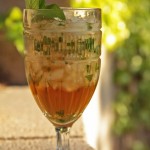 Mint Julep – Bourbon, mint and a little sugar – what more could you want?
This wonderful cucumber drink was voted up to the Foodbuzz Top 9 on June 19, 2012!
This Cucumber Drink was selected by Season With Spice as one of their Summer Season 2012 Editor Picks and picked by Fox News as a Delightful Kentucky Derby Drink!