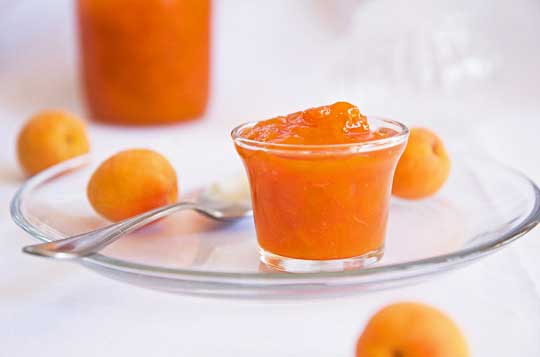 If you read my About page you know that I use to have lots and lots of fruit trees.  One was a huge apricot tree that, about every 3 to 4 years, yielded an abundance of the biggest and sweetest apricots.  On the years in between, a late freeze would kill the young fruit.  On those good years, we ate LOTS of apricots right off the tree,  but the rest of the apricots ended up dried or as apricot jam.  When we moved, I had enough apricot jam to last us a few more years and still give away a jar here and there.  Well,  many years have passed and we have been out of apricot jam for a while – until now!
This was a good year for apricots and a friend around the corner has a tree that's packed!  So last week I picked a few, just enough for us to eat and for me to make one jar of apricot jam.  We didn't pick too many because I no longer spend long hours in the kitchen jamming, but I do enjoy spending 30 minutes or so making one jar. Today we're headed back to pick more.  We're already halfway through the pint I made and I don't see the other half lasting very  much longer. Since it's going so fast, this time I guess I'll have to make two jars.
All you need for this apricot jam are enough apricots for 3 cups of chopped fruit, a lemon, some sugar and a little apple juice – no pectin. In less than 45 minutes you have a delicious pint of apricot jam that can go right into the refrigerator and used the next morning on your morning bagel (if you can wait that long).
Apricot Jam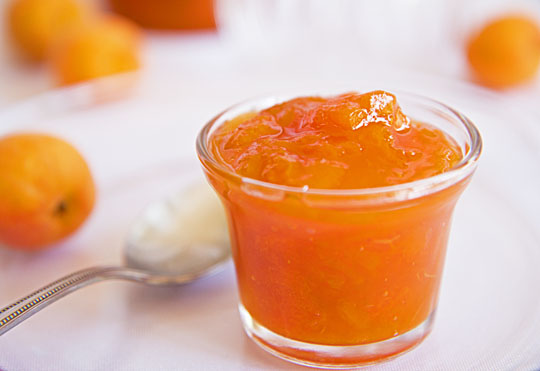 Apricot Jam Recipe
Before starting you might want to review my Kitchen Notes on Making Q&E Jams

Note: This is a refrigerator jam and not intended to be sealed and stored in the pantry. All you need is a very clean jar. Once the jam has cooked to consistency, pour into jar, let cool and refrigerate.
"*" See Kitchen Notes for more information or links to special ingredients.
Course:
Jams and Preserves
Ingredients
3

cups

apricots,

chopped (about 1 1/2 pounds apricots)

Juice from one lemon

(2 to 3 Tbsp.)

1 ½

cups

sugar

3

Tbsp.

apple cider or 100% apple juice*
Instructions
If you aren't planning on using temperature, to know when the jam is ready to pour, place a small saucer in the freezer.

Pit the apricots and chop. (I just use a coarse chop because they do cook down.)

Add apricots to a sauce pan with the lemon, sugar and apple cider/juice. Heat on medium-low, stirring until sugar has melted.


Increase the heat to medium high and bring the jam to a full boil, stirring constantly. A full boil is a boil that cannot be stirred down. You may need to adjust your heat level again at this point. I usually have to turn it down just a bit once it reaches a full boil.

Stir constantly at a full boil for 17 to 18 minutes. Test** @ 17 minutes, then cook another minute or two or until ready. Skim off any foam remaining on the surface of the jam. OR at 15 minutes add a candy thermometer to the pot and

use temperature to know when the jam is ready

.

Remove from the heat and pour into a clean pint jar. Screw on the lid. Let cool, then refrigerate. Jam will keep in the refrigerator for over a year or until you finish it off, which won't take long.

** Test - When the jam sheets from the side of a metal spoon (droplets flow together), it's very close if not ready. Pull the saucer from the freezer and place a drop or two of jam onto the saucer. If it spreads out, the jam's not done. Return the saucer to the freezer, continue to stir the boiling jam, and try again in 2 minutes. The jam is done when a drop does not spread out but retains its shape.
Kitchen Notes
Pectin – Apricots are naturally low in pectin and apples and lemons are high; therefore, the apple juice and lemon add a little pectin to the jam.  This provides just enough pectin for a relatively soft jam that's great for toast, bagels, muffins, or just right out of the jar.
Apple cider – The apple cider adds a little depth to the flavor of the jam, butif you don't have any, substitute with 2 Tbsp. water.  The water might add a minute or two onto the cooking time, but works nicely.
Sugar – I've tried honey and agave in these quick and easy jams, but didn't like the outcome.  The sweetener hide the flavor of the apricots; therefore, I stick with just sugar.
Apricots – Under-ripe apricots work best, but if all you have are ripe and over-ripe apricots, don't let that stop you from making a jar of this absolutely delicious jam!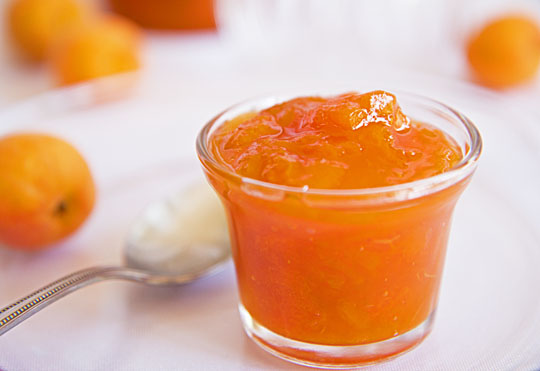 Other jams that use this method:
List of Quick & Easy Jams (no pectin, small batch)
This Apricot Jam recipe was shared with Make Ahead Meals for Busy Moms. Be sure to click on the link for more exciting recipes!