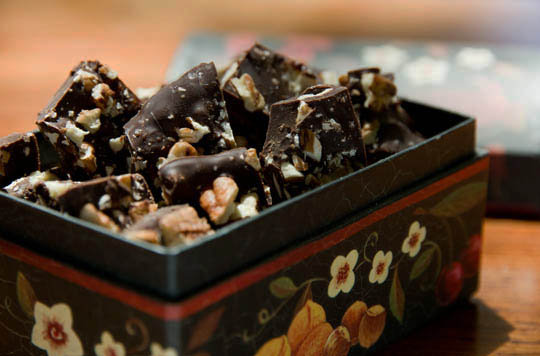 I love nuts of all kinds, but I have to say that pecans are my absolutely favorite. Up until 3 years ago when my mother sold the family home, all my pecans came from the pecan tree in the backyard of the house in which I grew up.  When I moved to New Mexico, my mother would ship me bags of shelled pecans for Christmas. Yes, I said "shelled" pecans!  On my visits back home, I would raid her freezer which normally had more pecans that she could eat.  It always gave me a thrill to think that I was still eating pecans from the same tree after all of these years!
Now I have to buy my pecans, so I buy in bulk from a New Mexico grower called Stahmanns. This recipe was actually inspired by some Salted Pecan Bark that I purchased with my last bulk order.  The bark was SO good! Bobby and I both wanted more after it was all gone, so I decided to give making bark a try.  BIG mistake – HUGE mistake!!!!   Not only did it turn out fabulous, but making it was SO EASY and at least 1/3 the cost!  It took about 15 minutes of prep and cook time and then 30 minutes to cool in the refrigerator.  It's going to be really hard NOT keeping some of this bark in the pantry at all times!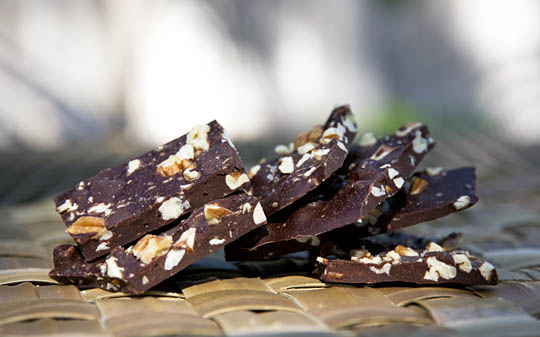 [print_this]
Salted Pecan Bark Recipe
Prep and Cook Time: 15 minutes
Cooling time in refrigerator: About 30 minutes
Ingredients
1 – 3.5 to 4.5 ounce bar of chocolate (60% cocoa)
1 cup semi-sweet chocolate morsels
½ cup chopped pecans
Sea salt
Instructions
Cover a cookie sheet or sheet pan with aluminum foil.
Break the chocolate into a heat proof bowl over a pot of boiling water (or use a double boiler).  Top with the chocolate morsels.
When all of the chocolate is melted, add ¼ cup of pecans. Stir to combine.
Remove from heat and pour onto aluminum foil and spread with a spatula to the desired thickness.
Top with the remaining pecans. Press pecans gently into chocolate if needed.
Let the chocolate cool for about 5 minutes then sprinkle generously with sea salt.
Let cool completely.
Cut to the desired size or break into pieces. To speed up the cooling process you can place the sheet in the refrigerator for about 30 minutes or so.
[/print_this]
Kitchen Notes
I went through several combinations of chocolate before settling on this one.  At first I thought we would prefer the extra dark chocolate (85% cocoa), but it was a little too bitter for our tastes, so I switched to 60% cocoa and then added the semi-sweet chocolate morsels.  That combination was perfect!
Addiction Warning! 
The first few batches I made I cut into small squares thinking that we would just nibble on a few pieces and put the can back in the pantry for another night. Wrong! We would both take several pieces at once, eat them and then grab another handful. One batch lasted 2 nights – tops. Now I break into larger pieces.  One or two of the larger pieces seem to satisfy that nighttime sweet craving.  Now a batch lasts a little longer than 2 nights.
Yes – we love this bark! 🙂
Note:  Because my mother loves salty pecans and my mother-in-law loves chocolate, I was planning on ordering a box of these for each of them for Mother's Day.  Unfortunately, I discovered that Stahmanns Pecans has closed its doors and has shut down its website as of May 1, 2012.  Another victim of the economy. Now I need to find another source of good pecans. Any suggestions?
I've linked this Salted Pecan Bark recipe to the following blog hops .  So be sure to click on the link for more ideas for mom.
Gluten-Free Wednesdays, Katherine Martinelli's Mother's Day Blog Hog, What's Cooking Love?, It's a Keeper Thursday, Hearth and Soul, Bake with Bizzy, Melt In Your Mouth Monday, Gallery of Favorites
This recipe was featured at What's Cooking Love?