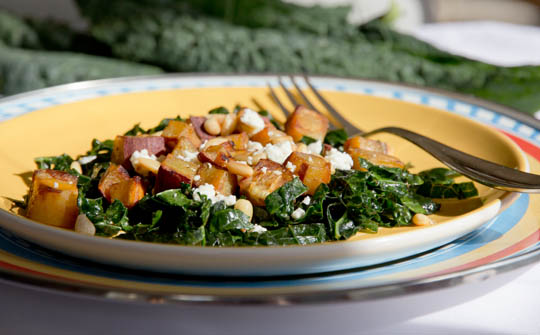 A couple of years ago I came across a Massaged Kale Salad by Aarti Sequeira, one of the Food Network Star winners.  It looked interesting so I made it and loved it, and now I make it all of the time.  Ripe, juicy mango combined with fresh kale massaged with olive oil and lemon, then toasted pepitas is such a unique combination.  Since I first made Aarti's salad, I have been playing around with massaged kale because, personally – I now prefer it over cooked kale.  I've made this salad with oranges, apples, oranges and apples, sweet potatoes, and a few other ingredients – some worked, some didn't.  Sweet potato and yam definitely worked!
This massaged kale and sweet potato salad uses the same dressing and method for massaging the kale as Aarti's, but the other salad ingredients are  different.  This particular salad can be a meal or a side.  No matter how you serve it, you'll love it!

[print_this]
Massaged Kale and Sweet Potato Salad Recipe
Recipe Author:  MJ of MJ's Kitchen
Serves: 2 as a meal or 4 as a side
Cook and Prep Time: 30 minutes
Ingredients
The potatoes
1 Tbsp. roasted garlic infused oil (or 1 Tbsp. olive oil and ¼ tsp. garlic powder)
1 large sweet potato or yam, cut into ½" cubes
1 tsp. smoked paprika
¼ tsp. salt (or to taste)
½ cup diced onion
The Kale and dressing
1 bunch dino kale
juice from half a lemon (about 1 to 1 ½ Tbsp.)
2 Tbsp. olive oil
sea salt
1 Tbsp. honey
3 Tbsp. pinon nuts (pine nuts), toasted
½ cup feta cheese, crumbled
3 slice of bacon, cooked crisp, crumbled (optional)
Instructions
The sweet potatoes
In a large non-stick skillet, heat the olive oil over medium low heat. Add the sweet potatoes and toss to coat.
Sprinkle with the smoked paprika, salt, and garlic powder (if using). Toss to coat. Spread the sweet potatoes out so you have one layer. Cover and cook for 5 minutes.
Remove cover and add the onion. Toss, spread the potatoes out, and re-cover for another 5 minutes.
Remove cover, increase heat to medium and continue to cook, stirring occasionally until the sweet potatoes are toasty brown.
Remove from heat. Taste and add salt if needed.
Dressing
In a small bowl, whisk together the other half of the lemon juice with the honey.
Add 1 Tbsp. olive oil and whisk to an emulsion.
The kale
Destem the kale leaves. Cut crosswise into narrow strips. Transfer to a salad bowl.
Drizzle about 1 Tbsp. of olive on the kale along with half of the lemon juice and a light sprinkling of sea salt.
With both hands, massage the kale for 3 to 5 minutes until the kale is wilted and soft. Add the dressing and toss.
To assemble (assemble the salad on individual plates)
Place the desired amount of the kale for one serving on a plate.
Top with some of the potatoes, some nuts, and some feta.
Serve everyone else and Enjoy!
[/print_this]
Kitchen Notes
The potatoes – For the salad in the picture I used Japanese yams, but any type of yam or sweet potato works.  Again, I don't peel because I buy organic, so the potatoes just get a good scrubbing, then are cubed.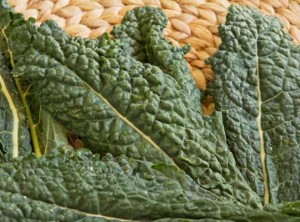 The kale – I prefer to use dino kale (or dinosaur kale) for this salad.  Dino kale also goes under the names Tuscan kale, black kale, Nero Toscana, and Black Italian cabbage.  Other types of  kale work, but the texture is a little different and might have to be massaged longer to break them down.
Dino kale is very easy to destem.  Just grab the thick end of the stem and with your other hand, peel the leaf away from the stem by running your hand down the stem pulling away the leaf.
The honey – Kale can be relatively bitter, so I use a full tablespoon of honey.  If you find it too sweet, then just cut back.
Other suggestions – Bobby said it was excellent but would be even better with bacon. Well DUH! What's not better with bacon?! Next time I'll fry up some bacon and test it out, but for now, I love it just like it is.  O.K. – I made this and topped it with bacon.  It was delicious!  I didn't have feta, so the bacon was a great salty substitute.
Kitchen Science
Bobby is my greens washer, cutter, and masseur, and a great masseur he is!  A while back when he was washing the kale he noticed how the water beaded up on the inside of the leaf.  When he pointed it out to me I jumped into a lesson on hydrophobic vs. hydrophilic. (Yes, I am a nerd!)  That lesson then lead to this Kitchen Science.
As part of my real job, I'm developing an Introduction to Nanotechnology course for high school and freshman level students.  One of the lessons is about hydrophobic surfaces found in nature – surfaces such as that of the dino kale leaf, the lotus leaf, and the shell of the Stenocara beetle, a beetle that survives in the Namib Desert, one of the hottest places on Earth.  By studying such surfaces and what makes them hydrophobic, researchers are now developing technologies such as self-cleaning windows, wiperless windshields for cars, and water harvesting materials for drought-laden areas.  To illustrate the concept of hydrophobia, Bobby and I made the following video.
Notes:
The red particles are…you guessed it – red chile powder.
Surfaces that are not hydrophobic are hydrophilic. They absorb water.
Here's another video using a lotus leaf to demonstrate hydrophobicity using honey.
Cool stuff!
For more sweet potato dishes, check out these recipes:
Mashed Sweet Potatoes with Brown Butter and Bourbon
Spicy Orange Roasted Sweet Potatoes
Green Chile Sweet Potato Hash Browns
Mashed Sweet Potatoes – Quick & Easy
Sweet Potato, Fennel and Andouille
This recipe has been share with the following blog hops.  Be sure to click on the links for more fabulous recipes!
My Meatless Monday, Just Another Meatless Monday, Hearth and Soul, Fat Tuesday, What's Cooking Wednesday?, Real Food Friday, Allergy Free Wednesday, Whole Foods Wednesday, Slightly Indulgent Tuesdays , Summer Salad Sunday, Katherine Martinelli's Greens Hop, Meatless Monday, Fat Tuesday, Fresh Foods Wednesday, Gluten-Free Wednesday, Made With Love Monday

This recipe was featured on Summer Salad Sunday.