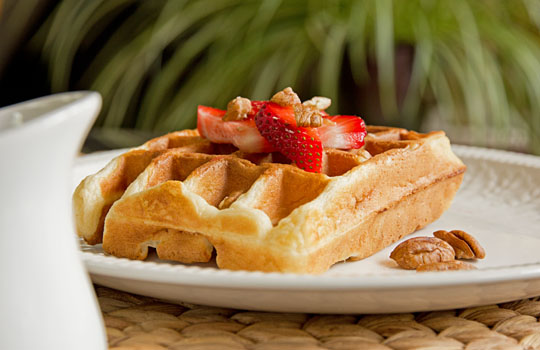 Given the choice between pancakes, waffles or crepes, I'll take waffles any day! I love a waffle that's crispy on the outside and moist on the inside, then topped with fresh fruit, nuts and warm maple syrup.  These Banana Buttermilk Waffles have been my "go to" recipe for years, but recently I made a change in the flours that has taken something quite good and made it even better. These banana buttermilk waffles use an overripe banana in place of any oil or butter. They also use buttermilk to add more flavor and texture. A variety of toppings can be used so be sure to read the Kitchen Notes for suggestions.
My first waffle iron was one I inherited from my great aunt back in '76. It was one of those heavy electric cast-iron waffle irons that produced a PERFECT waffle every single time. Unfortunately, I only had it for 15 years before it bit the dust.  Not bad for a kitchen appliance that was probably purchased in the 50's! It took me about 5 years and 3 different waffle irons to find another one that came close to the waffles that my aunt's made, but I finally found one that works. I use a Krups, 4-square Belgian waffle maker and love it! (No, I was not paid to say that. 🙂 )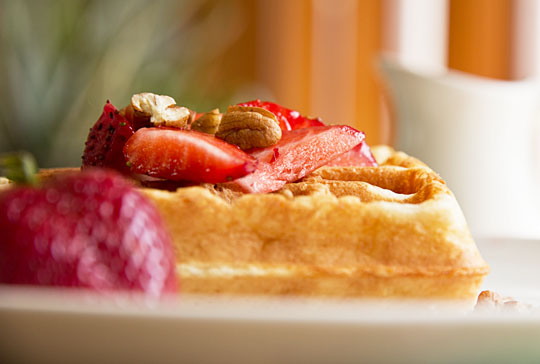 [print_this]
Banana Buttermilk Waffles with Strawberries and Pecans Recipe
Recipe Author:  MJ of MJ's Kitchen
Serves: 8 squares
Prep and Cook time: 30 minutes or less
Ingredients
1 cup unbleached flour, sifted
1 cup spelt flour (or whole wheat flour), sifted
2 tsp. baking powder
½ tsp. salt
1 Tbsp. sugar
1 large overripe banana, mashed
1 large egg
½ tsp. vanilla extract
1 cup buttermilk
1 cup low fat milk
Strawberry Pecan Topping
2 cups sliced strawberries
½ cup coarsely chopped pecans
Warm maple syrup
Instructions
Lightly spray or brush the waffle iron with oil. Plug in to start heating.
In a mixing bowl, sift together the dry ingredients (flour, baking powder, salt, and sugar) and whisk.
In another bowl, mash the banana, add the egg and whisk.
Add the vanilla, buttermilk, and milk. Whisk thoroughly.
Combine the dry and wet ingredients. Stir gently with a rubber spatula until ingredients are combined. Batter will be a little lumpy. (Do NOT over stir.)
When the waffle iron is ready, scoop a generous 1/3 cup batter into each square of the waffle iron (or whatever your iron requires). Close the top and let the waffles cook until done.
Transfer the waffle squares to plates.  Top with the strawberries, chopped pecans, and warm maple syrup.
Enjoy for breakfast, brunch or Sunday night supper!
[/print_this]
Kitchen Notes
The flours – Recently my friend over at Tasty, Easy, Healthy, Green has turned me on to spelt flour so I decided to substitute my usual 1 cup of whole wheat flour with 1 cup of spelt. I really didn't think these waffles could get any better, but the nuttiness of the spelt added another level of flavor and the texture was perfect.  One day I might get brave and use all spelt, but for now, the 1:1 ratio is perfect for us!  Of course you can always experiment with your own combination of flours, but I do highly recommend this one.
The banana – Overripe bananas are perfect for these waffles because they mash up quite nicely into a puree' that incorporates into the batter. Also, the moisture of the banana and the buttermilk eliminate the need for butter or oil in the batter.  I normally use 1 large banana, but if the bananas I have are small, I'll use 2.
The Buttermilk – What can I say? I like using buttermilk, especially in things like waffles, pancakes, and cornbread. It adds a richness and taste that you don't get with milk. For the milk I use 1% because that's what we have in the fridge.
The Strawberries – Top theses waffles with just about any fruit you want. Just use what you have.  I love the strawberries as well a mixed berries.  Chopped apples or more banana also make good toppings.
The pecans – Pecans are hard to beat. They are best a little toasted.  Walnuts and almonds are good, but they are not near as good as pecans.
The maple syrup – Warmed maple syrup is hard to beat with waffles, but you can use whatever you prefer.
As a kid I used to make sure that every little hole in the waffle was filled with syrup before taking that first bite.  So you can only imagine that by the time I filled up every waffle hole, I had enough syrup on my plate for at least 4 squares!  Needless to say, I've cut WAY back on the amount of syrup.
Don't have a Waffle Iron? – Not to worry – Use this recipe and make pancakes!
What to do with leftover waffles?
I always make extra waffles for the leftov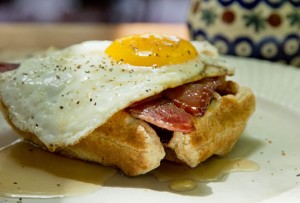 ers.  Bobby's favorite thing to do with leftover waffles is to fry an egg in bacon drippings and place it on a toasted waffle, followed with warm maple syrup.  Today for lunch I took it one step further. I added bacon!
What do you do with leftover waffles?
This Banana Buttermilk Waffles recipe is part of the following blog hops.  Be sure to click on the links to see more fabulous recipes!
April 2012 #berry love, Mix It Up Monday, My Meatless Monday, Midnight Maniac Meatless Monday, Just Another Meatless Monday, Hearth and Soul, Whole Food Wednesday, Foodie Friday, Katherine Martinelli's Mother's Day Hop, Made With Love Monday, Slightly Indulgent Tuesday, Weekend Potluck, Breakfast Ideas Monday
The recipe was featured at Elsa Cooks' Hearth and Soul blog hop and Made With Love Monday.