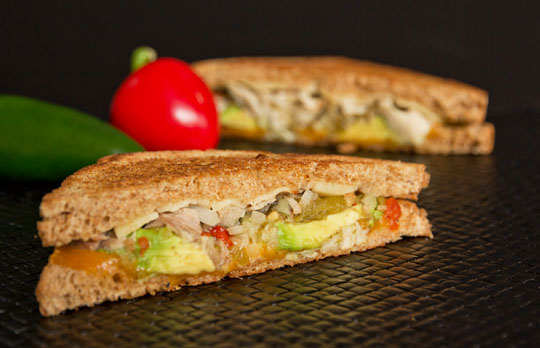 My friends and family will all tell you that I'm not big on sandwiches; however, I do like grilled sandwiches.  So in honor of National Grilled Cheese month, I'm sharing a Green Chile Grilled Cheese or more appropriately called Green Chile Turkey Enchiladas Grilled Cheese Sandwich, but that name is just a little too long.  There's also a similar sandwich called Albuquerque Turkey – so lots of inspiration for this sandwich!
If you like green chile chicken or turkey enchiladas, then you'll love this sandwich! It's made with New Mexico roasted and chopped green chile, avocado, turkey, and of course – cheese.  How can you not love that?
[print_this]
Green Chile Grilled Cheese Sandwich Recipe
aka Albuquerque Turkey Grilled Cheese
Yields: 1 sandwich
Ingredients
2 slices whole wheat bread
Slices of sharp white cheddar
Slices of mild cheddar
1 Tbsp. onion, finely chopped
Roasted, peeled, chopped green chile pepper (as much as you want)
Cooked turkey or chicken, chopped
Cilantro, minced
1/2 avocado, sliced
butter
Instructions
Prep all of your ingredients for assembly.
Heat up a cast iron griddle or skillet over medium heat.
Place a touch of butter on the hot griddle. It should sizzle and melt. Place one slice of bread on the griddle to soak up the butter.  Repeat with the other slice of bread.
On top of one slice of bread place the sharp cheddar, onion, green chile, cilantro, avocado, turkey and then the mild cheddar.  Top with the second slice of bread, buttered side out.
Grill the sandwich on both sides until the bread is toasted and cheese is melted.
Enjoy!
[/print_this]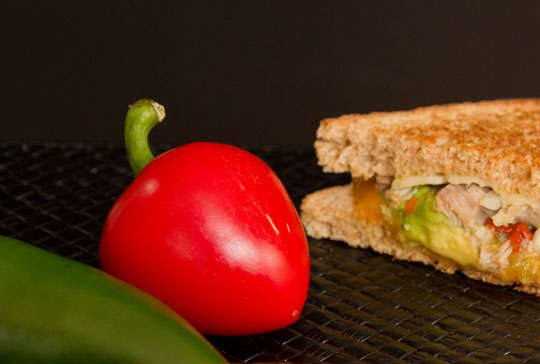 Kitchen Notes
I know some of you might be thinking that my method of buttering the bread is a little weird. However, because I use real butter and fresh bread, I don't want to tear up the bread by spreading the cold butter directly onto it.  So I melt a little bit of butter directly on the griddle, spread it around with a spatula, and soak it up with the bread.  It actually uses less butter doing it this way. I guess I could switch to a canola oil based soft spread, but…I like butter, and according to research done over at the Benefits of Eating – it actually has many health benefits!
Vegetarian Option – I've made the vegetarian option of this sandwich by leaving off the turkey and it is just as delicious!
The turkey – This is a great use of holiday leftover turkey!  If you don't have any leftovers, then  Deli turkey or chicken can easily be used.
Green chile  – If you don't have green chile, then shame on you! 🙂  You can always use roasted poblano, fresh or pickled jalapeno, fresh cherry bomb, or if you don't want the heat, roasted bell pepper.
Cheeses – I love the combination of sharp and mild cheddar so that's what I recommend.  However, if you have other cheese such as Monterey Jack, Mozzarella, or provolone, you can use them.  You can always add more cheese than I do.  I love cheese but it doesn't always love me, so I have to use it sparingly.
Make it a Wrap – If you don't want the fat from the grilled cheese, wrap all of these ingredients in a flour tortilla, place on the griddle for a few minutes (turning a few times), just long enough to melt the cheese.  OR you could stuff it all in pita and make a pita pocket.
For more recipes with green chile, check out my green chile category.

This turkey grilled cheese sandwich has been link to the following blog hops.  Be sure to click on the links for more fabulous recipes!  Full Plate Thursday, What's Cooking Love?, It's a Keeper Thursday, Real Food Freaky Friday, Weekend Potluck, Feed Your Soul @ AMFT, Mix It Up Monday, Mom's Test Meal Mondays, Katherine Martinelli's Thanksgiving Leftovers, Made With Love Mondays