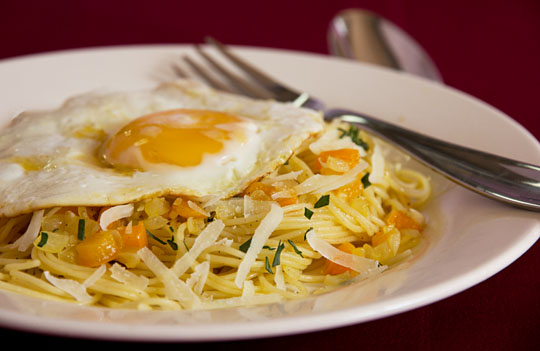 I'm sure we all have our ridiculously easy dishes that we can fix on a lazy night in the kitchen or when we dine alone.  This pasta with lemon, garlic and an egg is one of mine.  The most time-consuming part of the process is cooking the pasta but if you use capellini (angel hair), it doesn't take any time to cook once the water comes to a boil. The veggies can be chopped and sauteed by the time the pasta is done and then it's just a matter of frying or poaching the egg.
I do use those wonderful preserved lemons I keep in the refrigerator, but if you don't have any, you can always substitute lemon juice and zest, or even better Meyer Lemon and zest.  See my Kitchen Notes for more substitution ideas.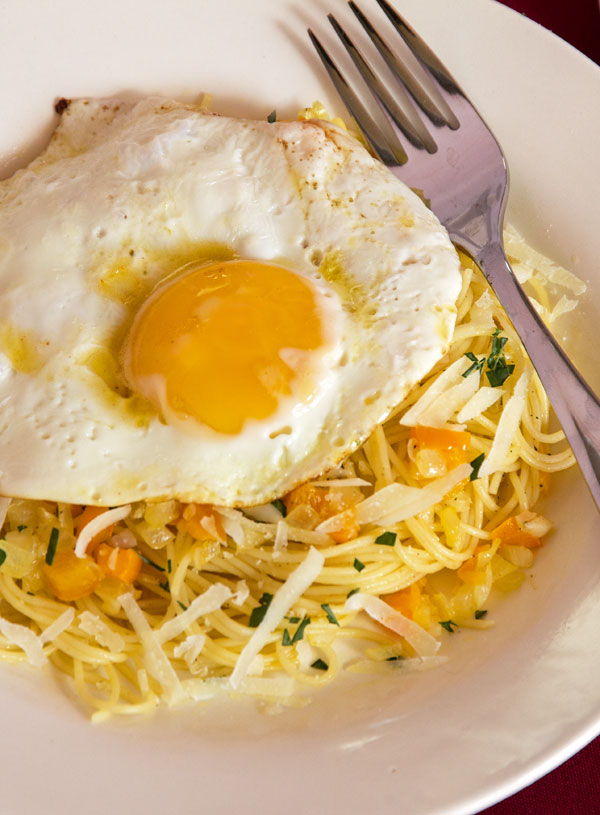 [print_this]
Pasta with Garlic, Lemon and an Egg Recipe
Recipe Author:  MJ of MJ's Kitchen
Serves: 2 to 4
Prep and Cook time: 20 minutes
Ingredients
8 oz. Capellini (Angel Hair) pasta
¼ cup good quality olive oil (your favorite)
8 large garlic cloves, coarsely chopped
1 medium onion, finely chopped
1 medium sweet bell pepper, finely chopped
¼ preserved lemon, finely chopped*
1 ½ tsp. chopped fresh tarragon
¼ to ½ cup Romano cheese, grated
½ to 1 Tbsp. butter (optional)
2 – 4 eggs (1 per person)
Salt and fresh ground pepper
*If you don't have preserved lemons you can substitute with the juice from a whole lemon and zest from half or, if you have 24 hours you can make a few quick preserved lemons.
Instructions
Start the water for the pasta. Bring to a boil.  Add the pasta and cook to al dente'. This pasta cooks very quickly so test it often so it does not overcook.
In a large skillet, heat the olive oil over medium-low heat. (This may look like a lot of oil, but the oil along with the egg yolk make up the sauce for the pasta.)
Add the onion, bell pepper and garlic. Cook slowly until onion is translucent, about 5 minutes. Set aside.
When the pasta is done, drain and place in a large bowl.
Toss the pasta with the onion, garlic, oil (from the saute' pan), preserved lemon, and tarragon.
Melt butter in the same skillet. (I use 1/2 Tbsp. butter for 2 eggs.)
Cook the eggs sunny side up or over "very" easy. You want the white cooked but the yolk runny.
Divide the pasta and ingredients between 2 to 4 bowls.
Top each bowl with a little of the Romano and then a fried egg. Pour the butter from the pan on top of the eggs.
Sprinkle with salt and fresh ground pepper.
Cut the egg up and use the runny yolk as addition sauce for the pasta.
[/print_this]
Kitchen Notes
The lemon – This is really good with lemon zest and lemon juice (regular or Meyer lemon), but it's fantastic with preserved lemons!  So if you have them, use them.
The vegetables – The garlic and onion are a must of course, but if you have a few leaves of greens such as spinach or chard, then chop them up and throw them in. Greens and lemon are a great combination.
Another great addition is Kalamata olives. Just chop a few up and throw them in with the cooked vegetables.
The fresh herb – I love tarragon and I especially love it with chicken and eggs.  I also grow it and it's the first herb to be ready to pick in early spring and the last to freeze in the late fall. So when I made this last week, it was such a thrill to step outside and pick a fresh herb! If you don't have tarragon, you can use just about any herb.  I've used basil and sage, both with great success!
The Romano – Of course you can substitute the Romano with Parmesan, I'm just a huge fan of Romano so I always have some in the fridge.
The egg – You can choose to use poached eggs if you want to cut back on the fat by omitting the butter, but I prefer fried eggs – sunny side up or overeasy.  There's something about those crispy edges that form when an egg is fried in butter.
If you like this Pasta with Garlic, Lemon and Egg recipe, you'll love these!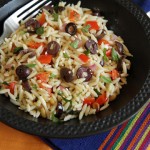 Lemony Orzo Salad – A great salad for parties, potlucks and picnics.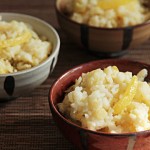 Preserved Lemon Rice – A delicious rice dish with preserved lemons, artichokes and egg.
This Pasta with Garlic, Lemon and Egg recipe has been linked up to the following blog hops.  Be sure to click on the links for more wonderful recipes.
 Foodie Friday, Gallery of Favorites, Mix It Up Monday!, My Meatless Monday, Just another Meatless Monday, Made From Scratch Tuesday, Whole Food Wednesdays, Whole Foods Wednesday, Creative Thursday Link Party, Made w/ Luv Mondays, Clever Chicks Blog Hop, Melt in Your Mouth Monday, Farm Girl Friday
This recipe was featured on Clever Chicks Blog Hop, October 2012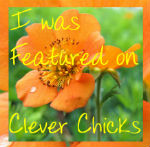 Save