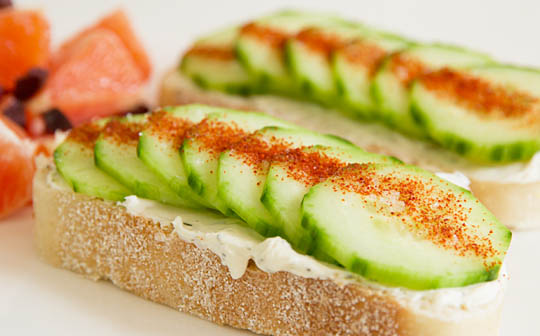 Last summer I stopped by a friend's house to pick some fresh basil (she had tons!), and she served afternoon tea and cucumber sandwiches.  The sandwiches weren't much more than a slice of cucumber on bread, but they were so refreshing and tasty. I had never had a cucumber sandwich before then.

So for lunch last week I decided to make a little fancier cucumber sandwich.  I had some cream cheese, a cucumber and half a loaf of Italian bread. These ingredients lead to these tasty little cucumber crostinis.  I've made them twice in the past week and then Saturday night turned them into little appetizer bites and took them to a friend's house for supper.  They were huge hit!
Cucumber and Cream Cheese Crostini Recipe
A lunch for 2 or appetizers for 4
Prep time:  10 minutes
Ingredients
4 ounces of cream cheese
1/8 tsp. black pepper
1/8 tsp. dried dill weed
1 large roasted garlic clove smashed and chopped, or ¼ tsp. garlic paste or 1/8 tsp. garlic powder
Italian bread sliced into six ½" slices
½ seedless cucumber, peeled (if desired), sliced to desired thickness (thin for the sandwiches, thicker for the appetizer)
Sea salt
Red Chile powder or paprika
Instructions
 For sandwiches
In a small bowl mixed together the cream cheese, black pepper, dill weed and garlic. If the cream cheese is too firm to mix, heat in microwave for about 15 seconds.
Spread about 1 Tbsp. of cream cheese mixture on each slice depending on the size of the slice.
Top with a few slices of cucumber, a sprinkling of sea salt and some chile powder.
For appetizers
Using a cookie cutter, cut the bread into small rounds (a little bigger than a slice of cucumber).
Lightly toast the rounds on both sides under the broiler.
Spread a little of the cream cheese mixture on each round and top with a cucumber slice.
Sprinkle with sea salt and chile powder.
Enjoy!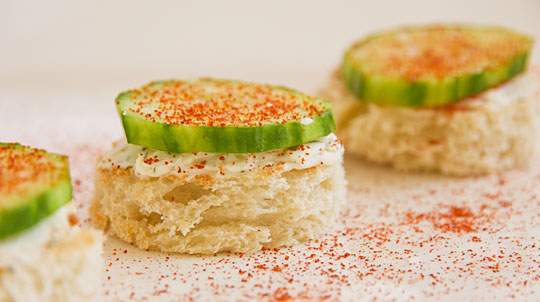 Kitchen Notes
This post does come with a warning – These are addicting!!!!!
Bread – You can use just about any bread you want.  I just happened to have a crusty Italian bread on hand and it worked great.  I made these with both toasted bread and non-toasted bread and loved both.  I think the appetizers hold up better on toasted bread.
Chile Powder – I loved the chile powder because it provided a little spice in every bite, and you know how I love spice!  However, if you don't have any chile powder or you don't like spicy, then a good quality paprika or smoked paprika works as a great replacement.
The citrus salad in the picture is a simple salad of cara cara oranges and Kalamata olives. It is a great complement to these sandwiches!  For a little bigger salad you could try my Sweet and Spicy Citrus Salad or Citrus Salad with Maple Dressing.
This recipe has been linked up to the following blog hops.  Be sure to click on the links to see more amazing recipes!
Mix It Up Monday, Fat Tuesday, Tuesday's Tasty Tidbits, Showcase Your Talent Thursday, Frugal Food Thursday, Bizzy's Recipe Box, Mouthwatering Monday, Hearth and Soul, Full Plate Thursday, Totally Tasty Tuesday, Carole's Chatter on Friday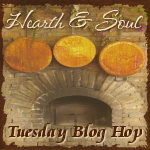 This recipe was feature by the Hearth and Soul Blog Hop in July 2012.