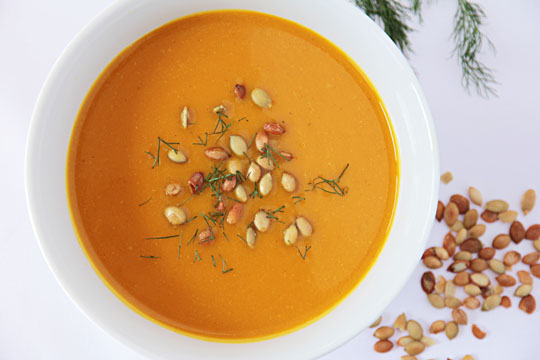 Yes, it is the end of the winter squash season here, but I just couldn't help myself when I heard the last of the Kabocha squash on the gourd shelf speaking to me – "Make soup! Make soup!"  I've been lusting after all of the wonderful soups over at Cooking's Good, so I knew it was time to make my own.  I've been making this Kabocha Squash Fennel soup since last winter and have shared it a few times with family and friends with great reviews.  Now I'm sharing it with you.
I discovered Kabocha squash, or Japanese squash, last winter when my produce guy recommended it. As we were talking another shopper picked up a couple of Kabochas so I asked her how she cooked them. She recommended roasting with the seeds in and then using the squash in the same manner as you would use any other winter squash.  I did exactly that and she was spot on! The pulp was creamy and sweet, and had a flavor like no other winter squash.  I was in love.  I've only just begun to experiment with the ingredient, but everything I've tried thus far as been excellent! At the end of this post I've provided links to other Kabocha squash recipes.

[print_this]
Kabocha Squash Fennel Soup Recipe
Recipe Author:  MJ of MJ's Kitchen
Serves: 4 to 6 (depending on the size of the squash)
Prep and Cook time: 1.5 hours (See Kitchen Notes on how to save on time.)
Ingredients
1 medium to large Kabocha Squash (or other winter squash)
olive oil and salt (for roasting squash)
1 Tbsp. olive oil
1 Tbsp. butter (See Kitchen Notes)
1/2 cup onion, chopped
1 fennel bulb, thinly sliced
1 Tbsp. ginger garlic paste (or 2 tsp. grated ginger root and 2 tsp. minced garlic)
2 cups vegetable broth or chicken broth/stock
3 cups water (maybe more for desired consistency)
1 tsp. turmeric
½ tsp. to 1 tsp. red chile powder (depending on how spicy you want it)
Salt to taste
1 Tbsp. rice vinegar
3 Tbsp. toasted pumpkin seeds
1 tsp. chopped fennel fronds (optional)
Instructions
Preheat oven to 400°.
Cut the squash in half top to bottom. Leave in the seeds. Wipe the cut surfaces with olive oil, and then sprinkle with salt.
Line a sheet pan with aluminum foil. Place the squash on the foil cut side up and place in the oven. Bake for a 50 to 60 minutes until the squash is done. Test with a fork. If the fork goes through easily, it's done.
Remove the seeds. Scoop the pulp into a bowl. Compost or save the peel for another use because it is edible.
While the squash is roasting, heat the olive oil and butter over medium low heat in a large soup pot. Add the onion  and fennel. Cook, stirring occasionally for 5 minutes.
Add the ginger and garlic (or ginger garlic paste). Cook for 2 minutes.
Add the broth, water, turmeric, and chile powder. Bring to a boil, then reduce heat and simmer for 10 minutes. Add the squash pulp and stir to combine with fennel. Remove from heat.
Puree the soup in a blender or with an immersion blender.
Slowly bring the pureed soup to a simmer. Continue to cook for 10 – 15 minutes, stirring occasionally. If it gets too thick, add more water or broth until you get the desired consistency.
Add the vinegar. Heat for 1 minute. Taste and add salt if needed.
Ladle the soup into bowls and top with the toasted seeds and chopped fennel fronds.
Serve with crackers or a toasted garlic bread.
[/print_this]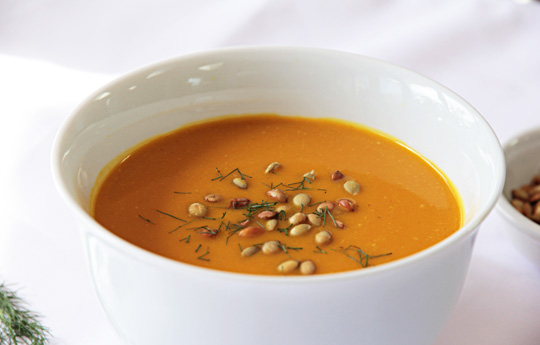 Kitchen Notes
Kabocha substitutes – You can make this soup with butternut squash, pumpkin, or sweet potatoes.
Roasting the squash – I've gotten to the point that I don't remove the seeds from squash before roasting.  I find that they are much easier to remove after roasting.  Also, some things that I've read say that they add flavor during the roasting process. Not quite sure about that one, but it makes sense.
Making this a weekday soup – On Sunday you could roast the squash while doing other things around the house.  Once done and cooled, remove the seeds, scoop out the pulp and store in the refrigerator until you're ready to make the soup. The soup comes together in less than 45 minutes once the squash is roasted.  You could also just make the soup on the weekend and have it a couple of times during the week.
Toppings – I've tried a variety of toppings and the best by far are toasted pumpkin seeds.  Peanuts made it taste too much like peanut butter soup, toasted coconut flakes died in the soup and didn't add much to the flavor, and cheese didn't work at all.
Vegan – To make this soup vegan, use vegetable broth, omit the butter and increase olive oil to 2 Tbsp.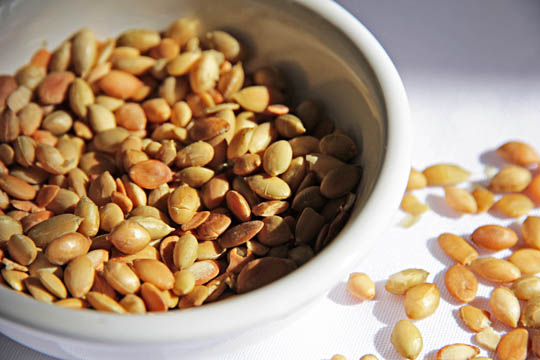 How to Toast Pumpkin Seeds (Pepitas) or Other Seeds
To toast, heat a small, heavy skillet over a medium heat.
Add 2 to 3 tablespoons pumpkin seeds.
Toast the seeds by flipping them in the pan about every minute or so until toasted.  Be aware that pumpkin seeds will swell and pop.  Some get so excited that they pop right out of the pan.
Once toasted transfer to a glass dish.
For another version of toasted pepitas, try these Sweet and Spicy Pepitas.
More information and recipes on Kabocha Squash
Kabocha Pork Stir Fry Recipe by Just One Cookbook
Steamed Kabocha Cakes by Roti n Rice
Spiced Rice and Squash by Roti n Rice
Pinakbet by Wok With Ray
Thai Red Curry with Kabocha Squash by Eat, Live, Run
A Collection of Kabocha Squash Recipes
This recipe has been linked to the following blog hops.  Click on the links for more delicious recipes!
Weekend Potluck, Fusion Friday, Sunday Night Soup Night, Meatless Monday, Midnight Maniac Meatless Monday, Gallery of Favorites, Tuesday's Tasty Tidbits, Made From Scratch Tuesday, Slightly Indulgent Tuesday, Traditional Tuesdays, Hearth and Soul, Totally Tasty Tuesday, Fat Tuesday, Midweek Fiesta, Allergy-Free Wednesday, Whole Food Wednesday, This Chick Cooks Recipe Swap, Full Plate Thursday, Gluten-Free Wednesday
This recipe made the FoodBuzz Top 9 on March 12, 2012.  Thanks to all my supporters!