Now this is what I call a salad! We love salads and some of our favorite salads have beans as a primary ingredient.  This Spicy Bean Salad was made with chipotle seasoned bolita beans; however, pinto beans or black beans could also be used.   Click this link for the Spicy Bolita Beans recipe.
(If you aren't familiar with bolita beans, visit my post on The Bolita Bean – A Locally Grown Favorite.)
 Spicy Bean Salad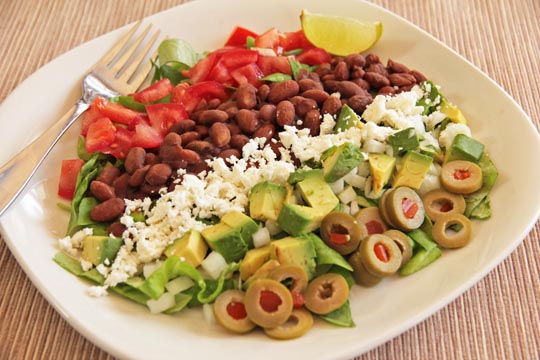 Spicy Bean Salad Recipe
Looking for an easy salad for a weekday meal that offers the flavor and goodness of a cooked meal? This is it. Almost every food group is represented so it's full of lots of nutrients and will fill you up just like bowl of soup.

"*" See Kitchen Notes for more information or links to special ingredients.
You may need to REFRESH page to print or save.
Course:
Salad, Vegan, Vegetarian
Ingredients
Salad Ingredients
4 to 6

large leaves lettuce or mixed greens,

shredded

1 - 1 ½

cup

Spicy Bolita or Pinto Beans*

(with a little of the bean sauce)

1 to

tomato,

chopped

1

avocado,

chopped

½

cup

sweet onion,

minced

8

large pimento-stuffed green olives,

sliced

½

cup

feta or cotija cheese,

crumbled

Sea salt
Dressing
Juice from half a lime

2 to 3

Tbsp.

canola oil

1

tsp.

honey
Instructions
Divide the shredded lettuce between two plates.

Top each plate with half of each of the remaining ingredients. You can arrange the ingredients any way you want – lined up side-by-side , in small individual piles around the plates, or piled high. Be sure to include some of the bean liquid when you plate the beans.


Drizzle a little dressing over each salad. This salad really doesn't need much dressing because of the bean sauce, so go light.

Sprinkle with a touch of sea salt, if desired. (With the feta and olives it's already plenty salty, but you could put a touch on the avocado.)
Other ingredient suggestions that will add a little crunch:
Crispy tortillas strips
For vegan - eliminate the feta
Kitchen Notes
Dried vs. canned beans – I usually cook a pot of dried beans about once a week and then use them for a couple of meals during the week.  However, if you don't have time or want to cook up a pot of beans, you can still make this salad using canned beans. If you use canned beans, here is how you can prepare for this salad.
Saute the garlic, onion and cumin in 1 Tbsp. oil on medium-low for 4 minutes.
Add 2 cans of pinto beans (3 to 4 cups). (Do not drain)
Add oregano, red chile powder and 2 to 3 chopped chipotle peppers in adobo sauce.
Simmer for 10 minutes or until the sauce thickens.
Type of bean - This salad is so versatile that you can really use just about any bean you want. We've made it with bolita, pinto, black beans and navy beans.
Salad Ingredient - Don't hesitate to use or replace the ingredients listed here.  A composed salad like this really comes down to what you have in the refrigerator.
 The Bolita Bean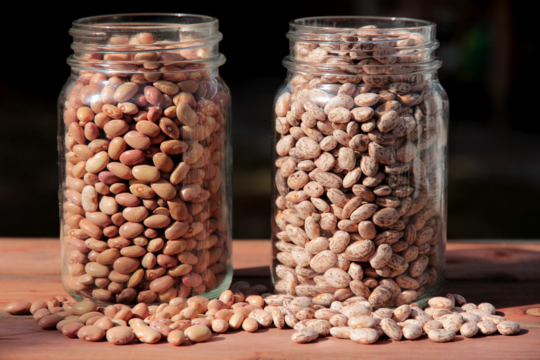 From my recent posts, you know that we love beans.  A few weeks ago I wrote a post on the black bean and then one with a potpourri of black bean recipes.  Today I'm going to talk about the bolita bean, similar to a pinto bean but a little sweeter and easier on the digestive system. Several years ago a friend turned me on to bolita beans and now I cook them as much as I cook pintos.
If you're not familiar with the bolita bean, it is a small pinkish bean similar in shape and size to the pinto (as you can see in the pictures).  It's grown locally here in New Mexico that makes me happy since I do try to buy local as much as I can. The stories say that Spanish settlers introduced the bolita when they settled into northern New Mexico.  It is currently grown throughout the Four Corners area and other parts of the southwest.  Apparently, it is a good crop for this area because its root system is deep making it able to withstand dry spells and drier climates like ours.
To learn more about the bolita bean, to get a recipe for Spicy Bolita Beans and to get links to several recipes that use bolita beans, click over to this post – The Bolita Bean, A Locally Grown Favorite.