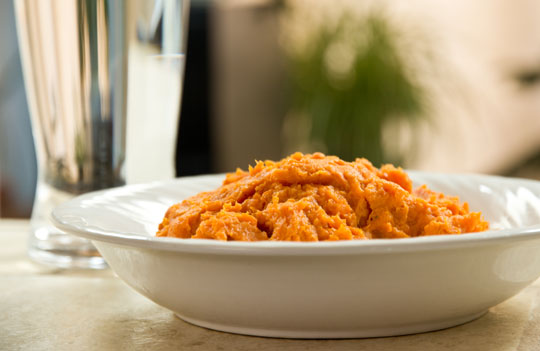 Mashed sweet potatoes are one of my old standbys as a side for beef and pork.  They are SO easy to make (can be on the table within 30 minutes) and do not need a lot of stuff added to them.  They are great with just a little milk, a touch of butter, salt and pepper.  Sometimes for a little change, I'll add a little bourbon.  The other night I fancied up the bourbon a bit with some brown butter and I'm not sure if I'll ever be able to have mashed sweet potatoes any other way again!

Before I get to the recipe I have to tell a story. If you don't know already, Bobby and I have been married for over 35 years.  In all those years, he has been my potato masher.  He's always mashed the potatoes using a simple "potato masher".  Five years ago at a family reunion, I gave him the task of mashing 10 potatoes.  I handed him his mom's potato masher which was different from mine.  His immediate response was "WOW, this potato masher works SO much better than ours! I want one!"  It was then that I decided to tell him the truth – that, all of these years, he has actually been using a pastry cutter, not a potato masher!  Yes – it was a mean joke, but it still makes me smile thinking about how long I got away with it and the look on his face was priceless! 🙂   The first thing I did when we got home was buy him a REAL potato masher.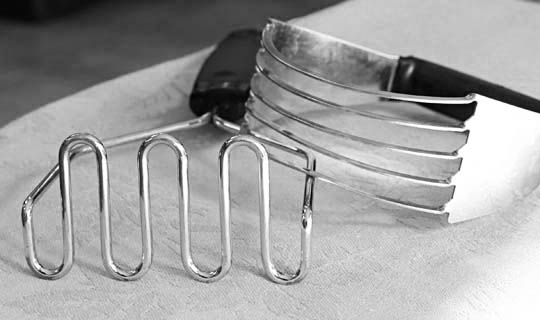 And now for the recipe!
[print_this]
Mashed Sweet Potatoes with Brown Butter Recipe
Recipe Author:  MJ of MJ's Kitchen
Serves: 4 servings
Prep and Cook time: less than 30 minutes
Ingredients
2 large sweet potatoes or yams, washed and scrubbed
4 Tbsp. unsalted butter
2 Tbsp. bourbon (optional)
1/4 cup milk
salt and pepper, to taste
Instructions
You can make the brown butter while the potatoes are cooking.
Puncture each sweet potato with a sharp knife in 2 places.  Place on a plate and cook in microwave on high for 4 minutes. Flip and rotate. Cook another 4 minutes.
Check doneness by poking with a fork. If the fork goes easily through to the middle of the potato, it is done. If not, then cook for another 2 minutes and check again. Times will vary depending on the size of the potatoes and the wattage of the microwave.
When done, cut each potato in half lengthwise. Let cool enough to handle.
Brown Butter Bourbon sauce  –
Melt the butter in the small light colored sauce pan. Cook over medium to medium-low heat, until the water evaporates (the foaming stage) and the solids and butter starts to brown. (The solids will sink to the bottom of the pan.)
Once the butter is almost to the desired caramel color and has a nutty aroma, remove from the heat and whisk in the bourbon.
Return to the heat and continue to simmer, stirring constantly. Cook for about 1 minute. Be careful not, to let the butter burn.
Remove from the heat. Transfer sauce to a glass dish or set on a bowl of ice to stop the cooking process.
Once the potatoes are cool, scoop out the pulp into a non-metal mixing bowl. Mash the potatoes with a potato masher (not a pastry cutter 🙂 ).
Add 2 tablespoons of the butter-bourbon sauce and the milk. Mix with the potatoes and continue to mash to the desired texture (we like ours more smashed than mashed). If too thick to your liking, add a little more milk.
Salt and pepper to taste.
Reheat in microwave and serve.
[/print_this]
Kitchen Notes
Brown Butter – I had never made brown butter before now, and found that it was pretty easy to make. The trick is to keep a watch on it so it doesn't burn and to cook it in a white or light colored skillet or pan.  If you use a dark colored pan you won't be able to watch the color turning as the butter cooks, so it's easy to under or overcook.   As the butter cooks, the solids in the butter will sink to the bottom of the pan and start to brown. In fact, some of the brown color in the picture above is due to the brown solids on the bottom of the dish.  If you do overcook it, not to worry. You could always use it as Beurre noir.  To read more about Brown Butter, visit Bay Area Bites.
You can use the leftover Brown Butter Bourbon Sauce with carrots, to sauce a steak, or poured over pasta.
Milk substitute – If you don't want to use dairy or can't have dairy, you can always substitute soy, rice, or almond milk.  I've used soy before and didn't notice any difference.
Bourbon – Just use your favorite Bourbon.  I use either Maker's Mark or Blanton's. Because the butter bourbon mixture only gets simmered for 1 minute, the alcohol will not evaporate. Therefore, if you don't drink or even cook with alcohol, not to worry, just omit it.  The nuttiness of the brown butter will still add a deliciousness to the potatoes that you'll love.
For more sweet potato dishes, check out these recipes:
Mashed Sweet Potatoes – Quick and Easy
Spicy Orange Roasted Sweet Potatoes
Green Chile Sweet Potato Hash Browns
Massaged Kale and Sweet Potato Salad
Sweet Potato, Fennel and Andouille

Before I wrap-up this post I would like to finally thank Soni of Soni's Food for Thought for awarding me with the Liebster Award back in February.  Liebster is a German word for sweet, beloved, kind, pleasant, lovely; therefore, receiving this award is very special.  Liebster is a great way to describe Soni and everyone needs to get to know her! Her blog is fun to read and her recipes are unique and mouthwatering. She has introduced me to a wide variety of cuisines, flavors, and recipes. So please be sure to stop by her blog and say Hello. You'll definitely be glad you did!
This Mashed Sweet Potatoes with Browned Butter recipe has been linked up to the following blog hop.  Click on the link to see a variety of delicious recipes.
Katherine Martinelli's St. Patrick's Day Hop, Hearth and Soul Hop
Hearth and Soul, March 27, 2012.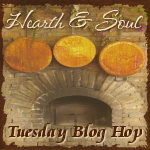 Gluten-Free Wednesdays @ The Gluten-Free Homemaker – October 2012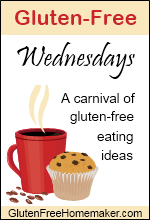 If you like this recipe, then you'll probably like these.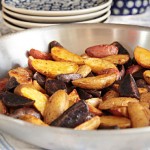 Roasted Fingerling Potatoes with Smoked Paprika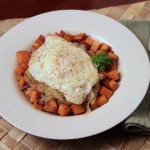 Suppertime Pileup – Sweet Potatoes with fennel, onion and an egg.