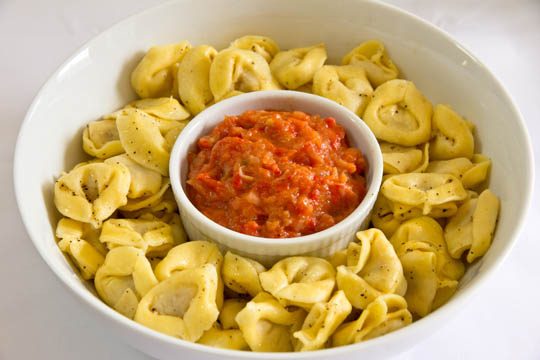 In the fall when red bell peppers are plentiful and cheap, I buy a lot of them. Most get roasted and peeled, then wrapped individually for the freezer.  All winter I used them on pizza, in sandwiches and pasta dishes, and in salads.  The other night in trying to come up with starter for a small dinner party, I found the last two frozen bell peppers buried in the freezer. That lead to the creation of this roasted bell pepper and onion appetizer.  It was a big hit and I will be making it again!

[print_this]
Tortellini with Roasted Bell Pepper and Onion Recipe
Recipe Author:  MJ of MJ's Kitchen
Yields: about 3 cups (depends on size of the peppers and onions)
Prep and Cook Time: 50 to 60 minutes (includes roasting the veggies)
Ingredients
2 large red bell peppers
2 medium onions, cut into 6 to 8 pieces lengthwise
1 ½ Tbsp. olive oil (garlic infused if you have it)
¼ tsp. salt
1 Tbsp. tomato paste
1 ½ tsp. white wine vinegar
Salt to taste
Tortellini
2 cups uncooked tortellini
2 Tbsp. good quality olive oil
Black pepper
Salt
Garlic powder
Instructions
Roast the bell peppers under a broiler or on the grill. Peel, remove seeds and veins, and coarsely chop.
To roast the onion preheat oven to 375° F (190° C).
Transfer the onion to an ovenproof dish and toss with 1 1/2 Tbsp. olive oil and a little salt.
Roast the onion for 15 minutes, stir and roast another 10 minutes.
Transfer onion and bell pepper to a blender or food processor. (I actually used the chopper tool on my immersion blender.) Pulse to chop and almost puree'. Do not fully puree. (Check out the pictures.)
Transfer to a bowl and stir in the tomato paste and vinegar.
Taste. Add more salt if needed.
At this point you can refrigerate until about an hour before serving.  Serve cold or at room temperature.
Tortellini
Cook tortellini in a pot of boiling water until al dente. Be careful not overcooked. Better undercooked than overcooked for this dish.
Drain and transfer to a large bowl.
Drizzle with good quality olive oil, add a generous amount of black pepper, a little salt and some garlic powder. (How do you like those ambiguous amounts?) Toss.
[/print_this]
For an appetizer, arrange the tortellini around a bowl of the dip (is it really a dip?). Provide small forks for your guests to dip the tortellini in the pepper-onion dip or forks and saucers for people to transfer some of the tortellini and dip to the saucer.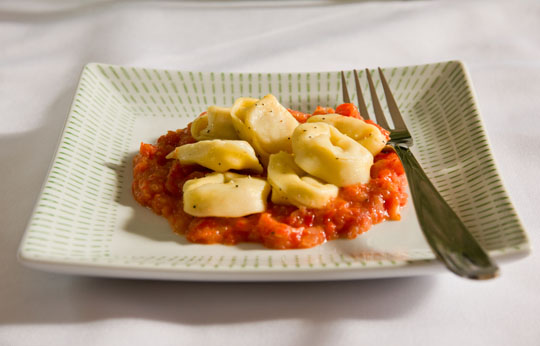 From our little dinner party, I had about a cup of the veggie dip leftover which gave me the opportunity to get some pictures so I could post this. (I have the horrible habit of eating the food before taking pictures. Whoops!)  However, I needed more tortellini.  After the pictures, I now had a whole new batch of cooked tortellini and a cup of sauce (or dip). So for supper I tossed it all together in a skillet, heated through, added some chopped parsley and served as a hot pasta dish.  It made a delicious entree'!  More on this in my Kitchen Notes.
Kitchen Notes
Appetizer or entree'? – Serve it any way you want.  As an appetizer, the pepper-onion dip should be cold or at room temperature and the tortellini hot.  As an entree', both should be hot.  No matter which one you choose, it's so goooooood!
As a meal  – Toss the heated pasta and sauce with a fresh herb such as parsley, chives, and/or basil.  If you don't have tortellini another pasta such as linguine and farfalle (bow-tie) should work great.
The vinegar is to add a little bit of acid.  If you don't have white wine vinegar, use rice vinegar, or pickling vinegar from a jar of capers or olives.
The olive oil – I used garlic infused olive oil on the onion, but I'm sure that comes as no surprise. A good quality olive oil should be used for the tortellini.
The tortellini – I had cheese filled in the pantry and it worked great. Tortellini with any filling would work – spinach, mushroom or even chicken or lobster.
This Tortellini with Roasted Onion and Pepper recipe has been linked to the following blog hops. Be sure to click on the links for more delicious ideas!
Weekend Potluck, Fusion Friday, Midweek Fiesta, Tuesday's Tasty Tidbits, Hearth and Soul, Weekly Recipe Swap, Full Plate Thursday, Taste this Thursday, Frugal Food Thursday, Mix It Up Monday, Just Another Meatless Monday, What's Cooking Wednesday?, Showcase Your Talent Thursday, My Meatless Monday, Weekend Potluck, Melt In Your Mouth Monday, Meatless Monday, Bizzy's Recipe Box, Katherine Martinelli's Party Recipes