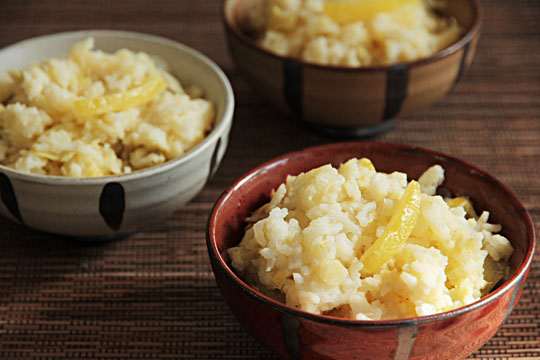 If you read my Preserved Lemon post from last summer you know that preserved lemons are one of my most favorite condiments and that I always have a jar in the fridge.  One of my favorite uses of preserved lemons is in this rice recipe. Preserved lemon rice takes only 30 minutes to make and it's packed with flavor, vegetables and a little protein. It could be a meal or a side for fish or chicken.  No matter how you serve it – it's SO good!

Just to give you an idea of how well preserved lemons last in the fridge, the lemons below were put up in August and they still look beautiful don't they?!  If you don't happen to have a jar of preserved lemons in the fridge, you can easily make just what you need by using my Quick Preserved Lemons method in less than 24 hours.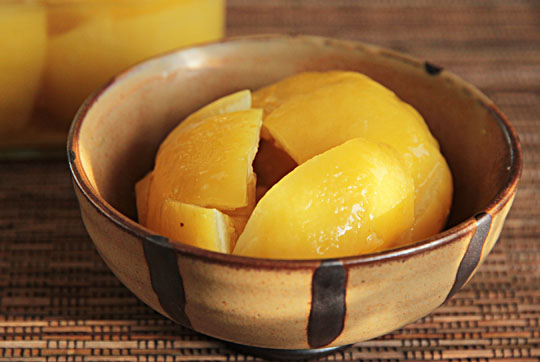 [print_this]
Preserved Lemon Rice Recipe
Yield: 8 servings
Prep and Cook Time: 30 minutes
Ingredients
2 cups chicken or vegetable broth
1 cup water
1 1/2 cups white rice
1/2 large onion, chopped
2 eggs
2 Tbsp. preserved lemon, minced
1 Tbsp. preserved lemon juice*
1 can or 1 ½ cups jarred artichoke hearts, drained, rinsed, and chopped
1/2 tsp. white pepper
1/2 cup Romano or Parmesan cheese
*or just use 3 Tbsp. preserved lemon
Instructions
Bring stock and water to a boil. Add rice and onions. Cover and reduce heat to low. Cook until rice is just done about 16 to 18 minutes (depending on your rice).
Whisk the eggs with the preserved lemon and juice.
Fold egg / lemon mixture, pepper, and artichoke hearts into rice.
Remove from heat, cover and let sit 2 minutes for eggs to set.
Gently fold in cheese. Let sit, covered, for another minute or two and then serve.
You will definitely enjoy this!
[/print_this]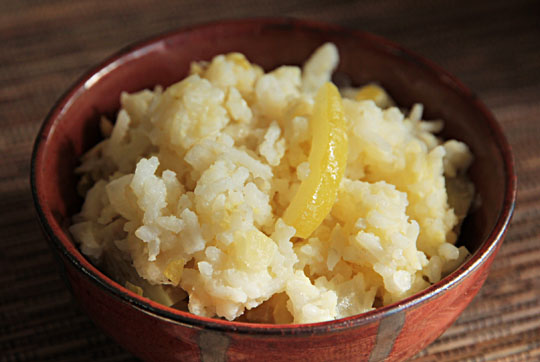 Kitchen Notes
Leftover of preserved lemon rice heat up well in the microwave, making it a great side for a second/third meal or a couple of lunches.
I don't use additional salt because with the preserved lemons and artichoke hearts, there is plenty of salt for our taste.
The rice – I prefer Jasmine rice over any other. I've made this with Basmati and Arborio, but didn't like the texture of either.
The lemons – This recipe may work with lemon zest and lemon juice, but I know it wouldn't be near as good so I've never tried it. You can acquire preserved lemons three ways:  buy them, put a jar up yourself using my Preserved Lemons method or put up just what you need the night before using my Quick Preserved Lemons method.
Variations:
with meat – In 1 Tbsp. olive oil sauté 8 sliced shitake mushrooms until soft. Add 1 cup cooked chicken or turkey and heat through. Add chicken and mushroom to the rice along with the Romano cheese.
with brown rice and peas at Eliot's Eats
Suggested sides – This rice goes great with grilled salmon, roast chicken, grilled chicken, grilled steak or anything smoked. A great dish for parties or pot lucks because it's as good at room temperature as it is hot.
If you like this preserved lemon rice recipe, then you might try these.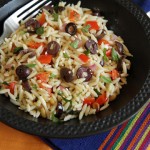 Lemony Pasta Salad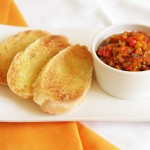 Roasted Bell Pepper Appetizer
This Preserved Lemon Rice recipe has been linked to the following blog hops. Please click on the links to visit a variety of great recipes.
Gallery of Favorites, Midnight Maniac Meatless Monday, My Meatless Monday, Mouthwatering Monday, Fat Tuesday, Midweek Fiesta, Whole Foods Wednesday, Weekly Recipe Swap, Full Plate Thursday, Traditional Tuesdays, Seasonal Potluck – Artichokes, Taste This Thursday, Gluten-Free Wednesday, Katherine Martinelli's Grain blog hop, Hearth and Soul, Allergy-Free Wednesday, Bizzy's Recipe Box, Gluten-Free Friday