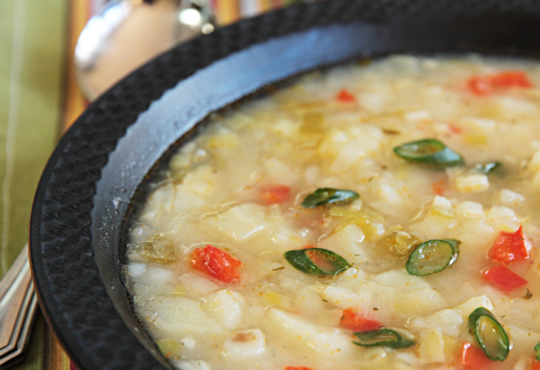 This is just one of our favorite winter soups, because we do have many. Leeks and potatoes are abundant here this time of year so it's easy to find the ingredients. I usually make a big batch and then have it for a couple of suppers and lunches during the week. Sometimes I'll add other ingredients to the leftovers to change things up a bit. See Kitchen Notes for some variations. [print_this]
Potato and Leek Soup Recipe
Serves: 8
Prep and Cook Time: 1 hour
Ingredients
8 cups russet potatoes, peeled, cut into ½" cubes (about 4 medium potatoes)
1 Tbsp. olive oil
1 large leek, finely chopped
1 medium sweet onion, finely chopped
1 medium red bell pepper, finely chopped
6 cloves garlic, minced
6 cups homemade chicken stock or broth (or vegetable broth)
1 tsp. dry mustard powder
1/8 tsp. dried dill weed
½ tsp. dried thyme
½ tsp. oregano
Salt and ground white pepper to taste
Wedges of lime (cut a lime into 8 pieces)
Topping Choices
Bacon
crumbled Feta cheese
crumbled Parmesan or Romano
grated Sweet onion
chopped Scallions
chopped roasted, chopped green chile
Instructions
Peel and cut the potatoes. Run under cold water until the water is clear. Set aside to drain. (This helps to remove some of the excess starchiness of the potatoes.)
Heat the olive oil in a soup pot over medium-low heat. Add the leek, onion, bell pepper, and garlic. Cook for 5 minutes.
Add the broth, potatoes, dry mustard, dill weed, thyme and oregano.
Cook for 30 minutes.
Add salt and pepper to taste.
Using a potato masher, gently mash the potatoes to break up some of the pieces and thicken the soup.
Ladle soup into bowls. Squeeze a wedge of lime onto each soup serving and top with the toppings of your choice.
Enjoy! [/print_this]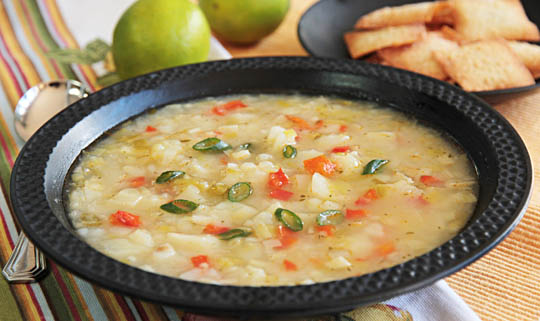 Kitchen Notes
The toppings – One guess as to what my favorite topping is – bacon!  A little bacon and Romano is a great finish to this soup. However, for a vegetarian version Romano or Feta and fresh onion works great as well.  The bacon and onion add another texture to the soup. Soup variations – Do you have a soup that is a "base" for a variety of other soups?  For me, this one is it. As you can see from the recipe, 8 cups of potatoes make a lot of soup.  That allows us to have two different soups in one week if we want, with only a few changes.  Here are a couple of changes you can make to any leftovers – if you choose:
Pureed version – puree' the soup and finish with a little heavy cream and a generous dose of white pepper or to taste.  As with any potato soup, be careful when you puree' it. An over-pureed potato soup becomes pasty.
Southwestern version – Add some roasted, peeled and chopped poblano pepper or green chile pepper. Either stir in Monterey Jack cheese or use it as a topping. If you have some leftover chicken in the fridge, add it to the soup. To really jazz it up, top the soup with crumbled, cooked Mexican chorizo.
Suggested sides – Our favorite side is buttermilk cornbread.  We also like chips or crackers, like the wonton crackers below. If we're eating the southwestern version, flour tortilla works great.
Easy Wonton Crackers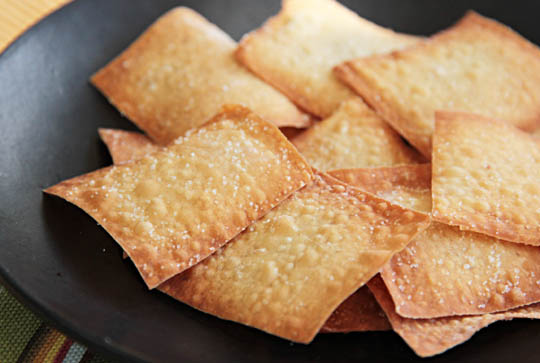 Tasty little crackers in 10 minutes. A great side for my Leek and Potato Soup. [print_this]
Wonton Crackers Recipe
Preheat oven to 375 °F.
Cut wonton wrappers into four pieces.
Lightly brush or spray a single layer sheet pan or cookie sheet with oil. (I use a garlic-infused olive oil.)
Lay the wontons on the cookie sheet, lightly brush or spray with olive oil, and sprinkle with salt and/or spice of your choosing.
Bake about 7 minutes or until crispy and toasted.
Enjoy! [/print_this]
This potato leek soup and wonton crackers was featured on Made with Love Monday on March 2012.