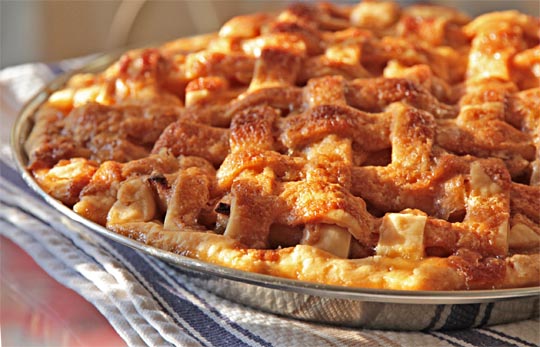 MJ baked a pie! Shocking!
Actually, I thought I would finish off my first year of blogging with something completely different and post a pie recipe! With this post I actually had to add a "dessert" section to my recipe index.  🙂
I've always been a fan of apple pie, but haven't made many of them, but then I haven't made many pies at all.  I'm actually more of a cobbler person. However, I couldn't resist the high praise from the two young girls that promised me that this Caramel Apple Pie would be the best apple pie you'd ever eat!  It sounded like a dare to me.  So I took the challenge and do not regret it!
This pie IS the best apple pie I have ever eaten.  It wasn't anything like I thought it would be.  I thought – due to the word "caramel" – that it would be really, really sweet.  However, the opposite was true.  I used Granny Smith apples and the pie maintained some of the tartness of the apple but was sweetened, but not too much, by the caramel.  The caramel actually melted into the apples but, since some of it is poured over the crust before baking, I also ended up with this sweet, crispy lattice crust. It was perfect!
I did make a couple of changes that I noted in the recipe with italics.  I loved the outcome, so the next time I make this, and I will make it again, I'll make it the same way.  O.K. – now brace yourself – I didn't make my own crust.  I used readymade crust, but like I've said before – I'm not a baker and when I do bake, I'm a lazy baker. 🙂
Caramel Apple Pie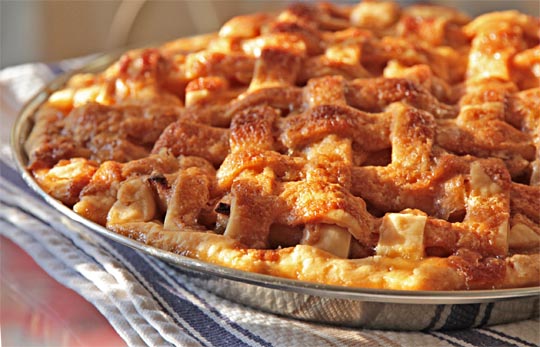 Caramel Apple Pie Recipe
One of the best apple pies you'll ever make!
Ingredients
1

crust for bottom and 1 crust for lattice top

8

Granny Smith apples, peeled and sliced

juice from 1 lime

1/2

cup

butter

3

tablespoons

all-purpose flour

1/4

cup

water

1/2

cup

white sugar

1/2

cup

packed brown sugar

1

tsp

cinnamon,

optional (I reduced this to 1/2 tsp.)
Instructions
Prepare the crust and apples
Prepare your crust and lattice pieces for assembly because the caramel mixture thickens quickly once it is made.

Cut the lattice strips and have them ready to assemble. Place in the refrigerator and cover until time to place over pie.

Place the bottom crust in pan. Brush with egg whites to keep crust from getting soggy. Place this in the fridge as well until time to assemble. (I forgot to brush with egg whites, but it didn't seem to matter.)

Preheat oven to 425ºF (218° C). You should bake the pie on the middle rack.

Peel and slice the apples. Transfer to a large bowl and toss with the lime juice.
Make the caramel mixture
Melt the butter in a saucepan. Stir in flour to form a paste.

Whisk in the water, white sugar, brown sugar and cinnamon. Bring to a boil.

Reduce heat and let simmer for about 3 minutes, stirring constantly to thicken the caramel.
Assemble the Pie
Work quickly because the caramel mixture thickens as it cools. Pour about 2/3 of the caramel over the apples. Mix well.

Pour the apple mixture into the bottom crust of the pie pan. Cover the apples with a lattice crust.

Gently pour the remaining caramel sauce evenly over the lattice crust.

Place a pan under the middle rack, to catch any run off.

Bake 15 minutes in the preheated oven. Reduce the temperature to 350ºF (175ºC). Continue baking for 35 to 40 minutes, until apples are soft.
This recipe is similar to Apple Pie by Grandma Ople on Allrecipes.
In order to savor this delicious pie, Bobby and I split a quarter of the pie for 4 consecutive days until it was gone. Each night we changed it up a bit.  Here's how we enjoyed it:
A plain piece of pie about 30 minutes after coming out of the oven – the best!
A piece warmed in the microwave then served with a scoop of vanilla ice cream
A piece with a slice of cheddar cheese on top then warmed under the broiler (did this twice – YUM!)
All three were excellent!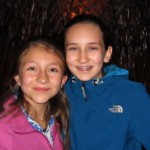 If you make this pie, let me know. I'll pass it on to Julia and Sera who will be thrilled!