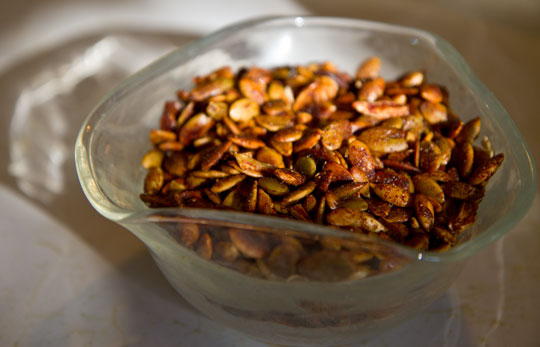 These Sweet and Spicy Pepitas (pumpkin seeds) are so good and quite addicting!  A batch can disappear as quickly as it can be made and that's fast!  These make a great snack, but can also be used in a variety of dishes from salads to soups.  Suggestions on different ways to use them are provided in the Kitchen Notes.

I played with sweet and spicy pepitas for a couple of months before getting it perfect.  The original recipe in one of Jane Milton's Mexican cookbooks was good, but needed some adjustments for my tastes.  For one thing, she mentions that the seeds are best when consumed immediately after applying the lime juice.  Bobby and I found them very messy and not very appealing texturally.  So after changing the spices, the cooking process and adding a drying period, I came up with a great sweet and spicy snack.  If I plan to use them for something other than a snack, I have to hide them. They'll disappear very quickly if I don't.
Sweet and Spicy Pepitas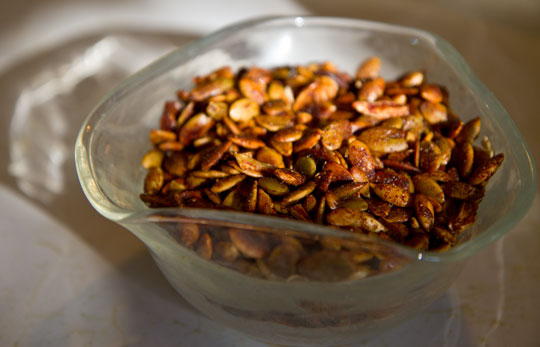 Sweet and Spicy Pepitas (Pumpkin Seeds) Recipe
Inspired by Jane Milton's recipe in her cookbook Mexican - Healthy ways with a favorite cuisine.

These seeds only have a 10 minute prep time, but then they need to sit out for a few hours to dry and to become crunchy.
"*" See Kitchen Notes for more information or links to special ingredients.
Course:
Snack, Vegan, Vegetarian
Ingredients
1

cup

pepitas

(pumpkin seeds)

4

garlic cloves,

smashed and broken into seed size pieces or smaller

½

tsp.

red chile powder

½

tsp.

chipotle powder

¼

tsp.

salt

2

tsp.

sugar

Juice from ½ lime
Instructions
Toast the pepitas in a hot, dry skillet over medium heat. Shake or stir until they begin to swell and pop.

Add the garlic and continue to stir until seeds have a nice toasted color. Be careful not to let the seeds nor the garlic burn.

Remove from heat. Add the chile powder and salt and stir to coat the seeds. Continue stirring for about 15 seconds, but no more. The powders will burn in the hot pan if you leave them in too long.

Transfer to a bowl and add the sugar. Stir.

Add the lime juice and toss to coat. Spread on a cookie sheet or transfer to a large bowl. Let sit for about 4 hours until dry or overnight, stirring about every 30 minutes for the first couple of hours.

Once the seeds are dry, transfer to an airtight container.
Kitchen Notes
Pumpkin seeds – Use shelled pumpkin seeds,  Just be careful because, as they heat, they do pop out of the pan and all over the kitchen.
Chile powders  - As you can see, there is a lot of flexibility on the chile powders.  I've made these with all NM red chile powder (too mild), all chipotle (too hot) and then half and half (just right). I'm sure you could use whatever chile or chili powders that you have in your spice drawer, adjusting the flavors and the heat level to your liking.
Garlic – When you add the garlic, make sure that the garlic pieces come in contact with the pan so they too will brown. The garlic combines with the seeds to impart a slight garlic flavor, but my favorite thing is when I get a piece with the seeds – a little burst of spicy toasted garlic – SO good!
The drying period – You'll need to stir the seeds as they dry because the sugar causes them to clump.  But not to worry, they separate easily even after clumping because there isn't that much sugar in them. I find that 4 hours is minimum and overnight is best.  Once dry transfer to an airtight container. I have no idea how long they'll last because ours never make it past 3 days.
Substitution - If you happen to have this Red Chile Spice Blend already made up, then substitute the garlic, chile powders, and salt with 2 tsp. of the blend.
Nutritional value of pepitas – According to Whole Foods and LiveStrong.com pepitas are a good source of the minerals magnesium, manganese and phosphorus, and a good source of iron, copper, and protein.
Uses
Great snack for parties or the football playoffs 🙂
Topping for
tacos or tostadas or taco salads
any salad or dish that would benefit from a little sweet and spicy crunch
steamed vegetables
potato and pasta salads
pureed soups such as pumpkin or butternut squash – YUM!
baked potatoes or baked sweet potatoes