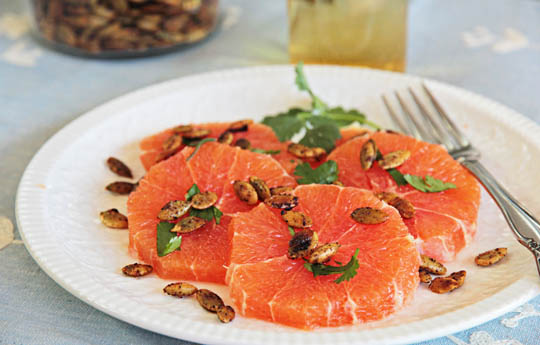 Remember those sweet and spicy pepitas in my last post?  Well, here's a great way to use them to add a little spice to some sweet oranges, tangerines or grapefruit.  The oranges in the picture are Cara Cara's, a type of naval orange and my favorite orange. They're almost the color of grapefruit aren't they? If you haven't tried one, you don't know what you're missing!  I can find them at my local co-op only during December and January so I try to eat as many as I can.  They make great afternoon snacks and salads.
This is a simple salad of orange slices, sweet and spicy pepitas, an herb or two and a simple dressing.

[print_this]
Sweet and Spicy Citrus Salad Recipe
Recipe Author:  MJ of MJ's Kitchen
Ingredients
For one salad you need the following:
1 peeled, sliced or wedged orange or several slices of different types of citrus
Choice of fresh herb (my favorites are dill weed, cilantro, or mint)
About 1 Tbsp. sweet and spicy pepitas
Touch of sea salt
A simple salad dressing
Honey (or Maple) Salad Dressing
1 ½ tsp. honey or maple syrup
1 Tbsp. rice vinegar
2 Tbsp. canola oil
Instructions
In a small bowl, whisk together the ingredients for the salad dressing.
Arrange the orange slices on a plate.
Top with the chopped herbs, pepitas, and sprinkle with a touch of sea salt.
Drizzle lightly with the dressing.
Enjoy!
[/print_this]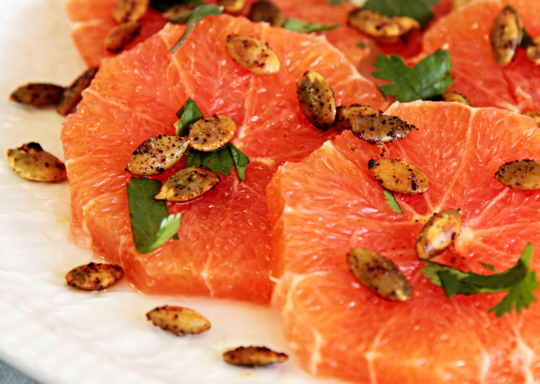 Other recipes you might like: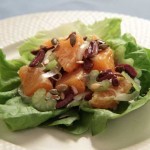 Citrus Salad with Toasted Seeds and Maple Dressing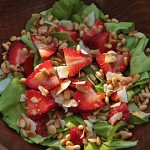 Strawberry, Coconut and Pinon Salad
This Citrus Salad recipe has been linked to the CitrusLove Blog Hop, It's a Keeper Thursday,  Full Plate Thursday, The Gallery of Favorites, Meatless Monday, Mouthwatering Monday, Weekend Potluck, Made From Scratch Tuesday, Slightly Indulgent Tuesday, Traditional Tuesday.  Click on the link and see lots of great recipes!