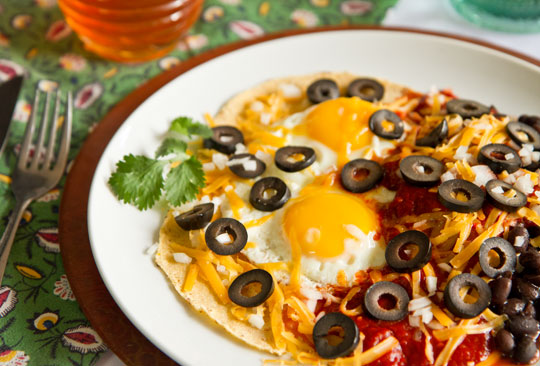 Here in New Mexico Huevos Rancheros are eaten as much as enchiladas, tamales and sopapillas.  One can find them on the menu of any New Mexican restaurant, and can order them any time of the day. In my house I can't say "huevos rancheros" without having the intention of making them.  They make a great weekend brunch and do get made quite often.
Huevos Rancheros or ranch-style eggs are very easy to make and can be made pretty much any way you want.  Ours are pretty simple: Fried eggs served on top of warm corn tortillas with a side of beans, topped with New Mexico Red Chile Sauce.  If I don't have beans, I'll make hashbrowns which we enjoy just as much.  Here is my huevos rancheros recipe. I provide some variations and substitutions in the Kitchen Notes, so be sure to check them out.
Huevos Rancheros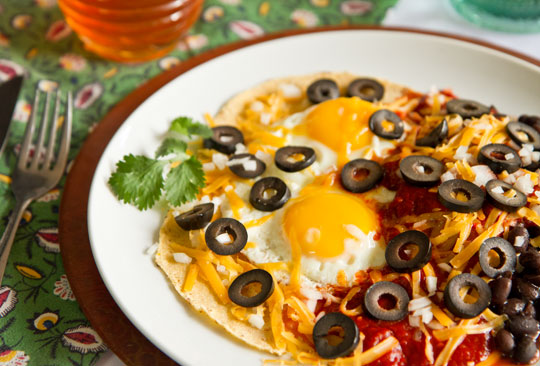 Huevos Rancheros Recipe
Next to grits and green chile, this is our favorite brunch!

If you already have the red chile and beans made, the prep time for this brunch is about 20, the time it takes to warm everything up and cook the eggs.
"*" See Kitchen Notes for more information or links to special ingredients.
Cuisine:
New Mexico, Southwestern
Ingredients
1 ½

cups

beans,

black or pintos

4

corn tortillas or 2 - 8" flour tortilla

4

eggs

1

cup

red chile sauce*,

heated
Toppings
sweet onion,

finely chopped

canned black olives,

sliced

Cheddar or Monterey Jack Cheese,

grated
Instructions
Heat the beans and the chile sauce. Keep warm until ready to serve.
Heating Tortillas
Heat a cast iron griddle or skillet on medium-high heat.

Corn tortillas – Wrap 4 tortillas in aluminum foil. Place on hot griddle. Heat through – about 1 to 2 minutes per side.

Flour - Place a flour tortilla directly onto a hot skillet for about 1 minute per side until warm. Repeat with the second tortilla.
The eggs
Once everything is warm and ready to serve, fry the eggs sunny-side up* or over easy (or to your liking).
To assemble
Divide the tortillas and beans between two plates.

Place 2 eggs on top of the tortillas next to the beans.

Pour red chile sauce on the eggs and beans.

Top with onion, olives, and cheese.
Kitchen Notes
Tortillas – We prefer corn tortillas; however, if I don't have corn tortilla, don't hesitate to use flour tortillas. They both are good!
Sides – Beans or potatoes or both.  If we have black beans or pintos, we'll use them.  However, country fries or hashbrowns are also good.  Many restaurants in New Mexico serve Huevos Rancheros with both beans and potatoes. 
Overeasy Eggs – I do know a couple of people who just do not like runny eggs. So if you are one of those people, then I would suggest using scrambled eggs rather than hard-cooked fried eggs. I've had huevos rancheros with scrambled eggs and it's pretty good.
Red chile – Of course we use New Mexico Red Chile Sauce. I usually make it with chile pods; however, when I don't have any, I throw one together using red chile powder.  If you don't have chile sauce, then your favorite enchilada sauce or salsa works just fine.  You might have to experiment to find which you prefer with the eggs, but that would be a tasty experiment now wouldn't it?
Instead of red chile, you could also use green chile - sauce or just chopped roasted green chile.
The toppings – We always use fresh chopped sweet onion, black olives, and cheese.  Other topping suggestions include fresh chopped tomatoes, shredded lettuce, slice or chopped avocado, or guacamole.
Want more red chile recipes?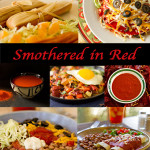 Check out these dishes Smothered in Red Chile.