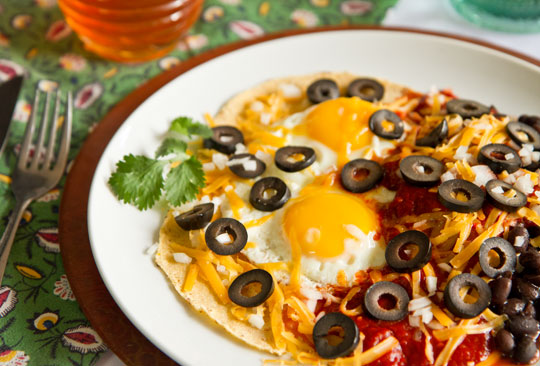 Here in New Mexico Huevos Rancheros are eaten as much as enchiladas, tamales and sopapillas.  One can find them on the menu of any New Mexican restaurant, and can order them any time of the day. In my house I can't say "huevos rancheros" without having the intention of making them.  They make a great weekend brunch and do get made quite often.
Huevos Rancheros or ranch-style eggs are very easy to make and can be made pretty much any way you want.  Ours are pretty simple: Fried eggs served on top of warm corn tortillas with a side of beans, topped with New Mexico Red Chile Sauce.  If I don't have beans, I'll make hashbrowns which we enjoy just as much.  Here is my huevos rancheros recipe. I provide some variations and substitutions in the Kitchen Notes, so be sure to check them out.
Huevos Rancheros Recipe
Serves 2
Prep and Cook time: 20 to 30 minutes if you have the sauce and beans already
Ingredients
1 ½ cups beans (black or pintos)
4 corn tortillas or 2 – 8″ flour tortilla
4 eggs
1 cup red chile sauce, heated (see Kitchen Notes for substitutions)
Toppings
sweet onion, finely chopped
canned black olives, sliced
Cheddar or Monterey Jack Cheese, grated
Instructions
Heat the beans and the chile sauce.  Keep warm until ready to serve.
Heating Tortillas
Heat a cast iron griddle or skillet on medium-high heat.
Corn tortillas – Wrap 4 tortillas in aluminum foil. Place on hot griddle. Heat through – about 1 to 2 minutes per side.
Flour – Place a flour tortilla directly onto a hot skillet for about 1 minute per side until warm. Repeat with the second tortilla.
The eggs
Once everything is warm and ready to serve, fry the eggs sunny-side up or over easy (or to your liking).
To assemble
Divide the tortillas and beans between two plates.
Place 2 eggs on top of the tortillas next to the beans.
Pour red chile sauce on the eggs and beans.
Top with onion, olives, and cheese.
Kitchen Notes
Let's start from the bottom and move up.
The tortillas – We prefer corn tortillas; however, if I don't have corn tortilla, I won't hesitate to substitute with flour tortillas. I always have one or the other.
The side – Beans or potatoes or both.  If we have black beans or pintos, we'll use them.  However, we also like hashbrowns.  To make the hashbrowns I'll just grate a potato and cook it up in a large non-stick skillet with a little butter, salt and pepper until crispy and brown on both sides.  Most restaurants in New Mexico serve Huevos Rancheros with both beans and potatoes.  We find that to be too much food for brunch.  I'd fall asleep!
The eggs – I do know a couple of people who just do not like runny eggs. So if you are one of those people, then I would suggest using scrambled eggs rather than hard-cooked fried eggs. I've had huevos rancheros with scrambled eggs and it was pretty good.
The sauce – Of course we use New Mexico Red Chile Sauce. I usually make it with chile pods; however, when I don't have any, I throw one together using red chile powder.  If you don't have chile sauce, then your favorite enchilada sauce or salsa works just fine.  You might have to experiment to find which you prefer with the eggs, but that would be a tasty experiment now wouldn't it?
The toppings – We always use fresh chopped sweet onion and black olives and Bobby adds the cheese. Even though I love cheese it doesn't like me, but that's o.k. I'm perfectly happy with just onion and olives.  Other toppings can include fresh chopped tomatoes, shredded lettuce, slice or chopped avocado, or guacamole.
Make it your way and enjoy!
This Huevos Rancheros recipe has been linked up to the following blog hop. Be sure to click on the link for many more tasty recipes.
Totally Tasty Tuesday, Tuesday's Tasty Tidbits, Full Plate Thursday, It's a Keeper Thursday, Frugal Food Thursday, Ultimate Recipe Swap, Weekend Potluck, Fusion Friday, Meatless Monday, Whole Food Wednesday, See-ya-in-gumbo, My Meatless Monday, Gluten-Free Wednesdays, Breakfast Ideas Monday, Katherine Martinelli's Egg Hop, Slightly Indulgent Tuesdays, Gluten-Free Fridays,    Clever Chicks
This recipe was featured on Carole's Chatter:  Breakfast Ideas II and  Fusion Friday at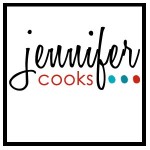 and Miz Helen's Country Cottage's