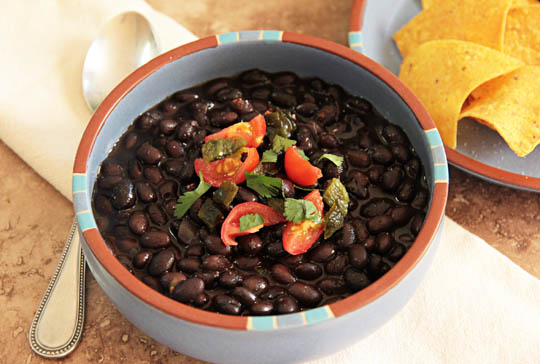 The other day I read "Bacon is the gateway meat for vegetarians." Well, beans could very well be my gateway food to going vegetarian; however, it would be hard to give up bacon! I do love beans and try to have at least one meal a week with beans of some kind – like bolita beans and pinto beans.
Black beans are one of my favorites.  Besides for just being downright tasty, they are also quite versatile. Along with Mexican and southwestern cuisine (which I absolutely love!), black beans can be used in salads, casseroles, soups, dips, and just by themselves. One of our favorite combinations is black beans and sweet potatoes. I love to bake a sweet potato and smother it in black bean chili! Black beans also lend themselves to a variety of seasoning options, not that they need much since they are delicious with just a little salt and pepper.
Cooking Up a Pot of Black Beans

As with most beans, I don't use canned. I find most canned beans somewhat tasteless and mushy. So I pressure-cook my beans which yields the best tasting beans possible in a relatively short period of time.  With the pressure cooker, I can control the texture so that I get the beans perfectly cooked.  It's very easy to overcook them in a pressure cooker but with experience, you get to the point that you can cook up a perfect pot of beans in less than an hour.  I say experience, because originally I was using the timing charts in the instruction manual for the pressure cooker and ended up with WAY overcooked beans. So the manual was tossed out the window.
Let's talk about pressure cookers for a moment.  I'm not going to tell you how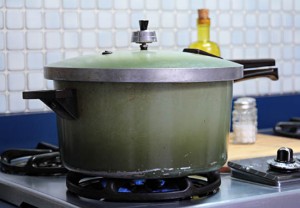 to use a pressure cooker because I don't know anything about the pressure cookers that are sold today.  However, I know mine quite well. My pressure cooker is very simple, and some would say, antiquated. It was a wedding present, so…for a kitchen appliance…it's pretty old.  I've had to replace the gasket (or sealing ring) and the rubber air vent a couple of times, but that's it.  It just keeps cooking and cooking and cooking.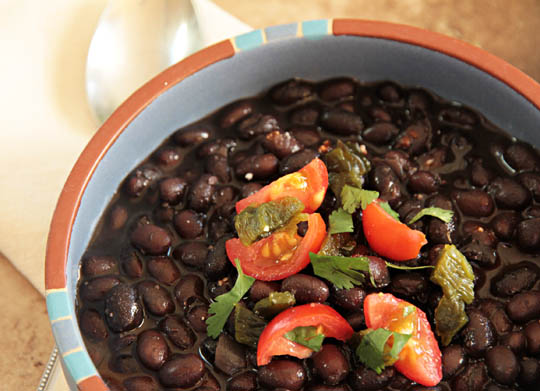 Pressure Cooked Black Beans Recipe
These home cooked black beans are so much better than canned and much cheaper. Whether you pressure-cook them or slow cook them, it's worth the effort.

*See Kitchen Notes for other alternatives for seasoning and discussions on brining and the cooking process.
This recipe takes longer than an hour because of the brine, but it yields enough beans to have 3 to 4 meals for the two of us. What I don't use within a few days, I freeze.

Course:
Dry Beans, Side Dish
Yields
:
7
cups (approximately)
Ingredients
2

cups

dried black beans

1

Tbsp.

salt

(for the brine)

water

1 ½

tsp.

oregano

1

tsp.

black pepper

salt to taste
For Spicy Black Beans, add...
1

tsp.

Chipotle chile flakes, powder or 2 dried chipotle pods

1

tsp.

red chile flakes or powder*
Instructions
The procedure below is for a Presto pressure cooker from the 70's. Please be sure to use the instructions for your own pressure cooker.
Brine the beans* - In a large bowl, dissolve the tablespoon of salt in about a quart of water.
Rinse the beans and add to the saltwater. If the water doesn't completely cover the beans and then some, add more water until the beans are completely covered and the water is about an inch above the top of the beans.

Let sit 4 hours. Discard any beans that float to the top. Drain and rinse.
Cooking the Beans
Transfer the beans to the pressure cooker. Add enough water to completely cover the beans and then a couple of inches above the top of the beans.

Add the oregano and pepper and seasoning for spicy beans (if desired). Stir. (Do not add salt at this time. They will probably be salty enough due to the brine.) Place the lid on the cooker and seal. Check to make sure that the lid is on tight. At this point you should follow the instructions for your pressure cooker, but here is the timing that I use for a great pot of beans.

Once the pressure has built in the pressure cooker (the pressure rocker starts to rock), set the timer for 10 minutes. Ensure that a steady pressure is maintained (the rocking of the rocker is consistent.)

After 10 minutes, turn off the heat and let the pressure cooker cool down for at least another 10 minutes.

At the end of the 10 minutes rest, if the pressure has not lowered enough to open the lid, use whatever method of pressure release is recommended by your cooker. I carefully transport my cooker to the sink and run under cold water.

Open and taste the beans for salt and consistency. Add salt if needed. If they aren't done, then return to the heat and cook, uncovered, for another 10 minutes or more if needed.
Kitchen Notes
There are a lot of different methods for cooking beans and discussions as to when to salt beans. Personally, I feel it depends on your personal preferences and how you like your beans. This recipe is how I like my beans, so you'll have to test it out for yourself.
Brine for 4 hours – Soaking the beans in a brine before cooking was a process that I saw in Cook's Illustrated (CI).  According to CI the brine results in softer skin beans, however, the beans don't fall apart.  And they are right!  I never longer soak overnight.  A 4 hour brine yields a much nicer texture of bean.
Seasoning – A minimum amount of seasoning during the initial cooking allows you to use the beans for a variety of dishes.  However, since I like pretty much everything spicy, I always add the chipotle flakes and red chile powder.  Because of the brine, don't add salt until the beans are cooked and only if needed.
The Cooking process – Just like every microwave is different, every pressure cooker is different.  So the timing in my instructions may not work for your cooker.  My suggestion would be to start with this recipe, then adjust for your specific equipment and texture preference.  Also, older beans (beans that have set on the shelf a long time) usually take longer to cook. So if you're beans have been on the shelf for 6 months or more, add a minute or two to the cooking time. And if they still aren't done, that's o.k. Just cook them on the stovetop a little longer.  I'd rather the beans come out of the pressure cooker undercooked than overcooked.
You can always forgo the pressure cooker totally and simmer on the stovetop about 2 hours after brining until the beans are tender.
More information about pressure cooked beans
The Cost – Cooking a pot of dried beans saves money and cuts back on waste!  Two cups of dried beans yields 6 to 7 cups of cooked beans, depending on the bean.  I pay about $1.70 for two cups (~13.5 ounces) of dried organic black beans (or turtle beans).  Canned organic black beans can cost anywhere from $1.29 to $2.36 for a 15 ounces can which yields at most, 1.5 cups of cooked beans.  So with as many beans as we eat, it's much more economical to use dried beans and cook them myself. If you buy them from the bulk aisle, you can also cut back a bit on waste by using your own container and eliminating the cans of ready-made canned beans.
The fear of pressure cookers – I've added this section after reading the many comments about one's fear of the pressure cooker.  This fear is totally understandable because anytime I have to deal with something I don't completely understand or that I don't have reasonable control of the outcome, fear sets in. Since I grew up in a household where a pressure cooker was used weekly, I've been comfortable with it from the start.
The main thing to understand is that it isn't something you can walk away from easily. Once the pressure builds up and the rocker starts to rock, you need to be around to make sure that it doesn't "rock" too fast.  The second thing is to never remove the rocker or try to open the pressure cooker until you are sure that the pressure inside has reduced.  So as with any kitchen appliance, please read your manual and be comfortable with the tool before using.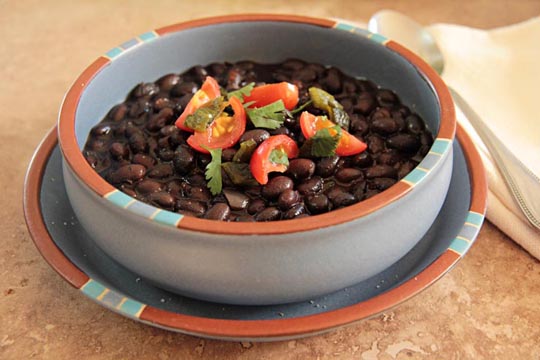 The versatile black bean – For several recipes that use black beans visit the following posts:
Black Bean and Shiitake Mushroom Enchiladas
Black Bean and Corn Quesadilla
"Cooking up a pot of Black Beans" was featured  by Barbara at Pressure Cooking Today
Save